I lived in New York for a lot of 2016, and visited a dozen times for work since hten. Whenever someone asks me what I miss most about living in the city, the answer is easy.
The food.
Living in New York means you have access to whatever you want to eat. Even more, just about anything can be delivered to you in 25 minutes or less.
Whenever I visit I feel like I discover a new hidden gem and I want to start sharing my must see's in New York. With that said, it only felt natural to start off with a bang and share what (in my opinion) is the best crepe place in all of New York.
Little Choc Apothecary
Little Choc Apothecary is the first fully vegan crêperie in NYC and is located in Williamsburg. But don't let the "vegan" label scare you away—even the most carnivorous, dairy obsessed foodies will find something they love at Little Choc.
Their specialty seems to be crepes, but their smoothies and acai bowls are incredible.
Per New York usual, the prices are…steep. If you live in the city you won't be phased. If you're like me, though, and coming from a smaller town you'll find yourself paying 3x more for anything on their menu than you would at home.
With that said, it's worth it.
At home vegan goodies are few and far in between, and none come even close to being as delicious as what Little Choc offers.
How to get to Little Choc Apothecary
I know when I lived in New York I was so intimidated by Brooklyn at first and resisted going over there for months. I was having enough trouble getting the hang of getting around Manhattan. I wasn't ready to throw another borough in there!
But don't worry, getting there is easy and navigating the subway system in Brooklyn is really no different than navigating in Manhattan.
Take the L Train to the Bedford Stop and you're a ten minute walk away. From Union Square you can be there in fifteen minutes.
I get it, though. The subway is scary so I'll give you a 45 second crash course.
The beginner's guide to the NYC subway:
If you're in Manhattan, the trains are going to go uptown or downtown. Uptown will take you towards Harlem and the Bronx, downtown will take you towards the Financial District.
Before going underground, check the sign on the stairs. The sign will tell you if it's going uptown or downtown. If it's not the right entrance, look across the street. If it doesn't specify that means both uptown and downtown trains will be accessible.
All lines lead back to Union Square (pretty much). Whenever I was new to New York and would get lost, my go to was to hop in a Subway and head to Union Square. I knew I could get anywhere I needed to go from there.
Transferring is sometimes necessary. This means you'll get out of the car you're in, stay underground in the station and find the other line that will take you to your final destination. If you look up there are always signs pointing you in the direction of the other lines.
Don't go into an empty car. There is either bodily fluid, smelly trash, someone who is heavily under the influence causing a scene, or a delightful cocktail of a few of those factors deterring people from that car. All in all, it's bad news.
What to order at Little Choc Apothecary
Now it's time for the fun part—going over the menu. While I didn't have everything they have to offer, I can say with confidence that it'd be hard to go wrong.
Between the crepes, smoothies, and acai bowls it's a food lover's heaven.
I personally had a savory crepe, two sweet crepes, a bowl, a cappuccino, and a few smoothies. (Having them within walking distance of my Airbnb was a blessing and a curse.)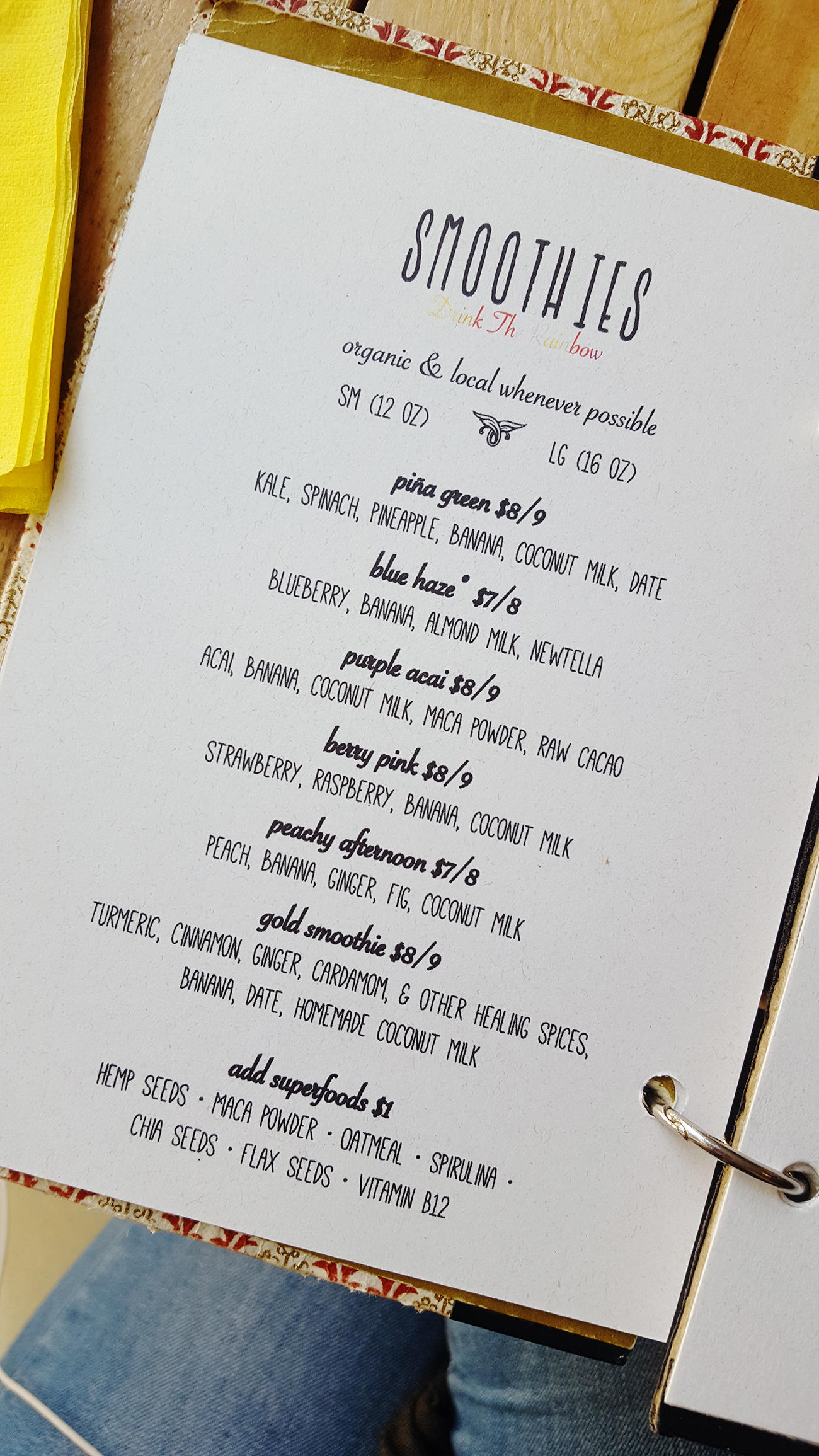 I always ordered their Gold Smoothie, which is an icy take on a golden latte. I'm not a huge fan of smoothies with banana in them, but the spices effectively masked the banana taste.
Now, this isn't your traditional, super sweet smoothie. At first sip it's sweet, but it has more of a kick and even an almost spicy aftertaste—something you won't find at most smoothie shops.
Their coffee deserves a special mention. Above is a cappuccino with coconut milk and the best cappuccino I've ever had (vegan or not.) I'm more of a latte person, but it's not everyday cafes make vegan cappuccinos.
Have you ever visited Little Choc Apothecary in Brooklyn? What did you order?