Hey, friends! My name is Morgan – I'm a content creator, freelancer, and most recently a baby name consultant! I've been creating content online since 2014, but just made the jump to full time in 2019.
I started Mostly Morgan from my freshman year dorm room – I was feeling lonely and overwhelmed and I wanted to find comfort in the community of online bloggers.
Through starting my blog my eyes were opened to the world. I realized that there was a world outside of the bubble I grew up in. I was in a space with some of the most incredible people I've ever met. People who create for a living, travel the world, and make their own rules. Suddenly I realized that I wanted something different from life than I had always thought.
And that's when my life began.
I moved to New York for a stint to start an internship and ultimately the beginnings of career as a content marketer at a tech company where I was able to grow as a creator during my time with them, I've started traveling across the United States, and I've made new friends that feel more like soulmates – people I'd have never met if I hadn't began pursuing creating online.
In 2019 my world was rocked when I lost my grandpa, aka my biggest cheerleader and the strongest person I've ever met. He'd been encouraging me to leave my full-time job and freelance, saying I'd always regret not doing it when I was young. The Monday after his funeral I put in my two weeks and haven't looked back. Every day I wake up ready to work and make my dreams come true knowing that Papa Ed is looking down on me cheering me on.
And also…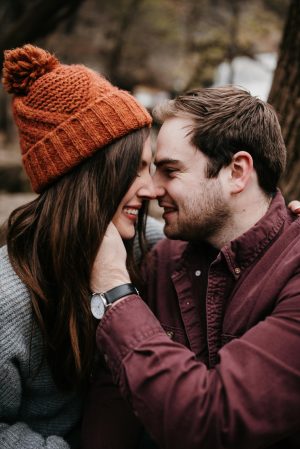 I live with my husband, our 3 cats, and our sweet Saint Bernard. Garrett has been the most wonderful support in every endeavor that I've had. We had the classic story arc of neighbors to lovers after he moved into my apartment building, and in June 2020 we got engaged at Amnicon Falls State Park in Wisconsin.
A few extra things you might not know about me: I'm a gemini vegetarian (like Elle and Bruiser Woods!), I collect vintage yearbooks, and I'm (quietly!) exploring what path my infertility diagnosis will lead my husband and I down. But that's something I'll speak more on publicly in the future. Consider this my soft launch as I gauge whether or not I'm ready to open that can of worms on TikTok yet.
Any questions? Feel free to ask!