Hello everybody! I can't even begin to tell you how many emails I get from you lovely folk asking me all sorts of questions about blogging. The one blogging question that I get more than any other is how can someone monetize their blog. There really is no easy answer to that, but I am going super in depth to tell you all about how I have monetized my blog. I've talked about this topic before several times, but the questions are still coming in so I figured I haven't done a good enough job yet!
Like I said, I want to go as detailed as possible so I am breaking this up into a series where I talk about everything you need to know when it comes to preparing to monetize your blog! To start off I want to discuss what you should have in place before you start monetizing.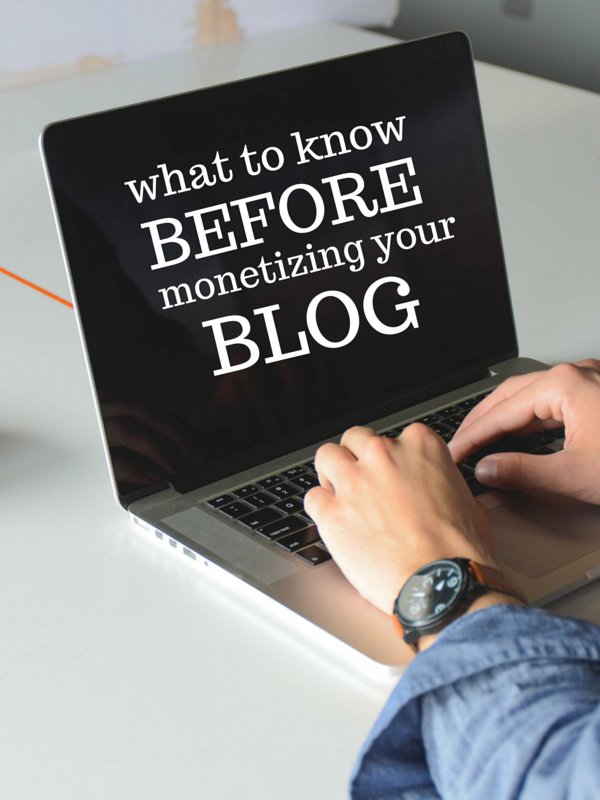 Clean it up!
Brands want to work with clean, professional blogs. If you have two side bars filled with colorful buttons and a myriad of links, most brands are going to move right on over to the next blogger. I try and keep everything super clean on my blog – I have one big ad on the sidebar and then important links.
What you don't need:
Repetitiveness – you shouldn't have your blog categories on your main menu and in your sidebar. It just looks cluttered!
Meta – if you're on WordPress then meta is automatically going to be in your sidebar. Get rid of it because you don't need it, meta is only taking up precious space!
Archives- If you have an organized menu, the archives aren't really necessary. People are more likely to want to do a targeted search based on the categories on your menu rather than aimlessly hoping to find something they are interested in while looking through your archives.
Recent posts – this is controversial, but in my opinion instead of showing your recent posts, you should be showing your featured posts. This is going to get people looking at your best content rather than your most recent. You should be super proud of all of your posts, but sometimes you write something that's special and you should showcase it!
What you do need:
A clean menu – try to keep it to no more than 10 categories (and even that is pushing it.) If you see my menu, if you hover over some of my categories, a sub-menu will drop down. I write a lot about college in general, and a lot about studying. Instead of giving them their own place on my menu, I put studying under college.
A picture – brands want to work with bloggers who make a connection with their readers. It is a lot easier to connect with somebody who has a face! So put yours out there and you will look a lot more personable!
Links to your social media – blogging is a very social job, you want your readers to be able to find you!
A subscribe option – subscribers are a blogger's best friend! You want your posts to end up in as many mailboxes as possible, so start building a subscriber list now!
The Takeaway: Your blog should look clean and be easy to navigate. A reader who stumbled upon your blog for the very first time should be able to find what they are looking for with no problems.
Necessary Pages
There are a few important pages that you are going to want to add under your main menu before you monetize. There is a certain standard for established bloggers, and you will see all of the really big bloggers have a the same certain pages.
About me – these are awkward to write, I know. But they are so important. Remember when I said brands want to work with bloggers that connect with their readers? It is so much easier to make a connection when you paint a picture of who you are for your readers through your about me page.
Contact me – if you want to work with brands, they are going to need a way to reach out to you. On this page you should have your email address and all relevant social media.
A privacy policy – this one is going to help you cover your bases legally. If you are monetizing you are required to have one, but it's not a bad idea to add one even before you start making money.
Work with me – this one is the most optional, but I do recommend it! This is where you get to brag about yourself. Put your page views and following count here so brands get an idea of who it is they are working with.
The Takeaway: There are unwritten (and written, too) rules about what professional bloggers need on their page. You could hypothetically get away with ignoring these rules, but you shouldn't. If you want to look professional and be taken seriously it is important to have the pages listed above.
Quality and Quantity.
This is the one topic that gets debated over and over again in all of my blogger groups on Facebook. Should bloggers be focusing on quality or quantity? And the simple answer is that bloggers should be focused on both.
Quantity. You can write the most amazing, high quality posts paired with breathtaking photography and pristine formatting and it literally isn't going to matter if you are only posting once every 2 weeks. If you want to make blogging your job you are going to have to treat it like a job. Set aside time to pump out these amazing posts at least once a week. More if you really want to take this seriously.
Quality. If you have to choose between quality and quantity I guess you should choose quality, but really you shouldn't be having to make that choice regardless. Blogging for a hobby and blogging for business are two very different things. If you really want to monetize you are going to have to buckle down and post high quality posts consistently.
I know it's hard to pump out blog posts sometimes, but like anything else it gets easier with practice. Posts used to take me hours to write and photograph. Now I can get a post out in an hour and a half on a good day. I've gotten better at expressing myself and putting my thoughts down through consistency and practice.
The Takeaway: Blogging for profit is hard, any one who tells you it isn't is lying. But it is also rewarding and completely worth ever ounce of stress that comes with it. Make it a point to write at least one fantastic article a week. But try to write more! A quick tip is start a series on your blog, so coming up with something to write about will be a lot easier.
Social Media.
In high school I loved social media. Now that I'm a blogger it's the bane of my existence. I hate having to care about numbers and work on growing my following counts. I wish numbers didn't matter, but they do. 99 times out of 100 if you work with a brand they are also going to want exposure on your social media. If you only have a total of 78 followers across all social media that isn't going to look good!
But how do I grow my numbers?
Be active. Try to post on all of your social media at least one time a day. You might look at me and call me a hypocrite, but I'm working at this too! Twitter and Facebook are the most important to be active on, but you should work on all of them!
Don't be controversial. If you want to maintain numbers keep your controversial opinions to your personal accounts. I have unliked about 20 blogger's pages on Facebook this week due to hateful commentary on Caitlin Jenner. Yes the Freedom of Speech applies and you can say what you want. But think before you type. Blogging for profit is a numbers game and you don't want to put that in jeopardy over something petty.
Be engaging. Ask questions and start a dialogue with your readers! Connecting is so important, I have made some really awesome friends through my social media!
Engage with others. If you see another blogger tweet out a question – answer it! Social media is all about being social!
The Takeaway: A social media following is so important in growing your blog and connecting with your readers. More often than not brands are going to check your numbers before agreeing to work with you!
Stay Tuned!
In the next day or two I will be sharing how I go about getting sponsored posts. There will be in depth guides on each individual website that I use and love, as well as a template you can use when emailing brands directly. If you want me to cover anything specifically let me know and I will get on it!