This post is sponsored by Bioré but the content and opinions expressed here are my own.
Stress seems to be one of those unfortunate non-negotiables of adulthood. When I was young and dying to grow up, I was looking forward to staying up as late as I wanted, eating cereal for dinner, and living on my own. What I wasn't prepared for, though, were things like rent, the demands of my 9-5 job, tax season, and all of the other stresses that come with being 23.
And one unfortunate side effect of stress is the havoc it always seems to wreak on my skin.
The quality of my skin is typically reflective of my stress levels. The worse I'm feeling the more clogged pores and pimples seem to emerge.
So, I like to spend a little extra time pampering myself when long days or stressful weeks have me feeling down.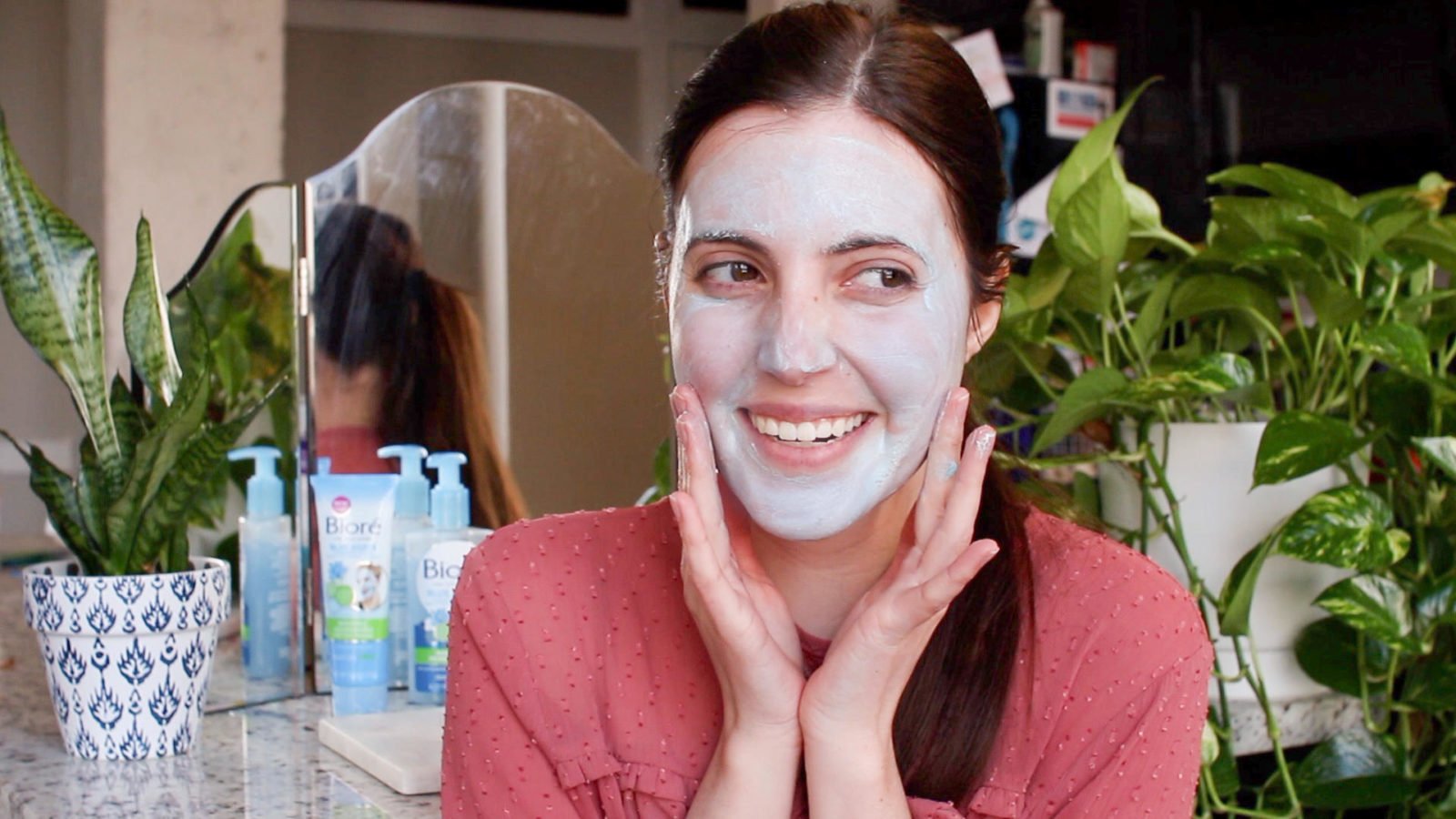 My Skincare Routine
Taking the time to really enjoy my skincare routine or run a bubble bath not only help me clear my mind, but it helps me clear my complexion, too.
For all of you other grownup dreamers blindsided by the realities of adulthood, I wanted to share my destressing skincare routine.
Step 1: Makeup removal
Let's be honest: there are very few things that feel better than coming home from a long day and ditching the bra, swapping out jeans for sweats, and finally taking your makeup off.
I'm a huge advocate of removing your makeup before washing your face because I feel like it helps you get a better clean.
I usually remove my makeup with either micellar water or an oil cleanse. On days when I'm feeling lazy, though, I'll grab a makeup removing wipe.
Step 2: Washing my face
Washing my face is one of my favorite parts of the day. It feels like hitting a reset button and starting fresh.
I love the Bioré Blue Agave + Baking Soda Balancing Pore Cleanser for an refreshing, conditioning cleanse.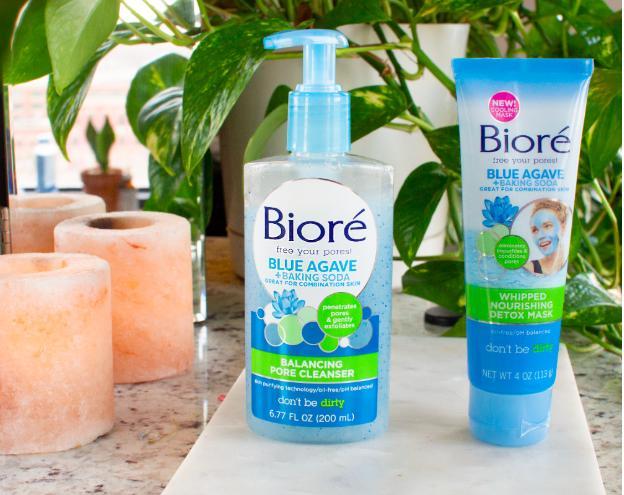 The cleanser does a great job bringing balance to my combination skin and deep cleaning my pores (it's especially great for removing the pesky pore congestion that is always plaguing my forehead!)
The two key ingredients, baking soda and blue agave, work in tandem to give you a deep but nourishing cleanse.
Baking soda deeply cleanses your skin (but shouldn't be used straight from the kitchen cabinet – you need to use a product that contains baking soda and was formulated to be pH balanced, or you'll throw your skin out of whack!).
Blue agave helps soothe and condition your skin, which is great for calming any redness or irritation.
Step 3: Face mask
Face masking is by far my favorite part of my skin care routine, and the Bioré Blue Agave + Baking Soda Whipped Nourishing Detox Mask helps reset your complexion.
It's a refreshing mask with a great tingly feel thanks to the menthol. It helps eliminate impurities and clears clogged pores.
The thick, creamy formula feels very nourishing and luxurious, and the menthol feels great on your skin.
(*Please note: Not for sensitive skin consumers or those with sensitivities to menthol. It may cause short term flushing of the skin.*)
This face mask isn't meant to dry hard or peel away, it sits on your skin remaining airy and light. You should only keep it on for 3-5 minutes. I usually prefer to wash it off at around three and a half.
Step 4: Moisturize
I'm a moisturizing addict – there are few face moisturizers I haven't tried, and right now I'm crazy about facial oils.
Currently, I'm using a brightening formula to help get over the dullness in my skin that inevitably appears every winter.
Share your stressed skin secrets!
What is your favorite way to destress and take care of your skin? If you have any secrets, I'd love to hear them! And make sure to check out the Blue Agave + Baking Soda Balancing Pore Cleanser and Whipped Nourishing Detox Mask!
Any questions? Let me know in the comments!