The number one email I get comes from new bloggers asking me how I make money blogging. Before I get started on explaining that, let me give you the obligatory spiel: Blogging isn't a 'get rich quick' deal, you shouldn't start blogging just to make money, and a lot of bloggers will never make a single penny.
With that said, it can be done. If you are dedicated and committed, chances are that you will get to the point where you can monetize if you so choose. But you are either going to have to really love blogging, or be able to force yourself to work hard for something you hate. Personally, I love blogging so this is the best job I could have ever asked for, but if you are thinking of starting a blog just to make money – assess whether that's the only reason you want to blog or not. If you don't like it – there are easier ways!
With that out of the way, I'll get into the nitty gritty and share all of my best secrets on how to make money blogging.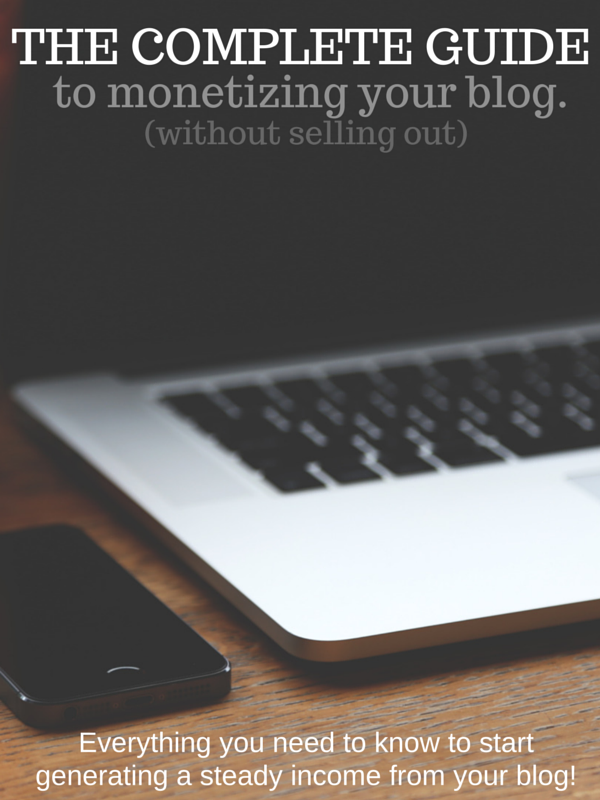 Building your blog.
You won't make a penny until you start getting readers. Before you think about monetizing you should establish yourself!
Be consistent and post frequently – if you're only posting once a week you're going to grow quite slowly. Aim for three times a week if you can! More is better, but remember that everything you put out should be quality.
Write posts that will help people. You aren't going to get people to your blog if you're going over the minute details of your day. Instead help them – either by teaching them a skill, giving them advice, or making them laugh.
Be social – if you're not on social media, your blog is going to take a huge hit. Most of my traffic comes from social media, and that's the case for most bloggers.
Make your blog pretty and easy to navigate. Humans are visual creatures and very easily frustrated. If your blog is messy and cluttered people are going to leave, and if it's confusing to navigate people are going to leave and never come back. If you look at my navigation bar you'll see that I have main topics, and some of those topics have sub-topics. This makes things clean because I don't have every subo-topic listed out, and easy to navigate because they are all under relevant topics.
Give people the opportunity to subscribe to your blog. You can see in my sidebar that I've got a subscription box, this allows people to input their emails and get my new posts straight to their inbox!
Monetizing with ads.
Many bloggers' first income comes from running ads on their website. Ads can go in post or on the sidebar, header, or footer.
Google Adsense – I first ran ads through Google Adsense and I really liked them. I wasn't getting enough traffic to reach threshold before I switched to BlogHer, though. They don't have the highest payout, but they will accept newer bloggers!
Blogher – I use Blogher now, and despite a rocky start I am really happy with them! For the first four or five months I swore I was going to end my contract, but things have gotten so much better!
The Blogger Network – I was planning on switching to the blogging network because I had heard such great things, but now that I'm happy with Blogher I have held off.
Sovrn – I have only heard good things about them! This is another one that I don't have experience with, but bloggers I trust have said great things!
Monetizing with sponsored posts.
I find the majority of my sponsored opportunities through different networks rather than directly from brands.
Monetizing with Affiliates.
I don't have much experience with affiliates though there are some bloggers who make massive income using different affiliate networks. As I have only ever used one and am by no means an authority, I will link you to some posts that can offer more advice than I can.
Go make some money!
While those are certainly not all of the ways that you can monetize your blog, these methods will help in getting your feet wet. As soon as blogging becomes parts of your life and you can focus on both that and a new project you may consider writing an e-book, creating a product, selling wordpress themes, etc. There are a ton of ways to monetize and there is something for everyone. As always, if you have any questions don't hesitate to email me!