Let me just confess something to you guys: I am a smoothie fanatic. I love experimenting with different combinations of fruits, bases, and juices in my efforts to create a smoothie that is not only delicious, but also beautiful in color. After making countless smoothies, I think I have finally created a new favorite. I love berry based smoothies, and this one is definitely a winner. The strawberries and blueberries create a really sweet base, and the contrasting tartness of the cherries help tone it down.
Not only is the smoothie delicious, but it's made with completely healthy ingredients so it's guilt free, too! It is high in antioxidants, vitamins, and calcium. Even though it is definitely delicious enough to have for dessert, it is healthy enough to eat for breakfast. In fact, it's healthier than the sugary cereals, waffles, and oatmeals that so many people eat for breakfast!
Smoothie Health Benefits:
Now let's break down what's in this super smoothie: We have blueberries which are full of antioxidants, cherries that contain vitamin C and anthocyanin which helps ease inflammation, strawberries for added antioxidants and orange juice for another vitamin C boost. not to mention a plain yogurt base which adds calcium and allows the smoothie to be filling enough to keep you full through lunch time!
Making the smoothie is really straight forward. Throw three quarters of a cup of yogurt into your blender, I use my trusty Oster Personal Blender
. Next layer in your fruits, and any ice that you'd like to add. Personally I always throw in about 5 cubes because I prefer using fresh fruit over frozen, but I still like my smoothies to be cold! Pour in half a cup of orange juice and blend until all of the chunks are gone out of your smoothie.
Smoothie recipe:
This smoothie has a slightly tart flavor from the cherries, which I really love as it balances well with the really sweet strawberries. But if that tartness isn't your cup of tea, I recently tried adding a few pineapple chunks to this recipe and it was to die for. A lot sweeter and it had a nice tropical taste to it, as well!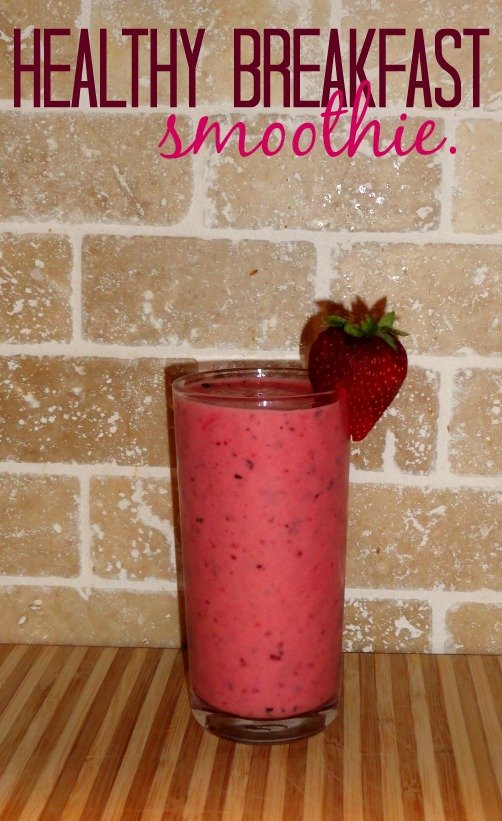 Do you have a favorite smoothie recipe? I am dying for new recipes to try so I would love to hear any recommendations that you might have!
Shared with: