I love Halloween. I'm 100% unashamed of that fact. I trick-or-treated until way past the "socially acceptable" age, love Hocus Pocus with all of my heart, and am all about ghouls and ghosts and goblins. Another thing I love? DIY-ing costumes. It's infinitely more fun for me to get creative and come up with a fun costume with Halloween Makeup and clothes I already own than pick something up at the Halloween store.
Halloween definitely looks different this year, and I almost wasn't going to post about it at all. Instead, I decided to polish up this post that was originally published in 2015 (when I was just a wee blogger!)
I love Halloween looks with intricate makeup because beyond that, your costume itself doesn't really matter. You can dress cute and comfy and people are still able to tell what you are. Throw on a few relevant accessories and bam – you've got yourself a costume worth of 'best dressed' at your Halloween Party.
I put the looks in order building up to my favorite and I've got a few tips and tricks under each!
My Halloween Toolkit
I used makeup I already had in my arsenal, but I rounded up a few products that might help you achieve these looks.

Halloween Makeup!
Creepy Doll Makeup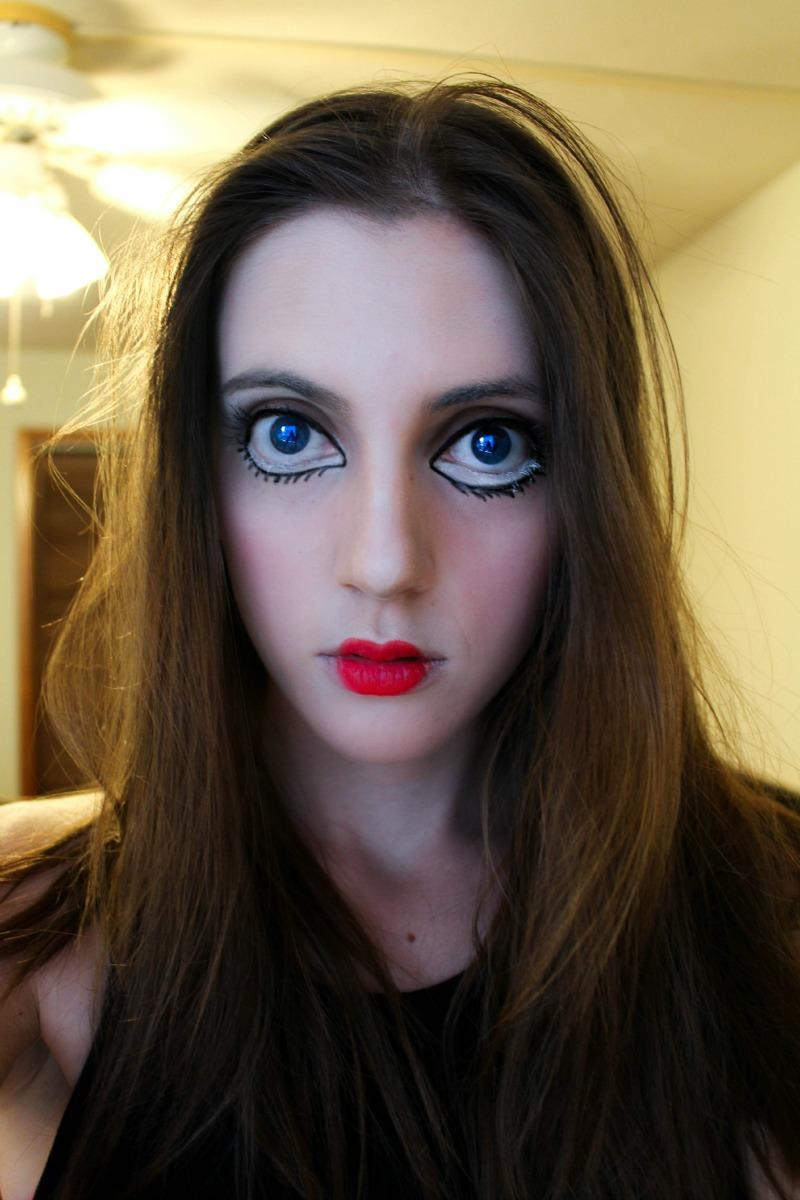 So as far as Halloween Makeup goes, this one was definitely really easy! I just put on some pale foundation, painted on doll like lips, and exaggerated the size of my eyes. This one was lacking a bit of the 'creep' factor I was going for, and I really think that could be reconciled with some creepily light colored contacts. (I tried to achieve this in Lightroom, but I failed and had to settle with somewhat blue eyes.) I also took another step to step up the creep factor but you will find that further down the list!
What you'll need:
Light Foundation
Red Lipstick
Black Eyeliner
White Face Paint
This would be great paired with a dress, white tights, and some mary-jane shoes. (You will quickly find out that my main priority is warmth here!)
Cute Cat Makeup

Long gone are the 'Mean Girls' days of adding a pair of cat ears to a corset and calling it a costume because this is so much cooler. Some strategic eyeliner completely transformed my face and I felt very cool and feline-like. This was definitely the easiest of all the looks, and even though this is second to last on my ranking, I'm still obsessed. (Plus, I only shared the best looks. Two didn't even make the cut!)
What you'll need:
Black Eyeliner
Any extra makeup you want to add!
If I were wearing this out I would wear black jeggings, a black sweater, and a pair of cat ears. If you want to be a bit fancier, a black dress with tights and boots would look great, too!
Broken Porcelain Doll.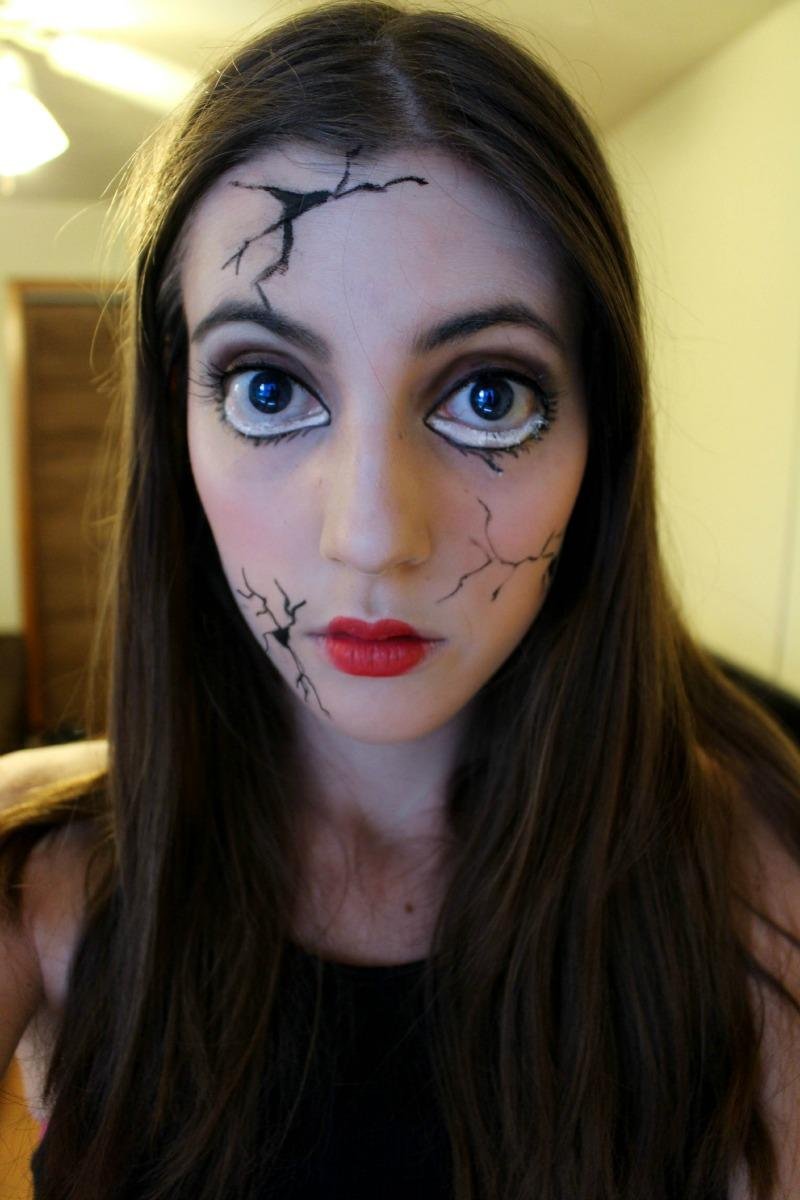 Here we've got the Porcelain Doll 2.0 and I think it's a million times cooler. It's creepier, looks a way more intricate, and I'm crazy about it. I thought about playing around with my fake blood, and I still think that would be an awesome look!
What you'll need:
Light Foundation
Red Lipstick
Black Eyeliner
White Face Paint
Again, I would pair this with the dress, tights, and shoes!
Deer in the Headlights.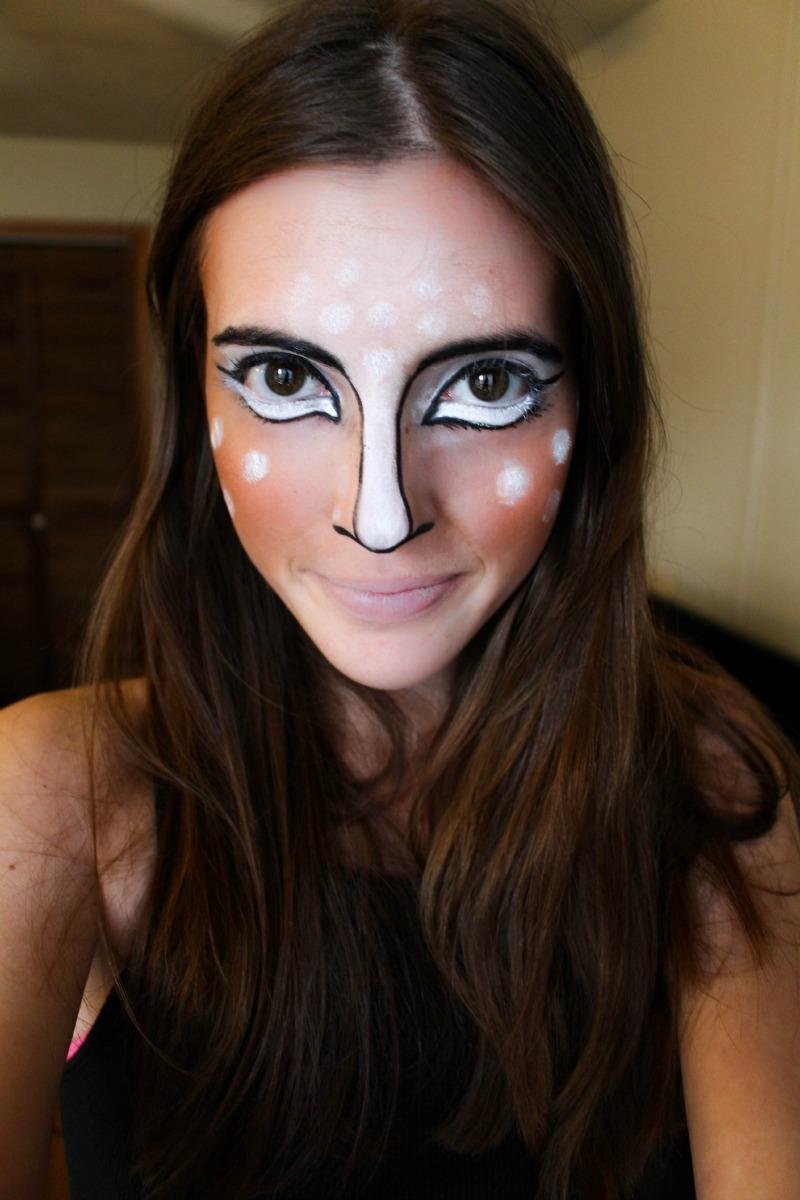 So I might be biased because I'm a sucker for deer, but I think that this is so cool! And it was super easy! I threw on way more bronzer than anyone should ever wear and then some signature fawn spots. Again, I exaggerated my eye size and then tried to play with their shape a bit.
What you'll need:
Bronzer or a Darker Foundation
Concealer for you Lips
Black Eyeliner
White Face Paint
This is another look that I could stay warm in. Throw on some skinny jeans, brown booties, and a brown turtleneck and you've got yourself the cutest deer in town! Bonus points if you can find some festive antlers in your Christmas stash.
Fierce Cat.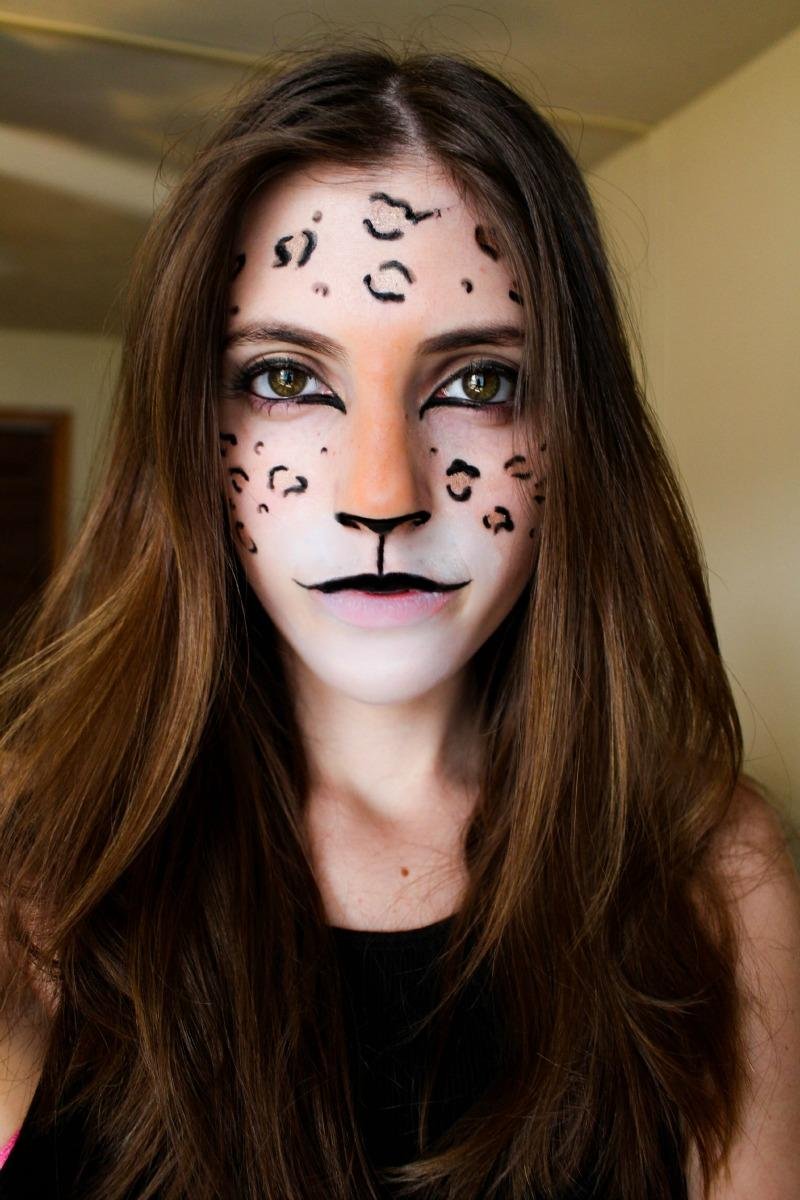 I love this. I love this so much. This has the same base as the cute cat makeup, but with a bit of extra work. I painted my nose brown, added some (shimmery!) cheetah spots, and felt fierce doing it.
What you'll need:
Black Eyeliner
Bronzer
White Face Paint
Shimmery Eyeshadow
Again, I would love to wear all black with this! If it were really chilly, I think it'd be super cute to wear this with cheetah gloves!
Happy Halloween!
There we have it – my top five favorite Halloween Makeup looks! All of them were super easy and I was able to use makeup I already owned (plus some white face paint that I found for a dollar!) Now tell me two things – which was your favorite and what are you going for as Halloween?