2016 was…a year. There was a lot of good, a lot of bad, a lot of laughter, and a lot of tears. 2016 was my first time living in another state, my first time holding a real job, my first time being completely financially independent, and my first truly understanding how to take care of myself and put myself first.
Of course, with the good came the bad. I spent a lot of the year more stressed than I should have been, experienced the greatest loneliness of my life, and had to deal with the news that one of my favorite humans (ever) is sick again.
As always, the good outweighed the bad and I'm thankful for the experiences 2016 brought, and I'm eager to leave the negatives in the past.
January
January was…a month. If you've been here a while, you might remember January as being the month I announced I was taking time off of college. I was depressed, stressed, and overall just overwhelmed with everything going on in my life, and at the end of the day I just wasn't as passionate about my classes as I was about the things I was doing online.
It was a hard decision and I cried nearly every day leading up to it and for weeks after.
Once it was set in stone and I'd emailed with my advisor and let her know my decision I had a weird sense of calm come over me. Every time my decision came up in conversation, I'd always share that I felt bigger things were coming my way soon, but we'll get to that in February.
Honestly, I'm sure that a lot more happened in January, but with where I was at mentally and emotionally, I really don't remember anything else.
February
Remember those big things I thought might be coming my way? Well, a few days into February my current boss tweeted me out of the blue asking if I was looking for an internship. My first instinct was to think it was a scam, my second was to get super excited.
If you don't know, I'm a content marketer at Teachable – an awesome tech company that a ton of incredible bloggers use to create and sell online courses. At that time I was taking one of Melyssa Griffin's courses where she talked a lot about Teachable so I had the highest of opinions regarding the company.
After warming my parents up to the idea I had phone calls and Skype calls with the team and made plans to move out in March and intern there through the summer.
Like most things in life, I didn't think it through or do much planning, just went on pure optimism and luckily for me it worked out.
Another highlight of February? I was published in my very first physical magazine. It was on national newstands and is read by tons of young ladies so it was a really great feeling.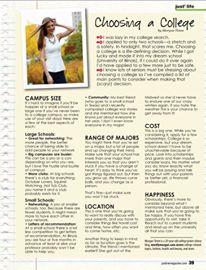 In February I also started getting close to one of my dearest friends, Desiree, and I give a lot of credit to her and our weekly coffee dates for helping me get through the depression and anxiety I was feeling at the time.
March
March was a big month for me – I bought a ticket and flew out to New York on Pi Day with a suitcase, a carry on, a stuffed bear, my momma, and no clue where I was going to live.
We stayed in an airbnb over an Irish Pub for the first few days – it was small and old but it had two beds, a kitchen, and a semi-functioning bathroom. We were set.
On the first day of work I took the subway the wrong way without realizing it. I counted my stops and emerged in a not so great area. When I popped up from the subway hole (I never learned what the entrances of the subways were actually called) I knew right away I wasn't in the Financial District like I was supposed to be, and it wasn't long before gross men were yelling gross things at me – something that turned into sort of a theme during my half a year in the city.
A $50 uber ride later I had my first day and it was…great. People weren't mean like my dad warned me they'd be and everyone was eager to help me get acquainted with the city.
Looking back at things, March really was a blur. My mom left when the first weekend rolled around and my boyfriend was supposed to tag team and take her place but it turns out American Airlines is the worst and that never actually happened.
I switched over to an airbnb in Brooklyn where I stayed for 10 days, still apartment hunting. During this time I had my first New York Bagel (better than regular bagels), New York Pizza (has nothing on Chicago), and I got a hang of the subway systems (sort of).
April
April is when I finally moved into an apartment. I found a five-month sublet on a studio just a short walk from Union Square (which is conveniently where our office moved to on the same day I moved into my apartment.) It was tiny, but it was mine. Below is an image off of the Craigslist listing.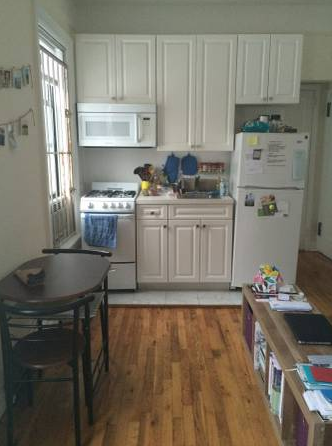 That first night I went out and bought a skillet, blanket, pillow, utensils, and a bowl and snuggled onto my loveseat/bed and ordered takeout.
In April I finally started meeting people outside of work and making friends. I struggled a lot with balancing work and blogging (and still do) so my social life was on the backburner, but I did try to make it a point to meet one new person a week. (I failed more often than not.)
April is also where I started to get my groove at work. I felt more like a member of the team than an intern by the end of the month, and while I was one of the more quiet and introverted members of the team, I started to feel like I fit in regardless.
With the highs came the lows, though, and I really started to feel lonely. I had friends in New York, but comparing them to my best friends at home, some of whom I've known since I was in middle school made me feel like I'd never get that close to anyone in New York and that was discouraging.
May
Living in New York I had quite a few scary run-ins with creepy men, and while I usually would have just one a month, May was different and it seemed like every time I left my apartment I'd be yelled at or grabbed. This usually happened on the subway, so I'd walk everywhere. My apartment on 27th street to Central Park? No prob. Better than being harassed while stuck in a tiny metal pod barrelling underneath the city.
The spooky run-ins paired with my loneliness made May a pretty tough month for me. We were also working on a huge summit at work so I was stressed (though it was 90% the good kind of motivational stress), I had major anxiety about leaving my apartment for fear of street harassment, and most of my friends were in my hometown on break from school and I was suffering from FOMO in a big way.
Things started looking up in the end of May, I figured out a system of sunglasses + earbuds that helped me power through the weirdos on the street – and I started venturing out more. I made myself a bit of a "nest" on my fire escape where I'd work on the weekends, and other people my age started flocking to the city to intern.
You see, bloggers have really cool networks where we are able to talk with other people who get it. So posted in a few networks, "Ayyyy, who is interning in NYC this summer? Want to get coffee?" and all of the sudden I had coffee dates set up with all sorts of incredible people who may have well been my kindred spirit sisters. Bloggers, meet bloggers. It is the best thing.
Oh, and I finally caved and bought a mattress in May and was no longer sleeping on my itty bitty love seat. Here is an image of the tiny couch in question.
June
June was the highlight of the summer – my parents and my boyfriend visited, I took a few days off work to spend with them, and I turned 21.
I had already picked out a ton of places I wanted to take Chris when he visited, but we found some new great places on our own, too. My family came about a week into Chris's visit and we did a lot of really fun things. My favorite? Visiting Rockaway Beach for my birthday. The wind was whipping sand into our calves and the water was ice cold, but it was still really fun.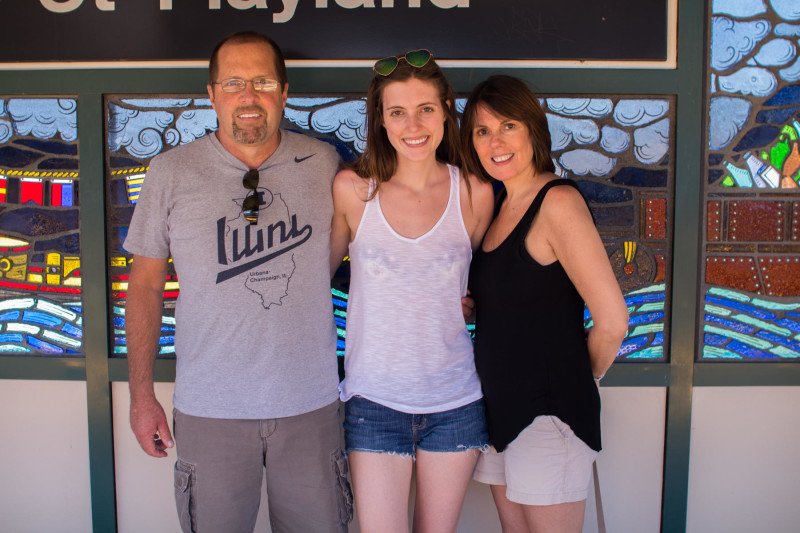 My poor dad had gout for entirity of the trip, and New York City isn't the most accomodating place for someone who can hardly walk, so we stuck to the closest attractions. It was cool being able to show my parents where I've been living for the past few months, and prove to them that I wasn't in constant danger.
Chris left the day after my birthday, and my parents were a day after him so needless to say that was a pretty rough week. Regardless, having my favorite people come and visit me meant a lot and I really needed it at that point.
Things were still going well at work – though I began getting very distinct vibes that the person I was working closest with was angry with me/didn't like me anymore and I couldn't figure out why. As an anxious person that made me dread going to work for most of June and the wuss in me didn't address it, instead I just rode it out and played it day by day.
June is also when I really worked out that I didn't want to stay in New York for much longer. New York is a great place with a lot of perks, but there are also way to many downsides for me to have stayed happy living there and I felt that I was more needed at home than I was in New York. Once I knew I would be going home at the end of my internship it was bittersweet being around everyone. I almost wanted to stop getting attached so it'd be easier to leave without being sad. (Spoiler alert: it didn't get easier, I cried on my last day.)
July
Telling the people I worked with that I was leaving was…hard. I really loved what I was doing, and the people I worked with were a beautiful combination of kind, genuine, and dedicated paired with goofy sarcasm and Friday night happy hours.
July was my last full month in the city, so I tried to make the most of it. I started taking the long way home from work, wandering in and out of shops I hadn't been to, and I finally discovered some pretty sweet thrift shops that were just a few blocks from my apartment. I think I got to know the city more in July than I had at all until that point.
Another great moment was when my grandma and her best friend came to visit me. The two of them had never been to the city, and though I think the first day scared them a bit they were so enthusiastic and I loved showing them around.
We took the touristy red buses that take you through the city (way worth it, I was skeptical), saw the Radio City Rockettes, and ate a ton of great food.
In that time, I also had my last day of work. It wasn't easy and I secretly cried a few times. My favorite place in New York was Chloe's and as a going away surprise my coworkers ordered sundaes for everyone while I was having my exit interview. I walked into the office and burst into tears for a second before containing myself and enjoying me sweet, sweet mango madness sundae.
The last few days of the month my brother and our friend Tracey came to visit me in the city. They helped me pack my apartment back up into my trusty suitcase and I got to play tour guide once again.
August
I left with Alex and Tracey on August fourth and finally was home. We almost missed our flight and I was v cranky and v tired by the time I was home, but I was home.
When you've been sleeping on a $40 mattress on the floor of a tiny apartment for half a year, a real bed is divine. I don't think I ever slept as well as I did my first month back.
I was reunited with my family, my boyfriend, and my favorite tiny human in the world (who didn't forget me!)
I was offered a remote position at Teachable as a content marketer, so I was able to continue working with them from home. Best of all worlds!
August meant a lot of catching up with my friends, catching up wtih my sleep, and readjusting to home. I was afraid that when I moved home I'd regret my decision or wish I would have stayed in New York – luckily that never happened, and even now the only thing that I miss about New York is the food. (And some of the people I met, but we keep in touch.)
September
In September I got into the groove of being home again and just relaxed. Looking back on it, it's hard to think of any truly significant event.
I shot a lot of pictures with Desiree which is always fun and as always they turned out great. If you didn't know, she is a super photographer and if I post a picture on Instagram looking like not a potato – chances are that Desiree took it.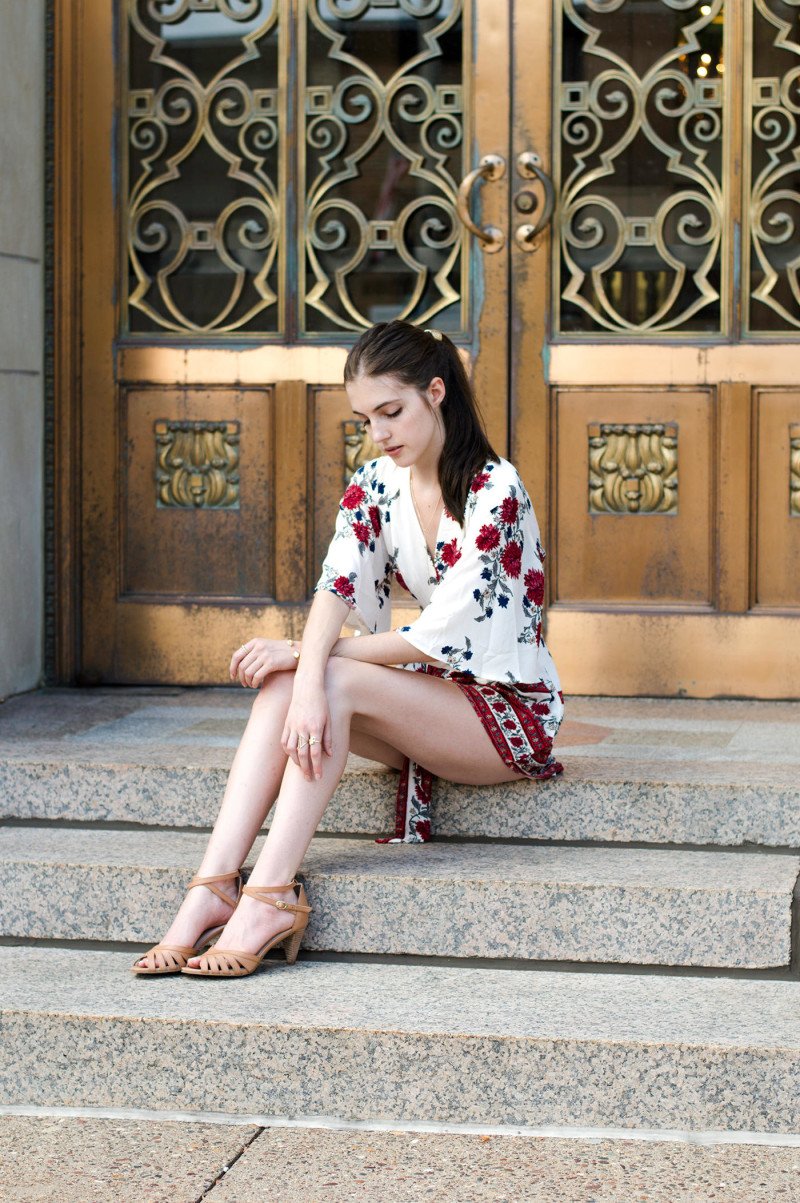 October
October was a fun month for me – I went down and visited Chris and we celebrated our 50 month anniversary (usually we just don't celebrate that monthly milestones anymore, but this one felt special!) and we did cliche fall things like walk through the arboretum to admire the changing trees, and go to the orchard to pick apples.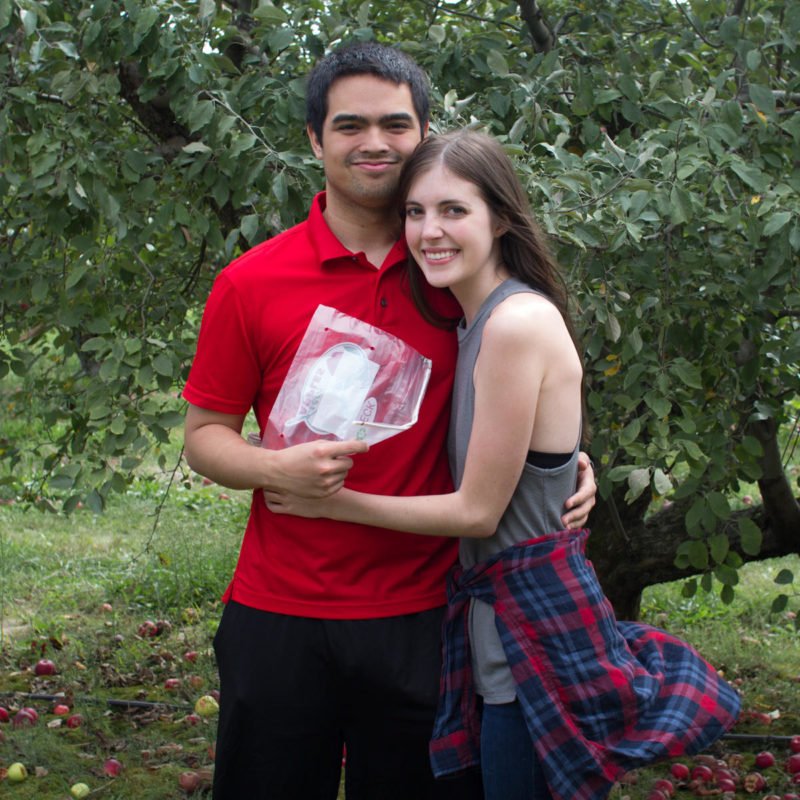 November
In the beginning of November, one of my closest girlfriends,Tracey, and I adventured out to San Francisco. It was my first time out west and I loved it. After living in NYC I sort of wrote off big cities, but San Francisco and New York are like day and night. Truly and incredible place.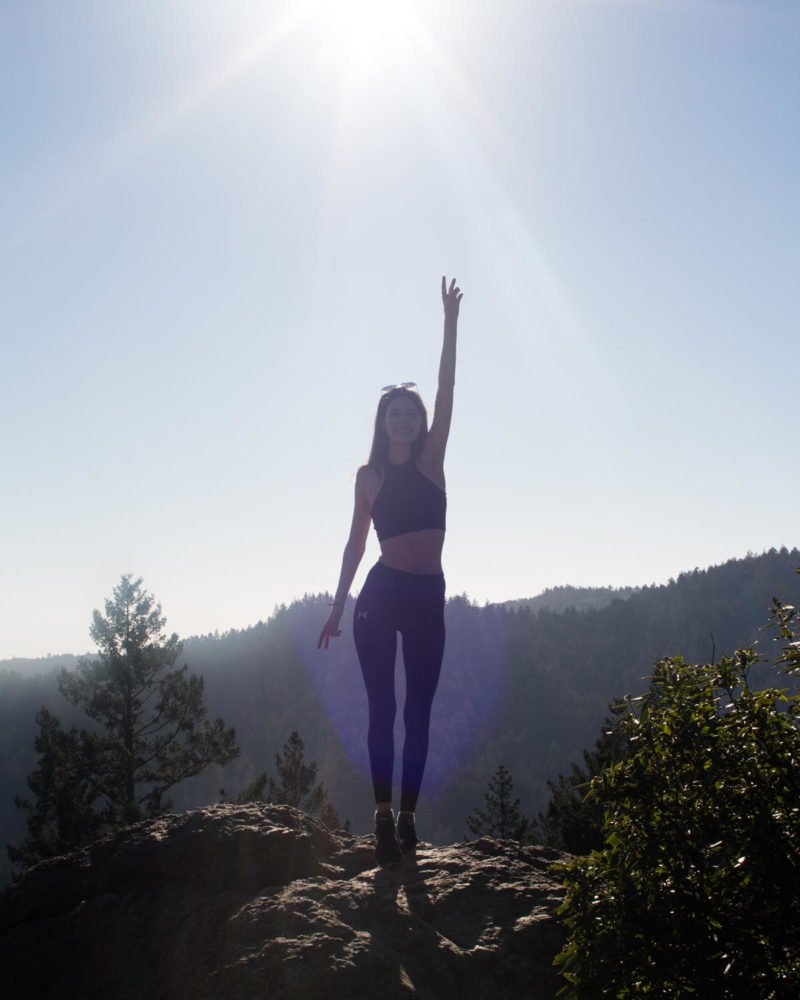 A few days after we got back was the election. I don't get overly political here, but that night my heart broke knowing what some of my nearest and dearest were feeling. I felt sick for the next few days, but I've since regained a sense of optimism that maybe this is the wake-up call people needed to be more active in protecting their friends and neighbors and stand up against hate in the future.
Thanksgiving was at the end of the month and it was…weird. Usually my whole extended family will get together, share food, and act like goofs. This year our celebration was abruptly canceled and none of the cousins knew why, and the adults were remaining tight lipped.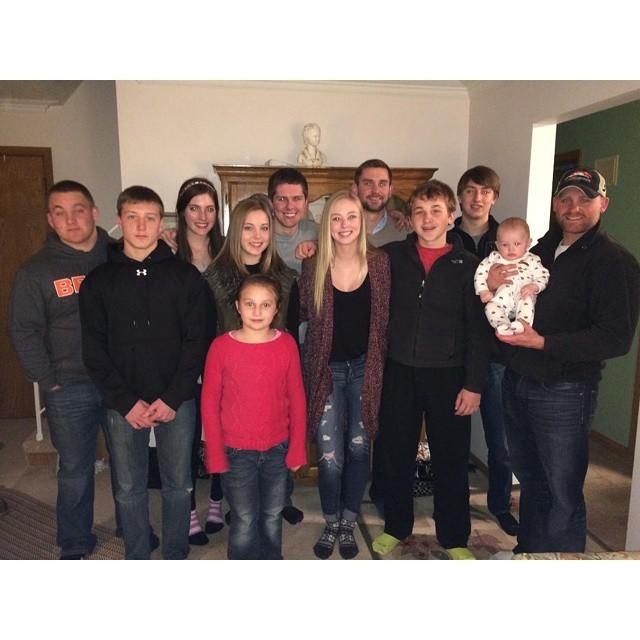 Instead of our usual festivities (above) I spent a lot of Thanksgiving with Chris's family, then came for dinner with my brother and parents.
December
We ended up finding out that Thanksgiving was canceled because my grandpa was sick again. Last year one thing that really triggered my depressive feelings were thinking about my grandpa. He had bladder cancer and was going through chemo that was pretty rough on him. In April he was cancer free, but because cancer is a tricky beast, it came back late this fall.
Anyone who knows me knows that I prefer my grandpa to most people. He's funny and kind and just an all around cool guy. Most of my cousins feel this way, and given the history of tight-lipped parentals, my cousin and I created a little intelligence unit to figure out what was going on and filled each other in with whatever information we could find out.
With the shape my grandpa's bladder is in, he has to get it removed soon. Originally he thought he wanted to let the cancer run it's course, but despite being numerically "old," my grandpa is still strong and sharp and physically a lot younger than his age would lead you to believe. He has a lot of years ahead of him so he ultimately decided to operate.
I found out about my grandpa around the same time I was in Florida with my parents and older brother. My dad rented a house on Siesta Key and we were able to hang out there, walk to the beach, and lounge by the pool.
Sometimes when I'm having a bad day I worry that I'm getting to where I was last year again, but being able to enjoy my vacation and not letting worry ruin it reinforced the feeling that I've come very far in the last 12 months.
The rest of the month went without much incidence, Christmas was great. Having the family together is always one of the best feelings. I still hadn't seen a few of my cousins since coming home, and I hadn't seen everyone all together since last Christmas so it was much over due.
What's next?
In 2017 I am focusing on self-care. That's something I said last year, too, but I didn't really stick to it. I allowed a lot of stress to come into my life, felt overwhelmed more often than not, and was overall an anxious person.
I don't regret any of that stress (or at least not most of it), but I do know that I can't carry on living every year like I did in 2016 without burning out.
I've realized in my life that I do things every day and they either drain me or energize me, with a few neutrals thrown in. Right now it's about 50/50, but I'd like to cut out a lot of the things that drain me in 2017, and throw in some more energizing topics.
It's a bit cheesy, but with everyone choosing their "words of the year" I thought I'd throw mine into the mix. This year, my word is Prioritize. I want to focus on prioritizing myself, my passions, and my health. I'll do this by focusing on doing things that makes me happy, nurturing my relationships with Chris, my friends, and my family, and allowing myself to fail without beating myself up.
This was a long one, and I appreciate all who stuck around. What was the highlight of your year?