This post is sponsored by CBDMEDIC but the content and opinions expressed here are my own.

I've been working from home for the past 3 years – first as a remote employee at a tech company, now as a freelance writer and marketer. During that time, I've learned a lot about taking care of myself while working from home.

It's easy to fall into the temptation of working from bed all day, or endlessly wandering in and out of the kitchen, grabbing a snack on the way. Work life balance is hard to achieve while working from home, and it's easy to fall into unhealthy habits without even realizing you have.

Take care of your back
If you work on a computer all day, chances are that you're not a stranger to upper back and shoulder pain. I find myself hunching lower and lower over my computer if I let myself, and by the end of some days I'm walking like I'm 90.

For me, taking care of this comes in three phases:
Take breaks. Working for myself has me stressed some weeks, and I'll find myself staring at the computer, hunched over my desk for 6 hours without getting up. That's not good, you need to move. I try not to go any longer than 90 minutes at my desk, but ideally I'll take mini breaks at least once an hour.

I get up, stretch, wiggle around, and do something do release the stress on my body.

(And by do something to release stress, 9 times out of 10 that means playing with my cat.)


Reverse the hunch. If you've never done the "Cat Cow" sequence in yoga, look up a video and give it a try. Basically, it has you on your hands in need going from an extreme hunched posture to an extreme arched posture.

When I'm having severe back pain, I'll do this several times throughout the day and notice a big difference.

I've also started taking weekly yoga classes which has made a huge difference in how my entire body feels. Not only do I have less aches and pains, but I've been gaining significant strength, too.

Topical pain medication. Rubbing a pain cream right where your pain is can make a world of a difference. I'm picky about what I put on my skin, so I recommend CBDMEDIC Back & Neck Pain Relief because it's made with all natural ingredients like eucalyptus oil, menthol, and hemp extract.

What's really great about topical treatments like the CBDMEDIC Back & Neck Pain Relief is that they absorb directly, reducing inflammation at the site. I know a lot of people aren't familiar with the in's and out's of CBD, but just so you know, this product is made with THC-free, safe and legal CBD hemp oil.


You can find CBDMEDIC products at your local CVS (there's a national rollout taking place, check to make sure your store has it!) or you can order it online.

Take care of your eyes
Staring at a screen all day is terrible for your eyes. It can cause eye strain, headaches, and poor vision. For most work-from-home jobs, there's not much getting around the fact that you'll be staring at a screen, but here are a few ways to better protect your eyes:

Lower the brightness of your screen. This one is hard to get used to, but once you're adjusted to a dim screen you'll never want to work at full brightness again.

Get blue light glasses. When I first heard of these, I thought they were a bit of a gimmick, but they're actually game changers. If I feel myself getting a screen headache I can usually pop these on and it'll quickly dissipate.

Take a break. We already established this early so I won't drag on, but sitting in front of a screen without taking a break is bad for you in so many ways.

Take care of your mind

I'll be honest: working from home has gotten me down in the past. It can be kind of lonely, and it's easy to isolate yourself. Without being around office mates, it's a bit harder to socialize.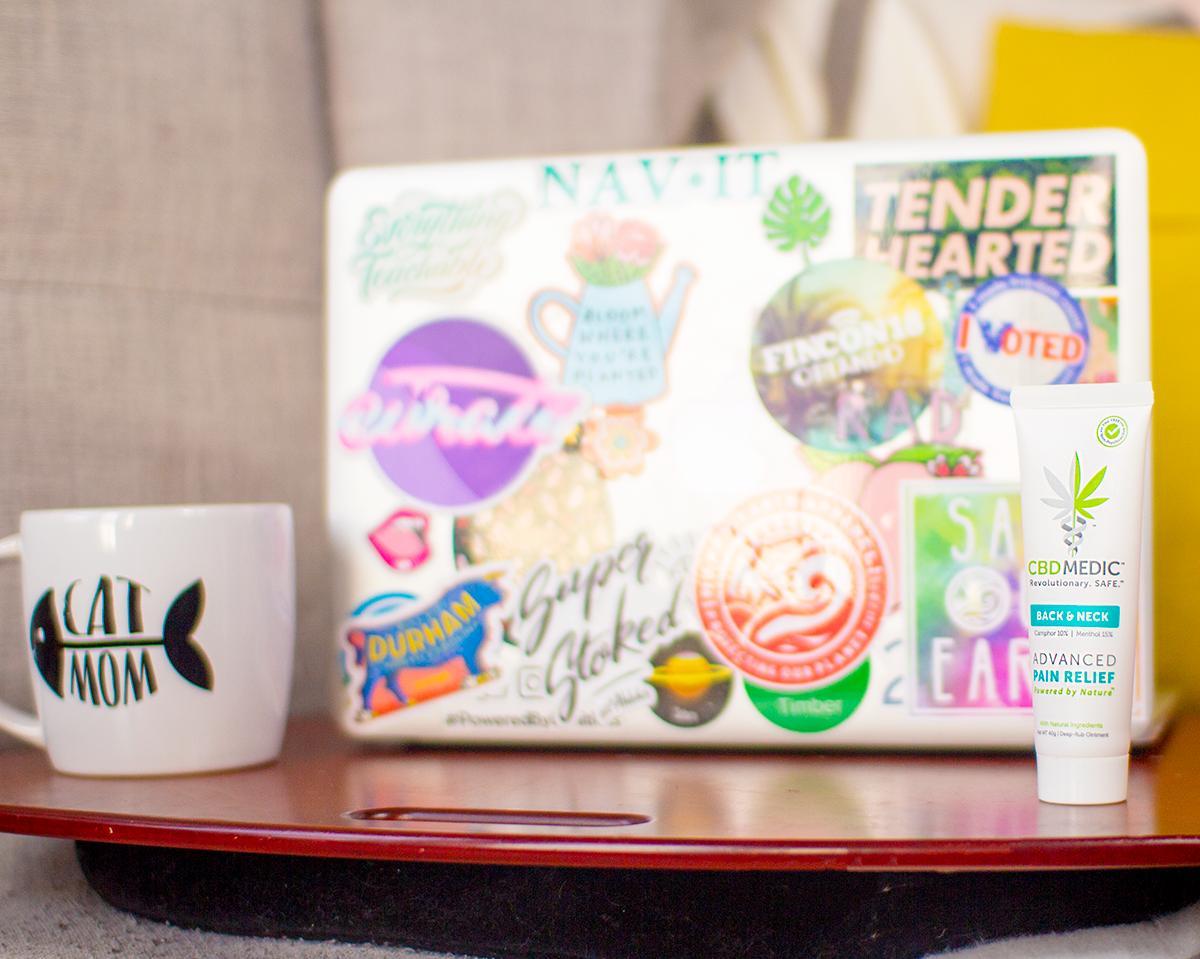 Leave the house every day. When I was working this winter and not inclined to go on walks or adventures, I found that I'd go a week without leaving my apartment.

Now, I make sure to spend 2 hours away from the apartment at least five times a week. Whether I'm working from a coffee shop, meeting up with a friend after work, or going to spend time at a bookshop.

Find like minded people to connect with. If you're working for yourself, most of the people in your life might not "get" what you do. It can be exhausting trying to explain your business to people who have only ever known the 9-5, so finding a local entrepreneurs or creatives group can be really helpful.

Do you work from home? What strategies have you used to take care of yourself?