This post is sponsored by Olay, but as always all opinions are my own.
I've shared my skincare woes with you over and over again. In the winter, my skin tends to revolt. I'm talking redness, puffiness, and dryness. As soon as the weather begins to change, my skin takes a turn for the worst.
It's gotten so bad in the past that no amount of foundation or concealer could hide the tell-tale dry flakes or puffy under eyes.
That's why I was so excited, (and let's be honest, a little bit skeptical), when Olay reached out and invited me to join in on their #Olay28Day Challenge.
Really, I had three strong emotions at the beginning:
If my $60 face serums weren't working with my skin, could these more affordable options

really

make that much of a difference?

Ain't nobody got time to get used to an entire new skincare routine during the holidays and busy time at work.

Maybe, just

maybe

this one will actually work.
And now that it's all said and done: Yes, it only took a few minutes a day, and by golly it actually worked!
My Olay skincare results:
If you haven't been following along on Instagram, you might be thinking, "What the heck is she talking about?!"
The Olay 28-Day Challenge
Well, just about a month ago I embarked on Olay's 28-Day Challenge and started using Olay Total Effects Moisturizer with SPF 15 in the mornings and Olay Eyes Deep Hydrating Eye Gel morning and night.
I noticed a few big changes within the first ten days or so. The most noticeable? My once hopeless under-eye circles were diminishing! Now, half of my under eye darkness comes from genetics, I've had dark circles since elementary school. The other half was a combination of age, working at a computer all day, and lack of sleep.
The Deep Hydrating Eye Gel took care of the darkness that my environment provided to my dark circles, and for the first time in years they are finally manageable again.
As for my red, blotchy skin? Olay Total Effects Moisturizer has worked wonders. I'm still a bit blotchy when I wake up, but after washing my face and moisturizing, within half an hour my skin looks calmer and more even.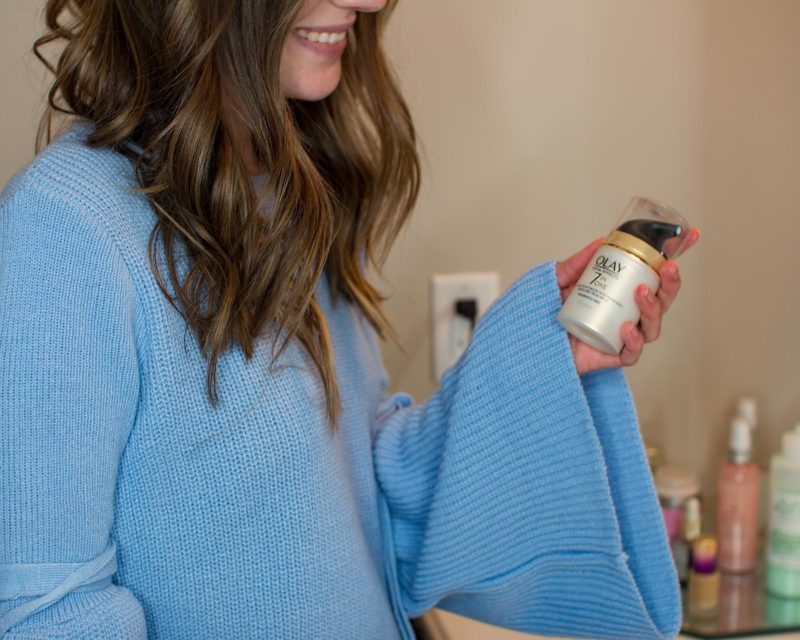 And, because I'm sure you all knew I was going to say it: It has SPF! I'm a huge sunscreen proponent (I wear it every single day!) and love products that already include sunscreen in their formulation, saving me time in the mornings.
Everyone's skin is a little bit different though. While these products have been game-changers for me, definitely think about the issues you might have with your skin and what benefits you'd like to see.
Find the right products for your skin
I suggest you start by visiting the Olay Skin Advisor. Olay has the most precise skin diagnosis that's available to the public, meaning you can find the exact products that are going to work for you and make the best decision for your skin.
Even more exciting? The first fifteen of you to visit the Olay Skin Advisor will get $40 off your Olay.com purchase of the recommended products by using code: 28DAYS6550
Now I want YOU to join in on the #Olay28Day Challenge! Once you've finished, be sure to let me know what results you were most excited for!