Hi, my name is Morgan and I am a professional baby name consultant. Surprised that's even a thing? I was too. I stumbled upon my journey as a baby name consultant largely on accident. My life has changed for the better thanks to discovering this career path.
(Ever hear someone say "Do something you love, you'll never work a day in your life."? I always heard them and didn't believe it was possible, but here I am!)
One thing I've found though, is there is a lot of curiosity about what a name consultant is, what we do, and why people actually hire a professional to help choose a name for their babies.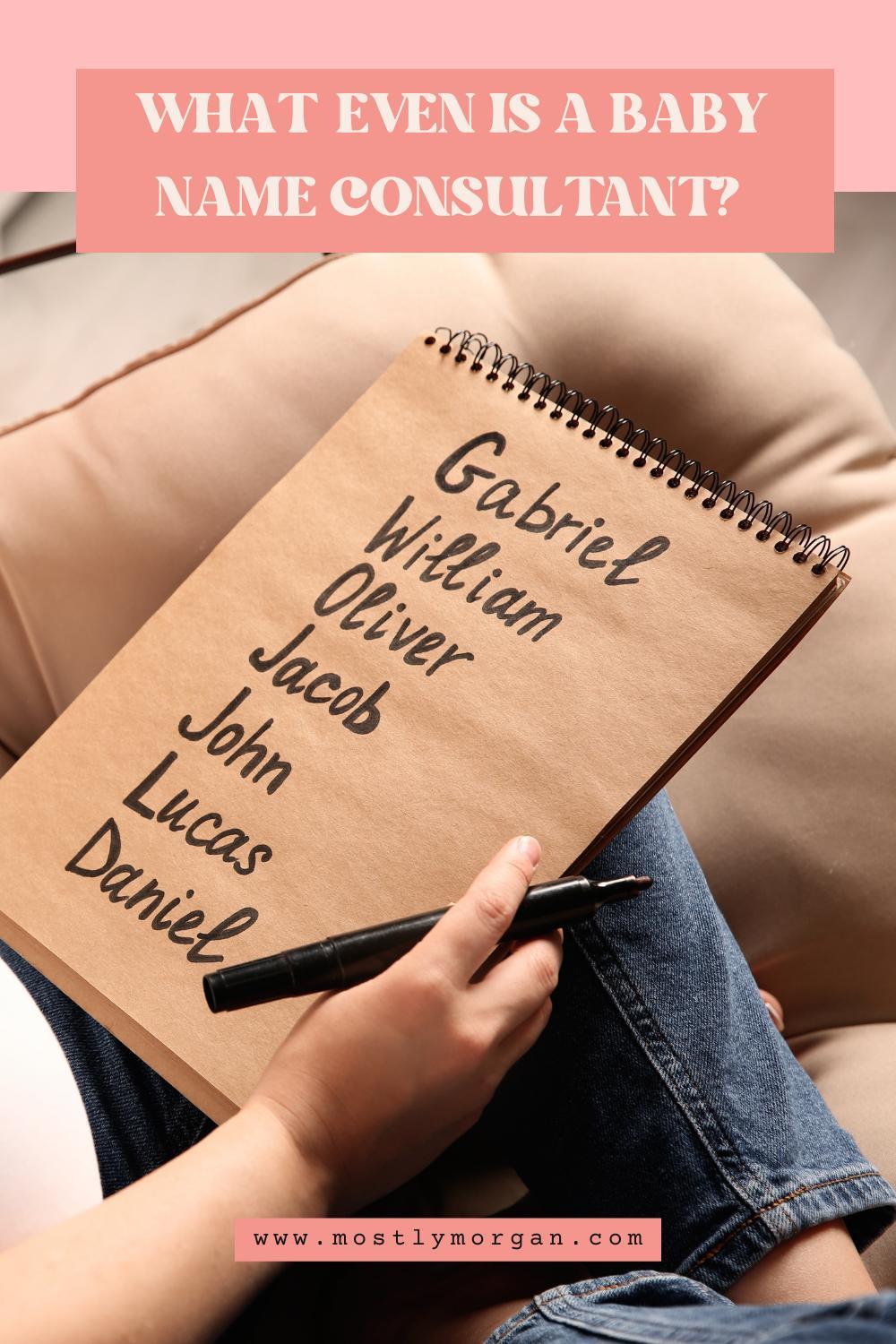 What is a name consultant?
To put it simply a baby name consultant is a professional who specializes in helping parents navigate choosing a name for their baby. Or sometimes helping clients choose new names for themselves. Name consultants are well versed in trends, niche naming topics, and are able to analyze client preferences.
Name consultants will all have their own processes, but mine looks a little bit like this:
First, clients fill out a form detailing the preferences that they have for their name. The form is very detailed, covering sounds, letters, vibes, origins, and more. They don't have to fill out every question. I do warn that the more detailed they are, the more thorough that I can be.
After reviewing the form, I begin a brainstorm document. This is partially what I'm mainly known for in the baby naming space. I'm not only providing clients with a curated list of names that fit their preferences, but they also get a 15+ page document that details every step I took to come up with the names I ultimately suggested.
Once the brainstorm document is complete, I pull my top 5 suggestions, plus 10-15 honorable mentions for my clients. I include the ranking, the year the names peaked in popularity, and the origin and meaning of the name.
I deliver the consult to their inbox. My job doesn't end here, though. I encourage feedback if I missed the mark and I'm always happy to take another look.
What skills do baby name consultants have?
Linguistic Knowledge: Baby name consultants often have a background in linguistics or language studies, enabling them to understand the phonetics and meanings of names. Personally, I was pursuing a minor in linguistics in college. (I put my college degree on pause halfway through my junior year to move to New York to work in tech – a door that this very blog opened for me!)
Cultural Awareness: Name consultants need to be well-versed in current naming trends and stay aware of what various naming traditions and cultural contexts, allowing them to provide names with cultural significance if desired. This is where the next skill comes in…
Research Skills: Baby name consultants conduct thorough research to offer a range of options that align with cleint preferences and requirements. I always say that hiring a name consultant offers a shortcut to an outcome. Sure, expecting parents can do the research themselves, and a lot of them like to, but others want the research done and presented to them.
Empathetic and Patient: Name consultants need to understand the personal and emotional nature of choosing a baby name and work with parents to ensure they find a name that resonates with their values and preferences. I've found that understanding what clients don't say can be more important than what they do say. Sometimes parents don't know how to put into words what they're looking for. That's where this skill comes to play.
Why do people hire a name consultant?
Naming is a deeply personal and impactful process, and for many, it doesn't come easy; there's a lot of pressure in choosing a name that will carry a baby though adulthood. People hire name consultants for various reasons. I have 3 main scenarios (and a million other one offs) that I see when working with clients.
Parents need names their grandparents can say: The most common scenario I see is clients who are coming from different language backgrounds. Their common language being English, but they may have family in both Puerto Rico and Bulgaria. At that point, I need to find a name that is first and foremost straightforward in English, but also comprised of sounds that all parties can say. This is where my research background comes in.
Educators sometimes struggle: I work with a lot of teachers who have a list of "off limits" names 50+ long because they've created associations – good and bad – with so many children over the years. These clients are often looking for a "normal" name, but the popular ones are off limits so we need to get creative.
Parents have very different tastes: My favorite part of being a name consultant is working with parents who both have passionate ideas about names, but can't seem to mash their preferences together. I've found I'm good at finding a middle ground and compiling lists of names that suit both party's preferences.
I've also worked with clients who have hired me for fun. They aren't looking for a new name for themselves, they aren't having babies anytime soon, they just want to see what a name consultant thinks they'd name any future babies they might end up having. There are so many reasons to hire a name consultant, and all of them are valid!
Who are name consultants and where can I find them?
Hi! I'm the resident name consultant here on mostlymorgan.com. But on TikTok there is actually a lively crew of us creating name content and working with clients. I'm blessed to be in an industry that's so welcoming and friendly. These are women I consider close friends and talk to almost every single day.
Misconceptions people have about consultants
I take my work public and post a lot about my life as a baby name consultant on TikTok. With that said, I get a lot of curiosity along with a lot of animosity.
Misconception 1: hiring a name consultant is only for the wealthy
There's a misconception on how much name consultants are actually charging. One article mentioned our price tag comes in at $30,000 and that is wild. That's the high end of one name consulting boutique's price point, but you'll find most of us charge between $50-$500. My most popular package (and the only one currently available) is $100.
Misconception 2: Name consultants are just googling for names
When I'm on a busy streak sometimes I wish my job were as easy as typing criteria into Google. But if that were the case, I'd be largely out of a job. I encourage my clients to be thorough. With that in mind there's no way a single Google search could come up with suggestions catered to my clients' needs. I do use Google as a tool a lot. But I also have also been working on creating a database of name litereally thousands of pages deep at this point with all of my etymology research, names from 100+ origins, and the ranking of every single name far beyond the top 1000 provided on ssa.gov.
Misconception 3: You can hire a name consultant to "bully" a parent into compliance.
It's been surprising how often I get this comment. Some people are under the impression that my job as a name consultant is to harass the parent who didn't hire me into bending to the naming will of the parent who did. I can tell you now, though, that not once has that happened. I don't know how this rumor began. Heck, maybe there is a consultant who offers this practice. But I have yet to have seen anything like that from any of my colleagues. Most of my clients want a completely clean slate. They've been through the baby name books and websites, they can't agree, and now they want to see names that they haven't considered yet.