Until you're planning a wedding, it's hard to imagine just how many little details go into it. As a guest at weddings, I'd never thought twice about the fonts on signs or the thought that went into formatting a menu. Turns out, planning my wedding these are details that I care deeply about and wedding template bundles are the superhero for this DIY bride.
I'm DIY-ing so much of my wedding day both to save money and because one of my character flaws is a resistance to letting go of control. (AKA I micromanage.)
The problem with DIY-ing can be that things look sloppy or unprofessional if you don't put enough thought into the big picture.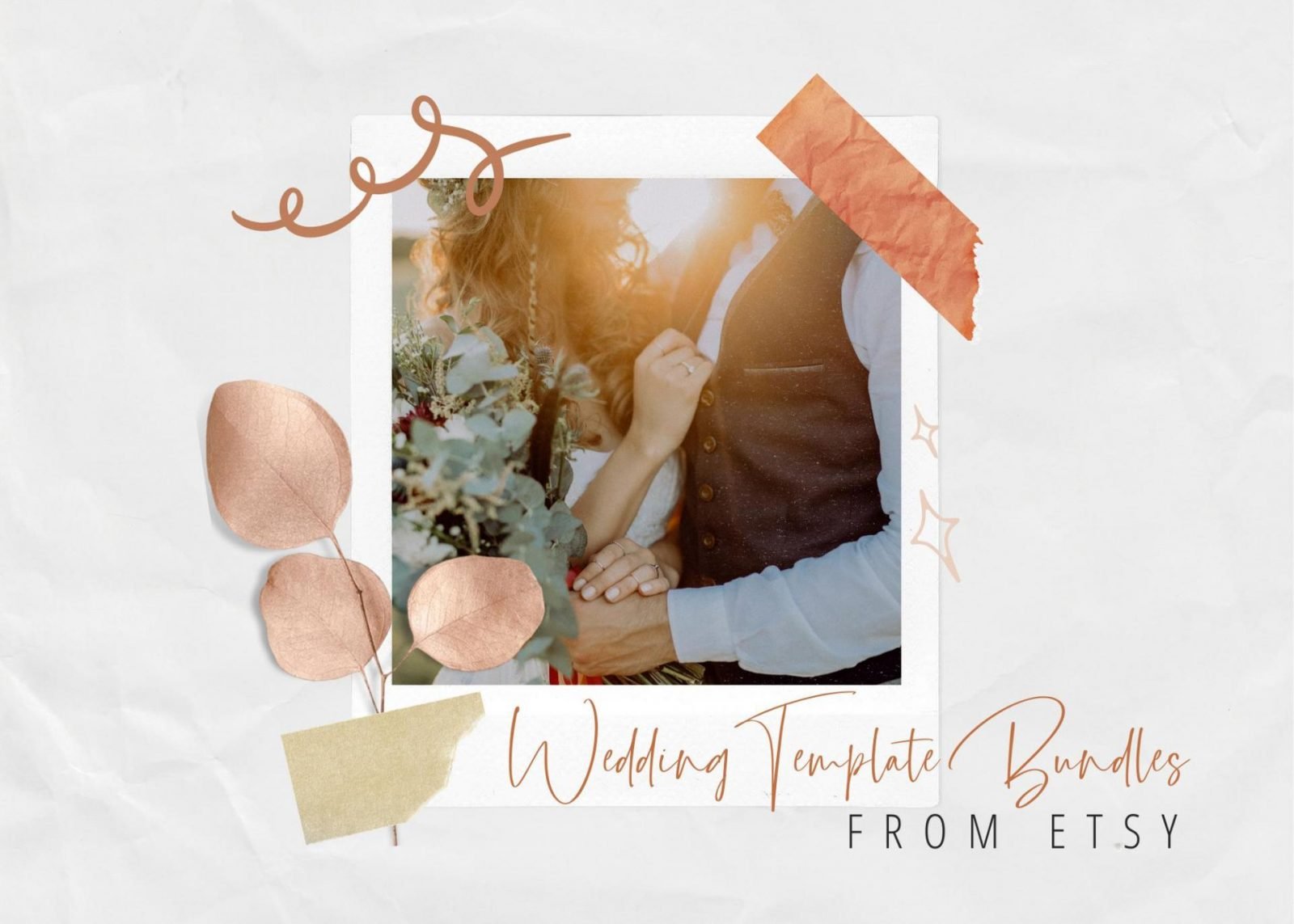 Making a DIY Wedding look expensive
From all of the forums I've read, photos I've viewed, and anecdotes I've heard the #1 tip I have for making your DIY'd wedding look like you hired a team of professionals is this: Consistency. You want common themes tying every design element together.
That means consistent fonts, colors, shapes, and other design elements. To really elevate your event, you're going to want to think about how each piece of decor compliments the others. No matter how whimsical or boho you're going, this tip applies.
DIY Wedding Template Bundles
When I tell you I have no design instinct I truly mean it. Every design I create for my blog or social media is 100% thanks to Canva's fool proof templates.
I had planned on relying on those templates for all of my weddings signage, too. I ended up overwhelmed trying to keep things consistent and apply templates to things that they weren't made for.
On Etsy I searched "wedding menu" and WABAM I discovered the wonderful world of customizable wedding template bundles.
These are perfect if you're looking for a custom, luxe feel to your wedding. These bundles grant you instant downloadable access to the files and fonts. You just need to customize the text to fit your wedding day
The Wedding Template Bundles

I picked my favorite 20 that I've found. Some are super aligned to my desired wedding day aesthetic, and others I just loved even though they don't make sense for my wedding. I actually haven't purchased a bundle yet (the indecisiveness is real!), but I'm looking to decide in the next month or so. Once I do, I'll go through the process of customizing and ordering everything on TikTok. You can follow my wedding planning TikTok here!
Printing your signs
After you customize your signs, the next hurdle is figuring out the best place to get them printed. I've heard through the grapevine (TikTok) that Home Depot is the place to go for cheap large scale printing. You can also use online printing companies if you're looking for fancier papers or specific textures.
Pro tip: If you're going in store to get things printed go during an off time. I often need things custom cut for me at Lowes and Home Depot. If I go in on a Tuesday at 10 in the morning, the employees are more than happy to help. On Saturday afternoons I get the sense that I'm being a burden, even though it's a service they offer. If you have a lot of questions about sizing, cutting, or paper types you'll likely get better help when they are slow.
Please share if you've used wedding templates!
If you've ever purchased one of these bundles please let me know in the comments or shoot me a message on Instagram so I can drool over your gorgeous wedding photos. And if you have any tips or tricks about the process, I'd be so grateful if you let me know!