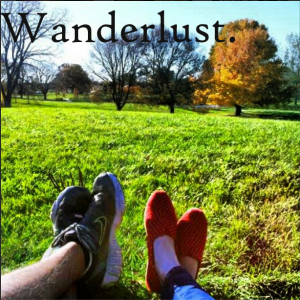 Travel.
I've always romanticized the idea of traveling the world and finding adventure in a far away place, and I've always paired the thought with someday. I've always thought I would travel, but it's never been a priority.
Until recently.
For the past few months, travelling seems to be all I think about. I prioritize finding new destinations over almost everything. Picturing myself jetting off to a new place fills me up with an indescribable feeling. It's a mix of desire and excitement. My heart starts to race and the blood rushes to my face. I am completely enthralled with the idea of going somewhere I've never dreamed of and getting to explore this entire new world.
It turns out, the word for what I'm feeling is wanderlust.
I am suffering from an incurable case of wanderlust, the same way I used to be in love with the idea of living the stereotypical "American Dream" with a big house, a high earning job, and the perfect family, I am now consumed with thoughts of travel. I want to spend weeks exploring the small towns in Europe, I want to swim in every ocean, and I want to gain all of these new experiences. I don't want to live safely going straight from my 9-5 job to the babysitters to pick up my kids in my mini van. Not for a while at least.
I still love the idea of being a mom, and becoming a speech pathologist and building my dream house. But I can save those plans for my thirties. I want to spend time being young and adventurous. I want to be able to travel the world and take risks with no sense of responsibility holding me back.
I am 18. The way I see it I still have at least 12 years to explore the world with nothing holding my back. The summer I turn 20 I plan on going internationally for the first time with Chris, hopefully to New Zealand. But honestly, I will be more than happy with wherever we go together. So without further ado – I humbly present to you the top five destinations on my wanderlust list.
Wanderlust will take me…
To New Zealand. I put New Zealand first on the list because of the beauty of the island, the people, and the variety of things there are to do there. Take a moment to google pictures of New Zealand – what you'll see are beautiful forests, beaches that will take your breath away and mountains that came straight from a painting. Honestly, they have everything that I could ever want in a travel destination. I can swim, raft, hike, or explore their culture.
To Italy. First off – lets get the superficial reason out of the way: shopping. There is no denying that Italy has some of the best shopping in the word and I do not want to miss out on that. Now lets look deeper. They have beautiful, historic cities that I would die to visit; but there is also the incredible countrysides that are worth exploring as well. On top of that there is the food: I would love to wake up and drink a real italian cappuccino (and I don't even drink coffee) and then have authentic italian cuisine for dinner.
To Norway. If you haven't caught on by now; I am a sucker for nature, and Norway's nature is particularly breathtaking. It has gorgeous mountains filled with winding roads, huge cliffs overlooking the water below, and the northern lights. It's on my bucket list to visit the northern lights, not in one location, but in a dozen. I want to see them from all over the world. Everywhere I go where they are viewable; I want to watch them. Norway is number one on my list for visiting the northern lights.
To Japan.
I don't know why, but the idea of going to Japan has always been in my mind, far before any of the other countries on this list, and the desire to go has only gotten stronger since an opportunity I recently was given to attend a traditional Japanese tea ceremony. I loved the atmosphere and the meticulous, caring way the tea was prepared. I want to attend a ceremony in Japan. Not to mention they have an entire island filled with bunnies.
To Iceland. Like I've already said, I dream of seeing the Northern Lights from every vantage point, and Iceland is a perfect adventure destination that offers amazing views of the lights. On top of that is the opportunity for exploration and adventures. There is kayaking, white water rafting, hiking, whale watching, and the list goes on. I don't think a trip abroad could be deemed a success for me without some sort of adventure that I don't have the means to do at home.
So there we have it. My top five international wanderlust locations. These are five places I will make it to before I die, and hopefully I will be able to take you all along for the ride. Keep an eye out for my list of domestic locations I want to travel to, (spoiler – Maine is #1 on the list!) What countries are you dying to visit?