It's no secret that I love thrifting. Going to the thrift store is Garrett and I's favorite date night, my best de-stresser, and how I buy 90% of the things that I own. Ever since I moved into my new house, I've had a mission to decorate using thrifted finds.
When I moved, Garrett and I already had home decor staples like couches, chairs, and a coffee table. We just needed to get the little decor pieces that make a house feel like a home.
Over the past 3 months, here are the pieces we've found for our living room.
Finding home decor at the thrift store: define your style.
The thrift store is a magical place because there is something there for everyone, but that can also be a problem. If you don't know what your style is, looking at an uncurated mess of odds and ends can be overwhelming.
Garrett and I established that we like an outdoorsy / bohemian / organic look. We prefer light woods for upstairs, though we also pick up dark wood pieces because we are finishing the basement.
I used Pinterest to define our style and make a bit of a mood board. If you're interested, my "home decor" board is where all of my home inspiration lives.
I'm able to look at the pins, see the pieces they styled, and get inspiration for what I'm looking for at the thrift store.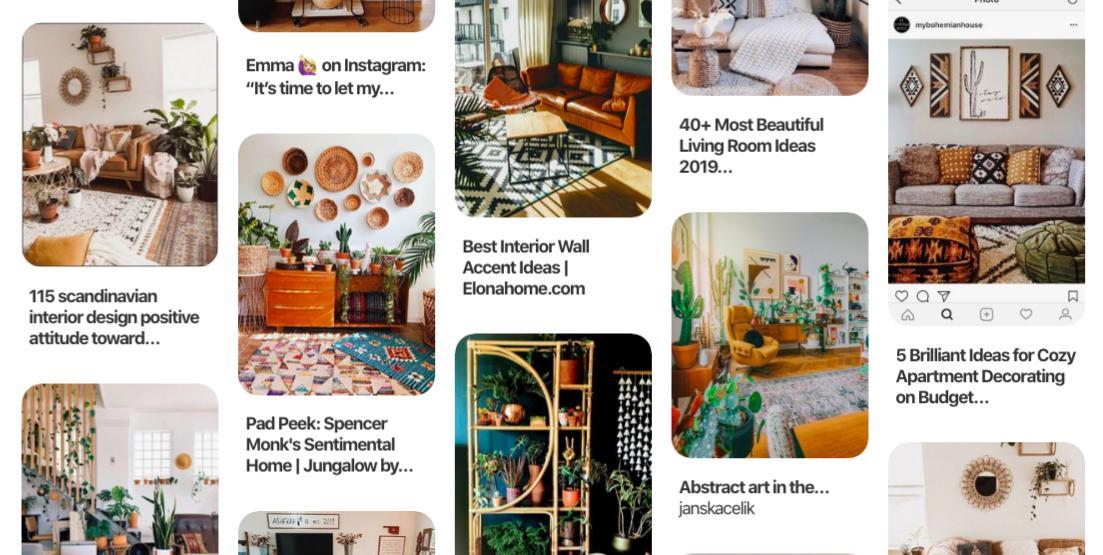 I made a list of a few pieces that I wanted to find to pull the living room together. I've found a few, I'm still on the hunt for others:
A basket planter ✅
Vibrant pillows that match the rug ✅
Baskets for a basket wall
Picture frames ✅
A minimalist coffee table
A peacock chair ✅
A light wood coat rack
A wooden lamp
A wall clock ✅
Tinted glassware
When you know what you're looking for, thrift shopping feels a lot less intimidating. Of course, you can always stray from your list, but having a mission going in always helps.
Don't buy things just because they're "a good deal"
I'm the queen of doing this at the thrift store. I'll see an amazing piece, perfect condition, and only $2.88. It feels like a no-brainer, so I buy it. As soon as I get it home I realize that this incredible piece is beautiful, but it doesn't fit my intended aesthetic.
This circles back to making sure you know your style and vibe, but it's worth reiterating twice.
Keep DIY potential in mind
Remember, most anything you purchase at the thrift store can be completely made over with the help of a little sandpaper, stain, or spray paint.
So often I find something that's *almost* perfect. BUT, it's the wrong color, or it has a red oak stain and I prefer natural wood.
For example, Garrett and I have been looking for a breakfast nook dining set for the basement for ages. We found one that was *almost* what we were looking for on Facebook Marketplace, but had a bit of wear and tear and a cherry oak stain.
I've spent many hours sanding it down, and soon we'll stain it. Before we know it, it'll look just like the new $1,200 one we loved at the furniture store.
My DIY arsenal
Here are a few of the tools I use to make over pieces I find at the thrift store:
These are affiliate links. Anything you purchase will allow me to earn a small commission at no extra charge for you.
Be picky with quality
You're going to find a lot of junk at the thrift store. Like, a lot a lot. Don't buy things that are falling apart, flimsy, cheaply made, or damaged if you can't fix it. It's worth waiting to find exactly what you're looking for rather than settling for a beat up version of what you want.
It's disappointing when you think you've found your desired item only to discover it's chipped and scratched to heck, but that just means that it wasn't actually your perfect item.
Dig around a bit
My local thrift stores are a bit of a hot mess. Overflowing, unorganized, and sometimes difficult to navigate.
And more often than not, the goodies are hidden. If you're looking for smaller trinkets, especially, physically digging around the shelves, moving things around, and really getting in there can help you find exactly what you're looking for.
I like to divide and conquer, taking things one shelf at a time. It's harder for me to stand back and look at an entire section of the aisle and find a treasure than it is for me to really hone in and dig around.