When I left for San Francisco I figured I'd be able to wrap up the trip in a quick and tidy blog post given that it was a quick sixty hours until we turned around and headed home – but man! We packed a lot into our trip so I thought it'd be more beneficial to break it down by what we did.
First things first: If you haven't been following along on Instagram, I was in San Francisco with my friend Tracey a little over a week ago and it was a crazy and exciting adventure.
Between the highs of meeting up with a blog friend I first talked to nearly a year ago (heyyyyyy, Kelsey!) and the lows of getting my wallet stolen a lot went on that weekend.
But my favorite place in San Francisco? Easy. The Muir Woods.
OK, let's be fair. Technically they are right outside of the city (after a breathtaking ride over the Golden Gate Bridge) but a quick Uber ride will get you there and then you're off on your hike.
I wish there were words to describe how beautiful and breathtaking the woods were – but really I'm coming up short.
The pictures are impressive, but really they're nothing compared to what it actually looked like.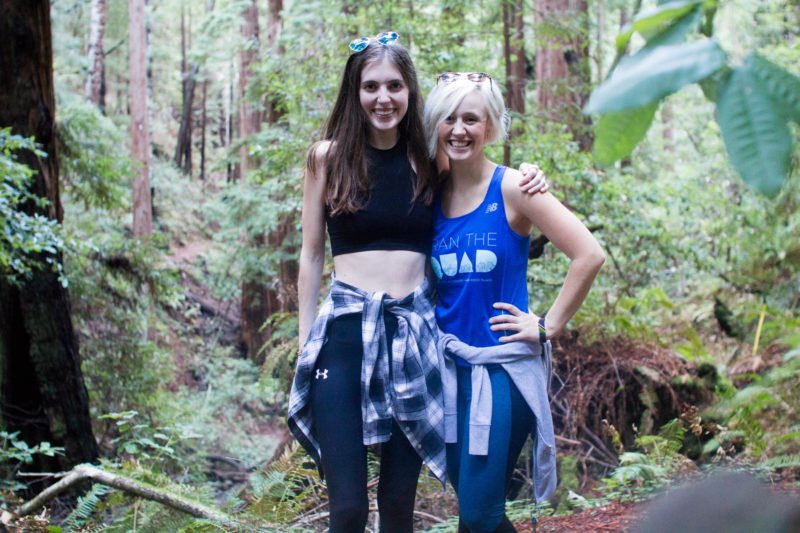 I've never felt so tiny as I did as I looked at the trees stretching into the sky and down into the deep ravines. Tracey and I were quite literally specs.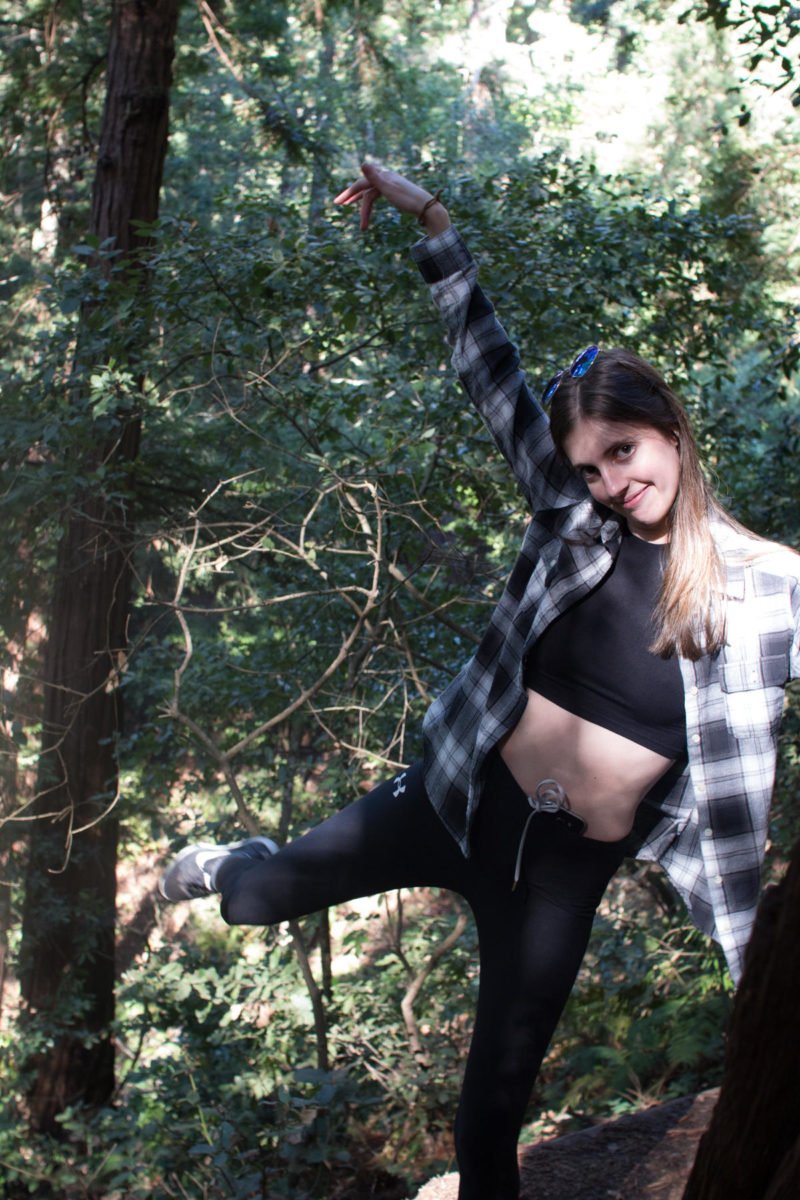 Something important to mention: As we were walking in there was a sign that said, "Have a plan, have a map, have water." Being the over confident midwesterners that we are, Tracey and I giggled at the fact that we had none of the above and we
Being the over confident midwesterners that we are, Tracey and I giggled at the fact that we had none of the above and we foraged onward. Nothing catastrophic happened, but we did get a little lost and a lot dehydrated. Listen to the sign, folks.
As the picture shows, dehydration may or may not cause spontaneous silliness. And crooked sunglasses. Bring water, trust me.
We were really on the search for a cool meditation circle I found on Instagram, but as it turns out, the cool meditation circle was actually at Land's In. Welp. You live and you learn.
That hunt for the meditation circle, though, led us to the best view of the day: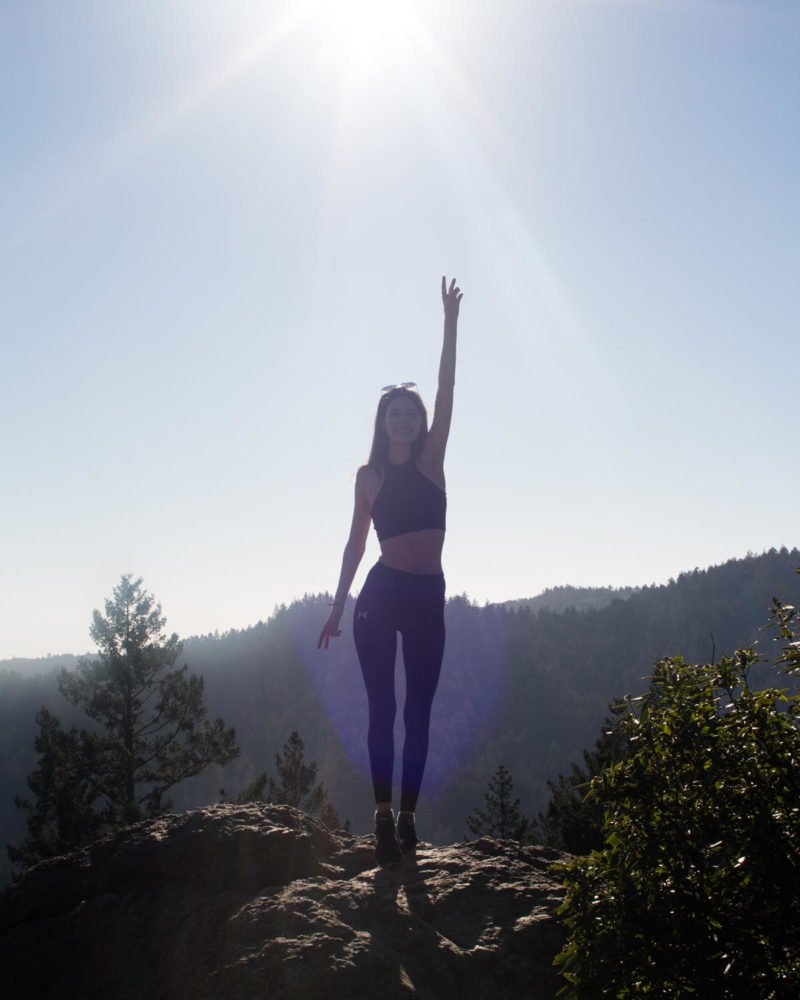 The path to this point was upward and tiring, but so worth it, even when we didn't find the meditation circle.
The way back was a little dicey but we made it back down with the help from a trail runner and to the much needed water fountain and restroom facilities.
Here is where the story gets good, though. (Or actually, really bad. Take it as a cautionary tale):
Something we were unprepared for was the total lack of cell phone service. That might make us sound like your traditional, tech-obsessed millennials, but actually, we needed our cells to call an Uber.
We were stuck.
We thought about hitchhiking to the bottom of the mountain, but as luck would have it the only people who looked safe and approachable enough had full cars, and we weren't about to end up on the wrong side of a true crime show.
There was a lone cab sitting by the cabin so we approached and asked if he was waiting for anyone. "Yes, but I'll take you." Confused, we got in and I asked if he took credit card. He started driving and said "we could figure it out."
We asked to get out (the answer was no) and he tried to negotiate the price with us. We were thoroughly panicked, a few blocks from our Airbnb he stopped and asked us for a credit card so he could call his boss and have him run the numbers.
When that didn't work he took us to our Airbnb and told me to stay while Tracey ran and got money which was honestly the longest 30 seconds of my life.
While all is good and on the up and up – let's be honest: That was spooky so if you go to the Muir Woods you should probably plan things out better than we did, or at the very least test your luck hitchhiking to cell service – you're better off than you would be asking an idling cab driver.
Overall, though: It was still worth it. I think the Muir Woods is one of the coolest places I've ever visited, and I'd go back to San Francisco again just to see them.