Student Discounts
Here, I am going to let you in on a little secret. Are you listening? College is expensive.
Wait, everybody knows that, heres the real secret: Being a student can save you major cash on things that you were going to buy anyways! There are a ton of student discounts that are made available to college students, but it seems that a lot of people don't know about these discounts and aren't taking advantage of them. You can find my master list below, and there are also a ton listed at Student Rate.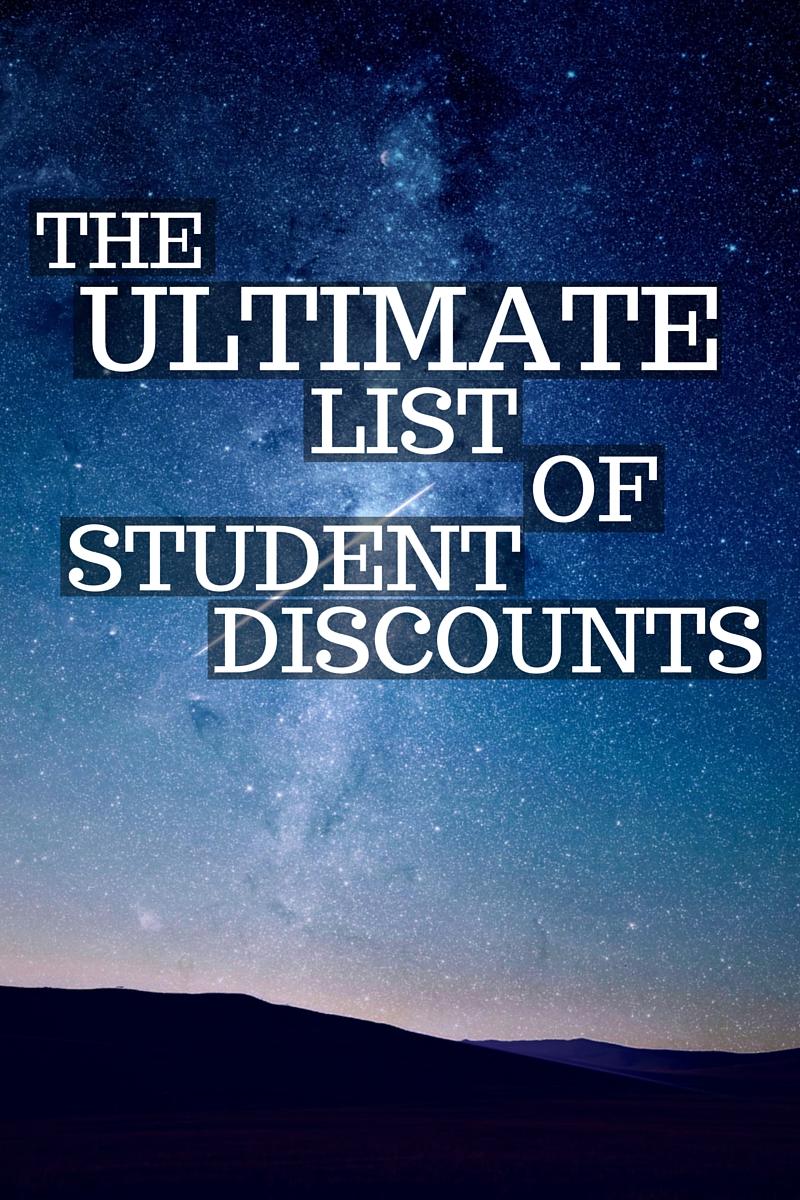 You heard me right! So not only are you going to gain a vast arsenal of knowledge during your run at college, but if you play your cards right, you can also use your student status to save you a ton of money on things that you were already planning on buying in the first place!
I tried to make your job a little bit easier and I did some of the research on who offers student savings fo you. Believe me when I say that there are hundreds, if not thousands of student savings opportunities out there for you right now – these were the ones that I was able to find that were offered at most, if not all, of their locations.
For most of these, all you have to do is ask during checkout if they offer student savings, and while some of these vary by location, chances are, if they are on this list they will say yes. Just make sure that you have your student ID ready to show them!

Arby's – 10% off
Buffalo Wild Wings – 10% off
Burger King – 10%
Chipotle – Free Drink
Dairy Queen – 10% (varies by location)
Dunkin' Donuts – 10%
McDonalds – 10%
Pizza Hut – 15% off (varies by location)
Qdoba – 10% or Free Drink (depending on location)
Subway – 10%
Waffle House – 10%

Amazon Student
– 6 months of Amazon Prime benefits for free with your student e-mail
Banana Republic – 15%
Goodwill – 10% (Varies by location)
JCrew – 15%
Pier 1 – 15%
Steve Madden – 10%
Target – 10% (Online only)
The Limited – 10%
Topshop – 10%
TOMS – Free Shipping
Urban Outfitters – 10% (On certain dates)
Hautelook (not exclusive to students, but amazing discounts!)
Ann Taylor – 15%
Levi's – 15%
Banan Republic 15%

Adobe Software – up to 80% off (I use the photoshop/lightroom bundle and it's the best!)
Apple – 8% off
JourneyEd – up to 85% off
Microsoft – Discounts vary
Norton – 50%
Logitech – 30%
Lenovo – 25% select computers
Now lets get one thing straight – this guide is all about saving money. So just because there is a student discount doesn't mean that you need to use it. But if you have some spare cash burning a hole in your pocket, make sure that you get the biggest bang for your buck!
If you found this post helpful – don't forget to share so that students everywhere can find out how they can save big at their favorite stores using student discounts!! Don't forget to subscribe, so you never miss another helpful post from Mostly Morgan!