Starting a blog in college changed the trajectory of my life – it opened the doors for me to move to New York City, start a career in tech, learn how to build and audience so I could then leave that career in tech to work for myself, and travel across the country with some of the coolest brands. I spent my early and mid twenties blogging, before stepping away for a bit while exploring other career paths (finding one in Name Consulting!), but I couldn't stay away for long before the urge to blog came back. Beyond the opportunities that blogging has afforded me, starting a blog has given me a plethora of new skills, a supportive circle of friends, and a hobby that is fun and profitable – even after stepping away from my blog for almost an entire year, every month it still brought in passive income. *This post was originally published in 2014 and updated in November of 2023.
Isn't starting a blog hard?
Nope, not at all! You don't even need to know how to code, all you need to know is how to work a computer. If you have an extra hour or so, you can set up your first blog today. I am going to try to make the process as easy as possible. Before I do that, I am going to explain a few things regarding why I chose (and why I think you should) a
self hosted blog
as opposed to a .wordpress or .blogspot!
Why self-hosted?
If you look on the url bar, you'll see that you are on www.mostlymorgan.com, there is no .blogspot or .wordpress in the url. When I decided that starting a blog was something I wanted to do, I definitely considered a free option. At the time I was a college student living off of my part-time income from scooping ice cream. Ultimately I decided to bite the bullet and invest in my own domain name and hosting for a few reasons:
When you host through a free site like blogger, they have full rights to your content. When you hit publish on your post ran on a free platform, you are forfeiting the rights to your work.
I wanted to be taken seriously. Sure there are plenty of great bloggers who don't own their domains, but they had to work a lot harder to establish themselves as a serious blogger.
I didn't want to make the switch. Apparently it is a pain in the behind to switch your free blog over to a self hosted wordpress blog and I would rather pay for a self hosted blog from the get go rather than pay for both my self hosted blog and a professional to transfer my blog.
I was and still am serious about blogging. For any other hobby I am serious about there would surely be some sort of start up fee.
What you'll need
A small chunk of time (30 minutes, or so) to set everything up
Very basic computer knowledge – by you even finding this blog that shows me that you have the skills that it takes.
A payment method.
---
Let's do this!
Please note: If you choose to use the hosting company that I recommend (and have used since the very beginning!) and click the link provided, then I will receive a small commission. This does not impact the price that you pay in any way, it only gives me a bit of a kickback for referring a great new blogger (YOU!!). Plus, you can use my coupon code MOSTLYMORGANBLOG and save 25%. If you feel uncomfortable using my link or coupon code, feel free to bypass it and go directly to hostgator (or whatever site you want to host on!), no hurt feelings, friend.
Step One – Hosting:
When starting a blog this is the point where you can go to a free site like blogger, but like I've mentioned before I think serious bloggers should have a self hosted domain. But if a domain isn't in the budget then by all means have a .blogspot blog because starting somewhere is better than not starting at all! I am going to tell you right now – the number of hosting sites out there is enough to make your head spin. They range in price and services. Personally I was looking for something cheap that would cover my bases. I didn't want to be paying for a bunch of features that I wouldn't need. I decided to host with
hostgator
because they have unlimited disk and bandwidth space, great 24/7 tech support, and it is incredibly affordable compared to other options.
If you choose hostgator, be sure to use coupon code "MOSTLYMORGANBLOG" so you can save 25%
Now it is time to got to the
hostgator website
and begin the process of bringing your blog to life! As soon as you get there you'll see a big yellow button that says "
View Web Hosting Plans"
Click it. Now you will be presented with three choices, I recommend going with the cheapest plan as if you're just starting out you will not need anything bigger than that and even as you grow it's not likely that you ever will need anything fancier.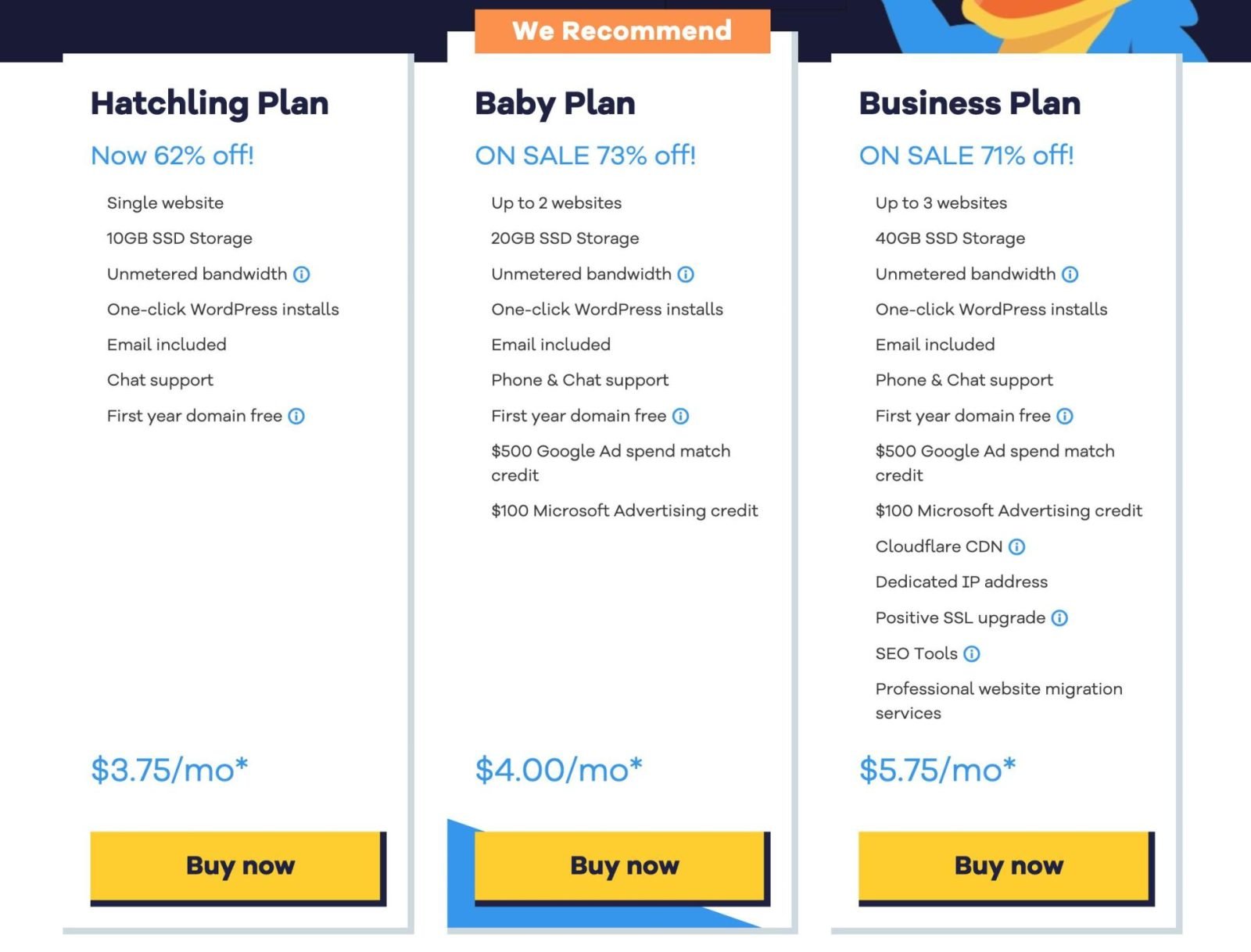 Now it's time for you to register your domain. This is the part you need to think long and hard about. You are building a brand around this domain and you are pretty much "stuck" with it. So keep a few things in mind:
Don't add numbers in your domain – if your chosen domain is already taken you should brainstorm a new one. It's hard to build a brand when that brand is "wilddaisies783.com" versus "wilddaisies.com"
Don't limit yourself. If you want to write a lifestyle blog that touches on a lot of different subjects, then you might not want to call your blog "allthingsponies.com" people will only expect to see posts about horses so they won't even click your blog when they are looking for other content that you may very well provide. On the other hand if you want to blog about horses and horses only, then "allthingsponies.com" would be a great name!

On a similar note I've seen people use domain names about things that aren't permanent. If you like playing with your hair color "beachesandblondes" might not be the best idea. Or if you're going to consider expanding your family "happymamaoftwo" could be a mistake.

If all else fails, use your name. If your first and last name are taken, then try throwing in your middle name. Using your name is classic and timeless and won't go out of style unlike a lot of blog name trends.
Once you've got that taken care of enter it into the space provided and choose .com (unless you prefer something different, but I highly recommend sticking with .com) Now just go through the rest of the prompts on the page – choose hatchling, choose hosting length (I recommend to commit to at least one year), choose a username and security pin, and fill out your billing information.
When it comes to add-ons, they are entirely up to you. I prefer to live dangerously so I didn't buy any but again, it's up to the person. I use free plugins to perform the services they provide, so I feel like I am set without them. Now they are going to ask if you have a coupon code – and lucky duck, you do! Type in
"MOSTLYMORGANBLOG"
so you can receive your discount!
Now all that is left to do for this step is hitting "Create your account!"
The Fun Part!
Now it is time to install wordpress and start actually creating that beautiful blog of yours! If you chose to use hostgator then this step will be easy-peasy! Hostgator has the ability to do a quick install for
a ton
of different programs and of course, wordpress is one of them! Check your email, your log-in information for your control panel should be there. You are going to want to go to your control panel by either typing in
yourbrandnewdomain.com/cpanel
of course you will replace that with your
actual
domain or clicking the link within your email. From here installing wordpress is easy. Just click the Quick Install button under Software/Services and then you will want to select wordpress on the next screen.
Now just fill out your information and choose whether or not to allow auto-updates. Personally I didn't, as I like to feel in control, but in the image below I left it checked, as this one is entirely up to the blogger.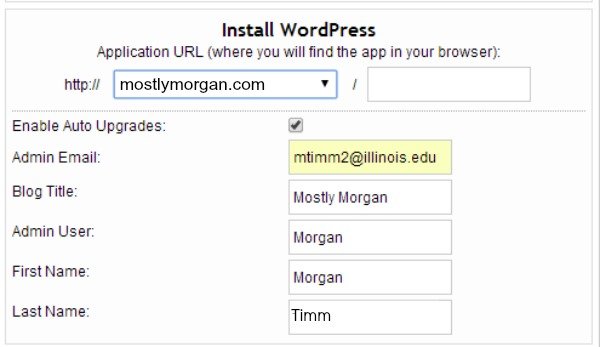 Edit (1/12/15): This summer I helped a friend set up his blog, and it took around four hours for his account to be set up. Seven months ago when I started my blog it was up right away, but after looking into it, it usually takes a few hours – sometimes up to 48, so be patient!
Welcome to WordPress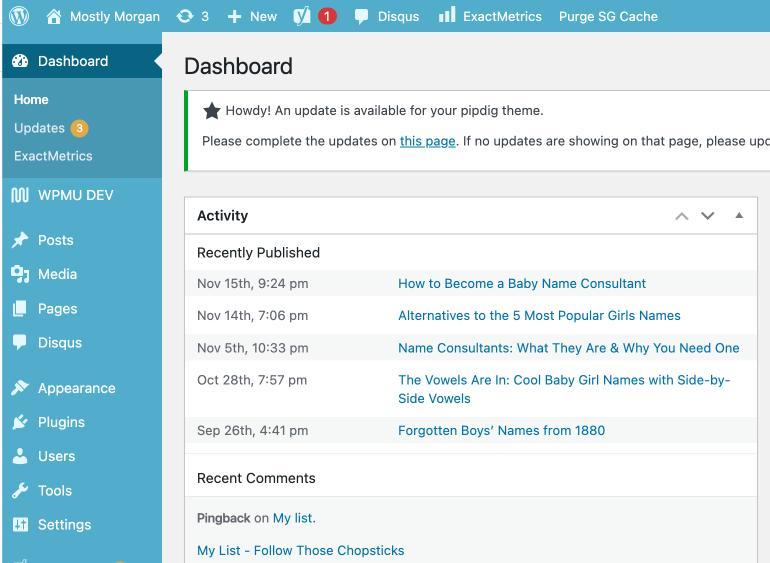 This is what my WordPress looks like. There is a lot to wordpress at first glance, but you'll find that is actually really simple after you get the hang of it.
Posts:
This is where you will go to add new posts or edit old ones. We will get to that later in this guide, but for now let me explain the ins and outs a little further.
Media:
Here is where all of the pictures, videos, and other files you have uploaded to your blog are located. If I'm being honest, I upload mine directly from the post editor (which I'll show you how to do) so I have never used this.
Pages:
Here is where you will be able to add things to your navigation bar: You'll want an about me and contact me for sure. I also have added my 'bucket list' and some of my more popular post subjects.

Disqus (or Comments):
Here is where you'll go to check all of your comments!
Appearance:
Here is where you'll spend the most time in the very beginning deciding how you want your blog to look. You can pick out themes and mess around with widgits and your navigation bar.
Plug-ins:
Plug-ins are another fun and very important part of your site. They add cool features like better commenting interfaces and added security
Users:
This is your blog, so the only user will be you.
Subscribers:
When people sign up to subscribe by email on your blog you can manage them there.
Tools:
Right now, you won't need this. I have never needed this, it only has import and export options.
Settings:
Here you will find all of the general settings that you can tweak around with. Things like permalink structure and commenting settings.
Putting it all together
Theme
Now it is time to set everything up. I would first recommend going to appearance and finding a theme that you really like. At this point don't buy a theme if you don't want to. I'd recommend waiting until you are absolutely sure that blogging is something you are willing to stick with and commit to before investing in themes and designs. As soon as you find a theme, you will want to hit install and then activate. Once you do that your theme should be up! I used a free theme for the first year-ish I was blogging.
Add Pages and Posts
Now is where we get to add content to your blog! First I want to you go to Pages>add new and create your about me page. Yes, these are terribly awkward to write but they are an evil necessity. I love reading blogger's about me pages, it makes me feel like I can connect to the blogger. Once that is taken care of you can think about other pages to add: contact me is almost necessary, my very favorite posts to read are bucket list posts so I highly recommend one of those, and also add tabs about what you wish to blog about. You also are going to want to publish your first post(s). Now what you write about is up to you. You can do an introduction to you, your blog, or anything else for that matter.
Plugins and Widgets
One reason so many people choose to use wordpress is because it's vast array of plugins and widgets allow you to customize your site to no end. There is a plugin or widget out there for
everything.
An important thing to note is that you need to strike a balance: it's important to have these installed, but you don't want too many as they will slow your blog down if there are a ton. Here is what I recommend:
Disqus or CommentLuv:
You can't go wrong with either of these. Personally I use Disqus, but CommentLuv works just as well. I only chose Disqus because I think it looks better, but that could just be me being a snob.
Limit Log-in Attempts:
This is going to help prevent people from breaking into your blog, it's an absolute necessity if you ask me.
BJ Lazy Load:
If you are going to have a lot of pictures (like on this post!) this plugin will make the images load only as the use scrolls down which will speed up your site by
a ton.
WordPress SEO:
This is going to give you the tools you need to work on search engine optimization, meaning your posts will be more likely to be seen on the front pages of google if you utilize this tool.
WP Super Cache:
This will speed up your site and cache all of the content on your blog so that you can feel more secure!
Pin It Button for Pinterest:
When you hover over images in my posts you will see a "pin it" button pop up in the upper left hand corner. Right now I get about 85% of my views from pinterest, so I want to make it as easy as possible for people to pin my content! You will probably find more plugins that you want, but these are just the basics. Feel free to explore and find plugins that will benefit your blog! You are also going to want to add and adjust the widgits on your site. You can find your widgits by hovering over appearance and then clicking widgits when the extra options pop up. Categories, Recent Posts, and Meta are already going to be activated. I would drag Categories and Meta to inactive, as they are both unnecessary at this point. As you add content you may choose to reactivate categories. Some Widgits that I recommend:
About Me:
Yes, we already have an about me page, but this works really well to offer a quick summary, and you can add a "see more" button at the bottom of your about me excerpt that will take readers to your full page.
Social Media:
This is where links to your facebook, twitter, pinterest, etc. will show up. A huge part of blogging is networking, and showing your readers where they can find you is super important! Many themes come with this as an available widgit, butif yours doesn't you can add a plugin that will create a widgit for you
Subscribe:
You will want a subscription plugin (I don't like mine and I'm in the market for a new one, which is why I don't have one to recommend) and then you'll be able to add a little subscribe button on your sidebar to build up your list.
And there you have it!
Hey, look at you! You are officially a blogger. You've got a self hosted wordpress blog with a great theme and all of the necessary plugins and widgits! Now it's up to you to make sure that you post regularly, create pinnable images, and network with other bloggers. Now that you have a blog,
you can start learning how to monetize it
! And remember, if you have any questions at all feel free to reach out to me! I would be more than happy to help you with anything – be it setting it up, brainstorming post ideas, or networking!