As cliche as it sounds, my dog means the world to me, and I don't think a day has passed where I haven't worried that I'm not doing enough for her. Our dogs' entire life experience is dependent on the love and opportunities we give them, and I'm always striving to make sure Maisie feels loved, mentally stimulated, and secure in knowing that her needs will be met and exceeded.
She is three and a half now, and through a lot of trial and error, my husband and I have done a pretty good job figuring out how to make sure that her needs are being met. If you're a first time dog owner (especially of a giant breed!) here are my Maisie-approved recommendations.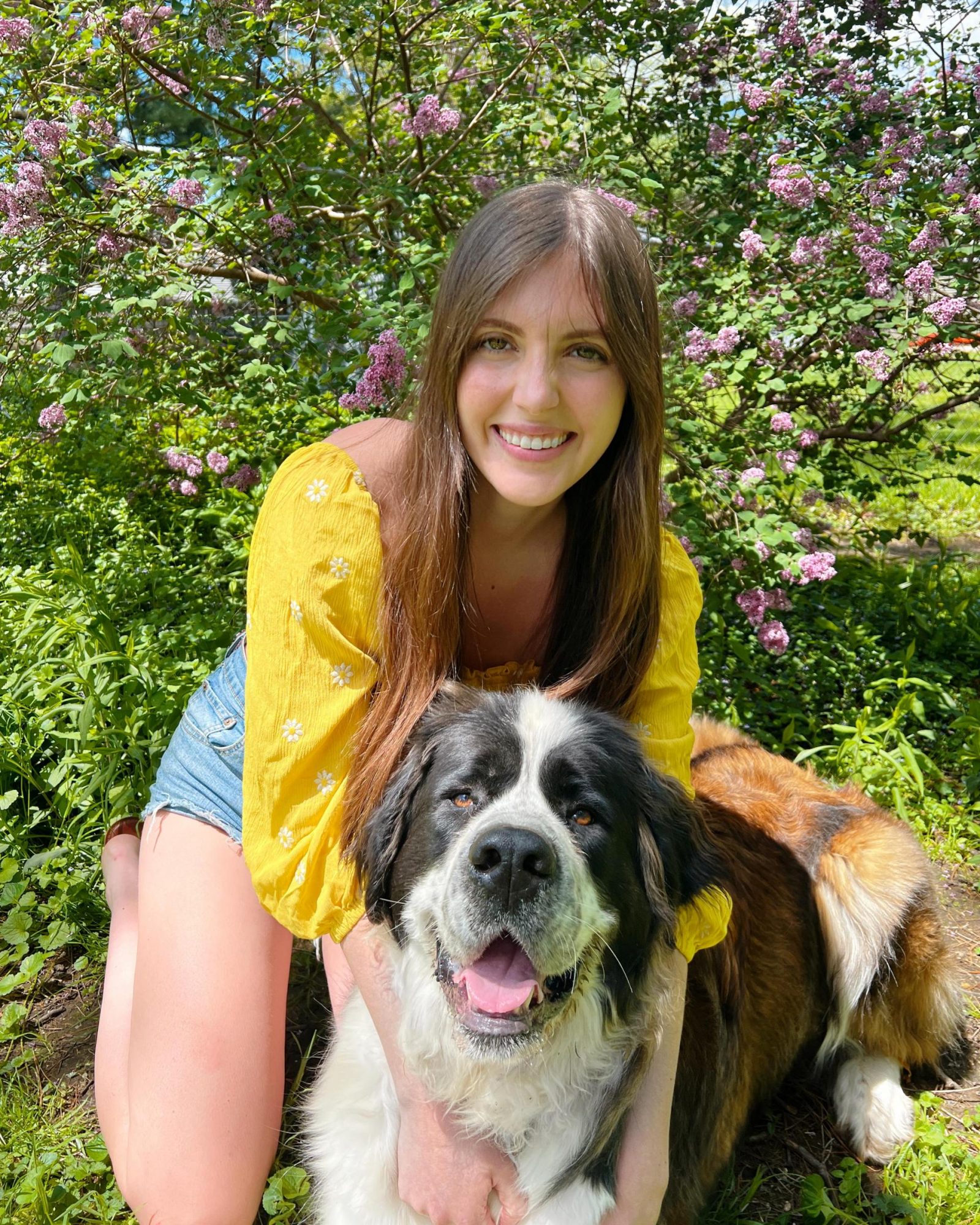 Kong Wobbler
Maisie will scarf up a bowl of food in no more than 15 seconds if she has the opportunity. The first few slow feeders we trialed were no exception. The Kong Wobbler is our holy grail in making sure that Maisie takes her time (giant breeds are at risk of bloat if they eat too quickly!) and gets a big of mental stimulation from her meal times. We give her probably 75% of meals in her wobbler, and she loves it. We have her sit and stay while we place it in the yard, and on her release word she runs and pounces it. Probably emulating her two older kitty brothers.
Jolly Ball
Originally designed for horses, I consider Jolly Balls to be a "must-have" dog toy because I have yet to meet a pup that doesn't love them. (And they even make mini versions now!) Maisie got her first Jolly ball for her first birthday, and even now, years later, as soon as we step outside there's a 90% chance she will beeline straight for the jolly ball over the (huge) array of toys she has outside. The handle makes it easy to throw, and some of them are even lightly scented!
Horse Ball
I mostly got the horse ball for it's "wow" factor. I saw it on TikTok and beelined to Amazon, I had to have it. Admittedly, moreso for me than for Maisie. But thankfully, Maisie is just as enthused as I am. There's not much to it other than it's a massive ball to kick around and jump on. I've seen videos of herding dogs herding this ball and it doesn't get much cuter than that. Side note: I also purchased the cover for it, I was worried about it being destroyed.
Raised Dog Bed
Being a big gal, Maisie has broken a raised dog bed or two in her day. But this one? Indestructible. I'll snuggle Maisie on this bed, and together we're pushing 300 pounds and the bed remains unbothered. We've had this one for almost 18 months (her first raised bed lasted about 5.) I love this, if it breaks I'll still repurchase this brand.
Jumbo Tug Toy
"Tugtug" is the bane of my existence, and the light of Maisie's life. So we play tug several times a day. I like this jumbo toy because it' doesn't give me ropeburn the way that thinner roped tug toys do. At the time of writing this post, I'm also experimenting with The Tether Tug, but the jury is still out. I only installed it in the yard a few hours ago. So far so good, but I can't attest to it's lasting power yet. But I'm praying to the tugtug Gods that Maisie will love playing tug with this as much as she loves playing tug with my husband and I.
Kurgo Vest Harness
Kurgo is our go to brand for harnesses for Maisie because they fit like a glove. I don't know if it's a giant breed thing, a Saint Bernard thing, or a Maisie thing – but most harnesses fit horribly. Even the ones designed for XL gals. Kurgo just gets it, and for that I love them. There's not too much to say other than that if you're having trouble finding a harness that fits, try Kurgo.
Kurgo Backpack
And on that note, they have a backpack harness so your pup can carry their own treats or toys. Admittedly this purchase is a little frivolous for us, but I love it none the less. Does she need a backpack? No. But will I gush like a mom sending her baby off to kindergarten everytime I see my angel in her lil adventure pack? Absolutely.
A Deflated Basketball
When we bought our house, there was a basketball in the backyard. When we adopted Maisie, that basketball quickly became a deflated basketball. And she has an emotional bond to it.
Lick Mats
Lick mats are my best friend when I'm trying to encourage Maisie to calm down and take a quiet moment for herself when she's in a zoomie mood. I originally bought the lickmat for my cats, who had very little interest in it. Now I use it for Maisie by spreading wet food, yogurt, cottage cheese, cream cheese, peanut butter, or any other spreadable treat for her and pop it in the freezer. Licking can relax dogs and can reset her mood if she's feeling excitable or anxious.
Metal Comb
I've tried dozens of different doggy brushes and combs over the past few years, but still nothing has compared to this simple metal groomer's comb. Maisie is prone to matting behind her ears, on her chest, and her back thighs. Despite regular brushing with the old (expensive) brushes I used to use, I was still needing to snip mats out every few weeks. This $8 comb gets close enough to the root that it catches knots and tangles before they become mats. Up until we switched to the comb, she was getting 3-4 mats a month. Now I usually only find them after we pick her up from boarding after a weekend away, or if she plays in her pool and I don't spray detanglers before she dries.