So I'm a bit later than usual with my income report this month – sorry about that! But I've finally crunched the numbers and analyzed my analytics and despite lack of growth on both ends, I'm actually pretty excited about this report. I'm going a little more in depth and telling all when it comes to what I charge (something many bloggers keep very hush hush!)
But before we get into that, I always like to add a little disclaimer about why I write these. People who I know in real life and are outside of the blogging world are always puzzled by this. Questions like, "Isn't that bragging?" or "Isn't that really personal to be sharing?" are common so I like to give a short explanation. These reports are written partially for transparency, partially to force me to do book keeping so I don't have to stress come tax time, but mostly these posts are done to help newer bloggers.
When I started blogging I found Pinch of Yum's income reports and that's when my eyes were opened to the eyes of monetization. Until that point I had never thought blogging was something people actually made money doing, so it really opened my eyes. I want to be open with you all and tell you that: yes, it can be done; and no, you don't have to spend a ridiculous amount of time or money to make it happen.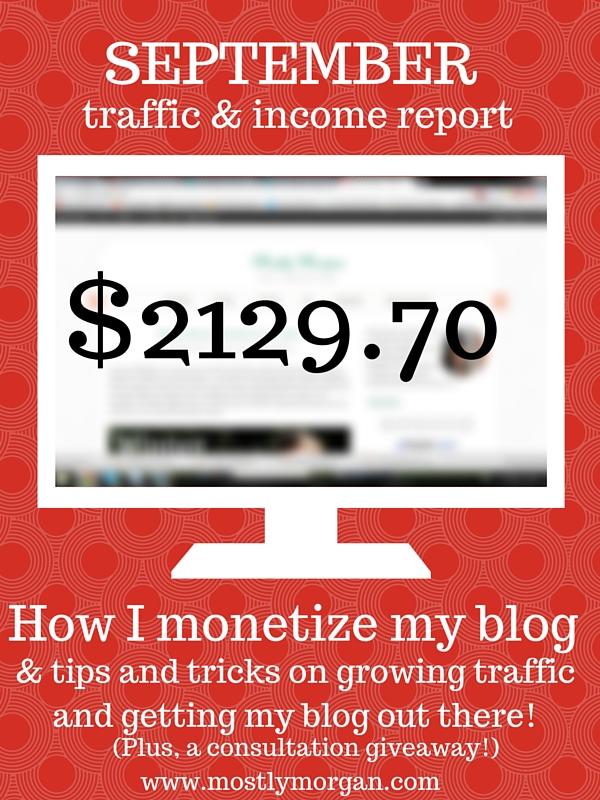 MY MONTH IN A NUTSHELL
Alright, so my numbers declined in all fronts (except expenses, go figure) but I really don't mind. At first it stung to see my numbers go down, and obviously I'm not thrilled about it, but taking a step back I realized that it's not the end of the world. By nature I'm a very anxious person, and I spend most of my time worrying and carrying loads of stress. Numbers are something I used to stress a lot about (as in checking multiple times a day) but when my numbers started plummeting in early September I swore off checking for the rest of the month. It was hard for all of a week, but now that we are over a week into October I might have checked them three times this month.
So yes, my numbers plummeted and it wasn't the end of the world. Profits stayed steady (except of course for ads, which are largely tied to page views) and my engagement actually went up. Realizing that numbers weren't everything and that they don't actually determine success has been one of the best silver linings that has come to me this far.
This month I redefined success. I always thought that I would feel 'successful' when I reached one million monthly page views and had a lot of followers across my social media channels. My new definition of success isn't tied up so much in the numbers anymore. When it comes to blogging, I'm going to feel successful when I am bringing in enough income to comfortably support myself without having to stress about whether or not I'm going to get another sponsored post for the month.
Which brings me into another thing I did this month: Work on passive income streams. Very little of the income that Mostly Morgan brings in is passive. I have my ads and my affiliates and that's about it (my passive streams are underlined in the report below!) I want to create something that could consistently bring in revenue. I started out writing an e-book, but very quickly I found out that my project was bigger than that so instead I'm working on an entire blogging course. I have put in about 30 minutes a day (this college girl is unfortunately pretty busy!) and I'm about a quarter of the way through.
SEPTEMBER INCOME
Izea – $600
BlogHer Sponsored Posts – $500
TapInfluence – $400
CleverGirls – $300
BlogHer Ads -$216.52
Host Gator (from this post, where I show YOU how to make a blog!) – $200
Linqia – $69.24
Amazon Affiliates – $8.86
YouTube – $4.52
Total: 2299.14

AUGUST EXPENSES:
Hosting – $6.83
Adobe Lightroom – $10.61
New Theme – $45
Instagram Class – $97
Facebook Ad – $10
Total: $169.44
Grand Total: $2129.70
Per usual, I calculated how much time I would be working at a part time, minimum wage job to make this much (as a response to everyone who says that "blogging is not a real job" and I would have had to work 258 hours or around 65 hours a week to come up with this sum. I have talked a lot about monetizing your blog in the past, and if you have any questions leave them below in the comments! I want to do a bit of a Q&A in the comments and answer all of your burning questions about monetization!
SEPTEMBER TRAFFIC
So, when you compare my September stats to my record breaking August they aren't all that hot. But I'm OK with that, as I mentioned above. I contemplated no longer including my traffic in these posts, because I swear to you, traffic is not correlated to income.
To a small extent they are related but higher traffic does not always mean higher income. There are full time bloggers getting only 100,000 views a month (and I say "only" in relation to their income) and then you look at my August stats and I had over 600,000 views and "only" made around $2000.
Instead of being so caught up in numbers, I am going to start focusing on my brand and how I'm seen in the blogosphere. There are plenty of bloggers who receive less traffic than me and have equal social followings who are seen as authorities in the blogging industry – and that's not by accident or witch voodoo. They are savvy business women who know how to brand themselves better than I do, and I need to start paying attention.
As a quick note regarding my traffic – Pinterest changed their algorithm. Again. For some people the change was for the better – for me, not so much. I rolled with it and have started changing up my strategy and I'm happy with the results so far.
TOP POSTS IN SEPTEMBER
PRICING SPONSORED POSTS
A large portion of my income (well over half!) comes from writing sponsored posts, and pricing sponsored posts is a big mystery for a lot of bloggers. The first sponsored post opportunity I ever got they asked how much I charged and I had no clue what to say. I asked around on blogging networks that I'm part of and no one wanted to tell what they charged either. This left me charging $40 for my first sponsored post. Now whenever anyone asks me what they should charge I always say no less than $100, period. And even then I encourage charging higher.
All summer I was charging $250 per post (give or take) and I ended up way overwhelmed. I was undervaluing myself and the work that I do, and brands took notice. I was getting several offers a week for sponsored content and even though I ended up accepting less than half I spent a lot of time stressing about meeting deadlines.
I made the decision to nearly double my rate and start charging $400 per post (which was terrifying!) but I feel so much better. I am getting less offers, but more quality ones and I'm still keeping quite busy. I was afraid after raising my prices I would hear crickets but (maybe coincidentally) after doing so the offers I've gotten were from more 'big name' brands, which has been super exciting!
OCTOBERS PLAN OF ATTACK
So, if I'm being completely honest here, my main goal is to just post consistently. Usually this isn't an issue for me, but this semester my classes are hard. As in I can't remember the last time I wasn't stress (kidding, it was August) and I really don't have much free time. The next two weeks are midterms and I am panicking just a little. Instead of a super huge strategy of booty kicking, I'm just hoping to put out great content consistently and stay active on social media.
CAN YOU MAKE MONEY BLOGGING?
Yes! If you are interested in making a profitable blog – I would be more than happy to help! I have an incredibly detailed guide to setting up a blog here, and from there you can check out my blogging tips (there are a lot!) and if you need any further help – email me! I absolutely love talking about blogging (my friends and family are sick of hearing about it!) so do not hesitate.
WANT TO TALK BUSINESS WITH ME?
Last month I hosted my first blog consultation giveaway – and based on the number of entries I decided to bring it back again this month! I'll be emailing the winner the day the next month's income report goes live (I just emailed the first winner minutes ago!) and we will go from there!
The process is simple, and we won't even have to work with each other's busy schedules to set up a Skype call because it will all be through Google Docs and email. Here's how it'll go:
I'll send the winner a worksheet to fill out. (Very simple – just asking about you, your site, and your goals!)
I'll evaluate that worksheet, your site, and your social media and come up with a strategy just for you, personalized to your goals (growing traffic, making money, rocking Pinterest, etc.)
After sending you the very detailed plan of attack, I'll be checking back in with you after 2 weeks to see how it's going. If you haven't seen growth, we'll reevaluate!