They're back! I took a (way too long) hiatus on posting income reports when I was living in New York City. While I was there I had way too much going on to prioritize actively seeking partnerships and blogging opportunities. Over the past few months, my highest month's income was just shy of $4000 in July and my lowest was $1600 in May.
Now you might be thinking, "Why the heck is this internet stranger sharing how much money she makes with all of us?"
And I get you, if I weren't in the blogging world as deep as I am, I'd find it weird too. When I started blogging I had no clue that there was money to be made, and bloggers like Lindsay at Pinch of Yum, Melyssa Griffin, and byRegina all inspired me with their income reports.
Furthermore, blogging has opened my eyes to a world outside of the traditional "college>degree>9-5>retire>die" track that I so desperately wanted to escape and if I can help open other people's eyes to the potential blogging holds – well that's a win in my book.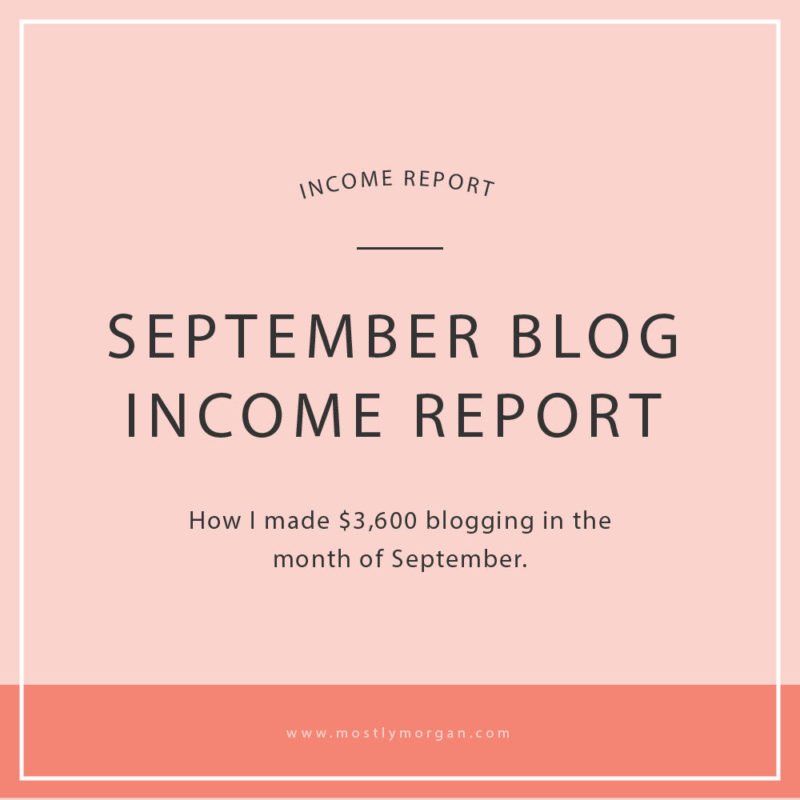 WHAT I DID IN SEPTEMBER
September was a big month of getting back on brands' radars. Like I said, I wasn't actively pursuing partnerships while in New York – rather I was just accepting or declining ones that were organically offered – so I had some catching up to do.
Back around January I said I was going to stop working with brands altogether to work on my own projects – but I actually really missed collaborating. I love talking about what direction to take a partnership, styling photos, and presenting the final project to my campaign manager and getting feedback. Something about it is really fun and I'll be continuing to work with brands for the forseeable future.
Also, if you don't know, I'm a content marketer at Teachable (they let me take a remote position when I moved home to the midwest!) and I've been walking their blog audience through my online course creation process, so that's been a big focus of mine in September, too.
SEPTEMBER INCOME REPORT
BlogHer – $1,551.56 (Sponsored posts & Ad Revenue)
Hostgator – $850 (Affiliate Marketing)
TapInfluence – $600 (Sponsored Posts + Social Campaigns)
BabbleBoxx – $350 (Sponsored Post)
Izea – $250 (Sponsored Post)
YouTube – $18.37 (Ad Revenue)
Amazon – $14.27 (Affiliate Marketing)
Total: $3,634.20
EXPENSES
LeadPages – $16.67
Adobe Lightroom – $10.61
Hosting – $6.83
Total: $34.11
Total: $3,600.09
As usual, I calculated how many hours I would have to work at a minimum wage job if I wanted to make this much and I came to just under 411 hours or working 20 hour days Monday-Friday. Again, blogging comes to be more profitable than working for the average $8.75 an hour as many other 21 years olds might be.
WHAT'S HAPPENING IN OCTOBER?
October is a big month of preparation for me. I'll be traveling for a lot of November, which means I need to put systems in place so that my blog can run smoothly. I'll be writing posts in advance in October, as well as scheduling out social media.
I'm also relaunching my YouTube channel! Again, YouTube is something I neglected in New York (working 9:30-6:30 was waaaaay more taxing than I thought it'd be – I slept in my free time!) but I'm back and super pumped! In fact, my first video is going live tonight.
YouTube is a great way to reach an entirely new audience – there are so many people who don't like to read blog posts but they're happy to watch or listen to videos and I'd love to be able to connect with them!
CAN YOU MAKE MONEY BLOGGING?
Yes! If you are interested in making a profitable blog – I would be more than happy to help! I have an incredibly detailed guide to setting up a blog here, and from there you can check out my blogging tips (there are a lot!) and if you need any further help – ask in the comments! I absolutely love talking about blogging (my friends and family are sick of hearing about it!) so do not hesitate. I'm sure other people have the same questions you do, so the comments are a great place for people to get their questions answered!
COMPARED TO LAST SEPTEMBER
Last September I made $2129.70, or around $1,500 less than I did this September.