This is a sponsored post written by me on behalf of Devine Color by Valspar . All opinions are 100% mine.
It's always been important to me to feel happy with my surrounding, so I spend a lot of time trying to curate spaces that bring me peace. Whether that's my bedroom or office, I want to make sure that I'm putting my best foot forward each day by placing myself in positive environments.
I realized when I was young that my space affects my mental and emotional space more than anything else, so my room has always reflected that. With that in mind, going to college was a huge shock to my system for so many reasons.
My biggest stressor? Waking up every day in a stiff, clinical-looking dorm room. I spent the first few months of college DIY-ing and dressing up my space to make it more positive and welcoming. If you're going through the same dorm room woes I went through in college, I want to share my tips for making over any space on a budget.
Now, I don't have a dorm to dress up anymore, but I did have a sad looking office space that I started making over earlier in the summer and you can accomplish similar transformations in your dorm room to make it yours. Don't believe me? Here is how it looked before:
I know, it's rough. Before getting into the nitty gritty of the office makeover, though, I want to share my after with you to assure you that there is still hope no matter how dire your dorm or office situation is: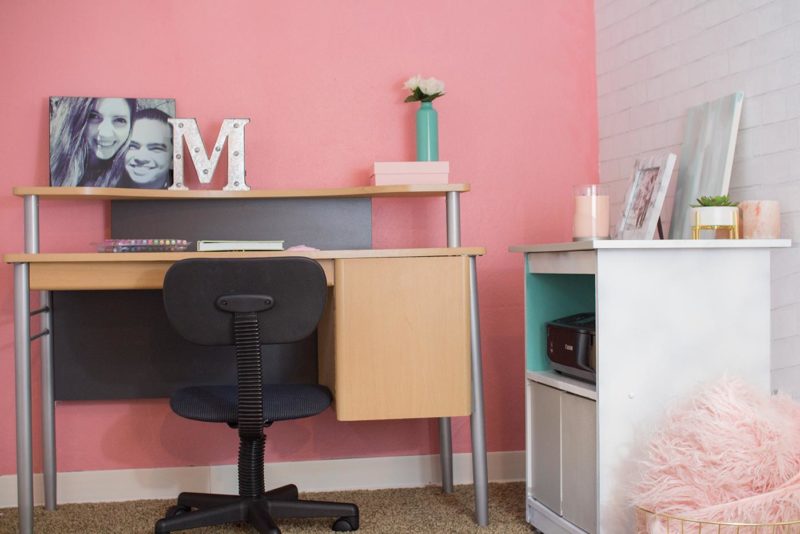 I freshened the room up with a fresh coat of pink paint a few months ago and then abandoned the project. It wasn't until I found out that Devine Color products had stick and peel wallpapers (for the mistake-prone like me) and coordinating paint exclusively at Target that I felt re-motivated to continue my project.
I was very intrigued by the Devine Color Wallpaper. There are dozens of prints including the beautiful faux white brick print that I picked out. It's textured and looks so realistic once you put it up.
Even better? It's so easy to remove if you make a mistake or you need it for a temporary setting like a dorm. It peels off effortlessly without any damage and even retains its stickiness in case you are just looking to move it elsewhere.
You can buy the wallpaper in store at your local Target (you can find it by the light bulbs!) otherwise, if you're in college and don't have access to transportation Devine Color + Target is available online, too.
Now, keep in mind that unless you're an absolute pro hanging the wallpaper is more likely than not going to be a two person job. In theory it's doable on your own, but if you've got a roommate or friend willing to help you smooth out air pockets as you go and line things up you'll have an easier time.
I had my boyfriend over to help me hang the wallpaper, and it was pretty smooth going once we figured out how to line the wall paper up.
Which brings me to my first tip: Cut your strips so the pattern matches up. Don't just measure your length and then cut 4 even strips or your pattern is going to be off. Cut your first strip, unroll the paper, and then line your first strip up with the pattern on the roll and cut using that as a guide. Unless you're very lucky, the pattern isn't going to start repeating itself right at the top, you'll have to cut a few inches of paper off.
Once the paper was hung, it was time to get nitty gritty with the DIY-ing.
The star of the show? This ugly brown cart that's about 30 years older than I am. It's got good bones and is great for storage (I can fit my printer and sewing machine in it and still have extra space on top as my desk is rather small. The problem? No matter which way you spin it, it's just not pretty.
The first order of business in giving my office a much needed makeover was turning this cart into a statement piece rather than something I salvaged from the side of the road when my parents were redoing their kitchen a decade ago.
I started off by giving the unit a fresh coat of white spray paint. I used Devine Color Spray Paint in Satin White. I didn't want to keep it one flat color, so from there I painted the tops and the doors with the Devine Color Mirage Paint. It's a cool gray color that coordinated perfectly with my new wallpaper.
For a fun pop of color, I painted the inside walls with the Devine Color Pond Paint. It was a subtle detail that you can only really see from certain angles, but I love the sneaky pop of color.
Finally, for an added fun element I spray painted the inside doors of the cabinet with chalkboard paint.
Putting the room together was my favorite part! I picked up some extra decor at Target (the Devine Color Line is designed to coordinate with Target's Home Decor!)
Like I said, my personal space really impacts my feelings and mood, so I wanted a mix of functionality and beauty.
I love having plants in my space, but given that my office is in a basement I needed a plant I couldn't kill. I found this cutie in the decor aisle and even though it's artificial, it looks like a living plant!
Additionally, I picked up a candle in Blushing Amber, my favorite scent. I love the cozy feelings that candles can bring to a room, and the smell is sweet and energizing.
Target has a ton of really beautiful picture frames, too. I found a faux marble frame and just put in an order for prints to put in it.
Finally, to tie the colors together I took a canvas and my Devine Color paints in Pond and Mirage and painted swatches with a white base. It added height to my table layout, and helped bring all of the colors together beautifully.
Finally, I picked out a blanket and a basket. Like I said, I work in a basement and it tends to be about 10 degrees cooler down there than in the rest of my house. The blanket brings more of the pink from the wall to the decor, and the basket is a great place to throw the blanket when I'm not using it so it doesn't look sloppy.
Want to make over your own small space? Check out Devine Color + Target. And for inspiration, follow Devine Color on Instagram!