Among other things, coming home from college for the summer means enjoying my mom's cooking, sleeping in my own bed, and rediscovering all of my left behind treasures that didn't make the cut when I was packing for school. At the start of summer, I was sifting through my drawers when I came to the realization that I had a lot of neglected T-shirts. I've passively collected T-shirts for years – not wanting to part with them because of the memories associated with them but I didn't wear them anymore, either.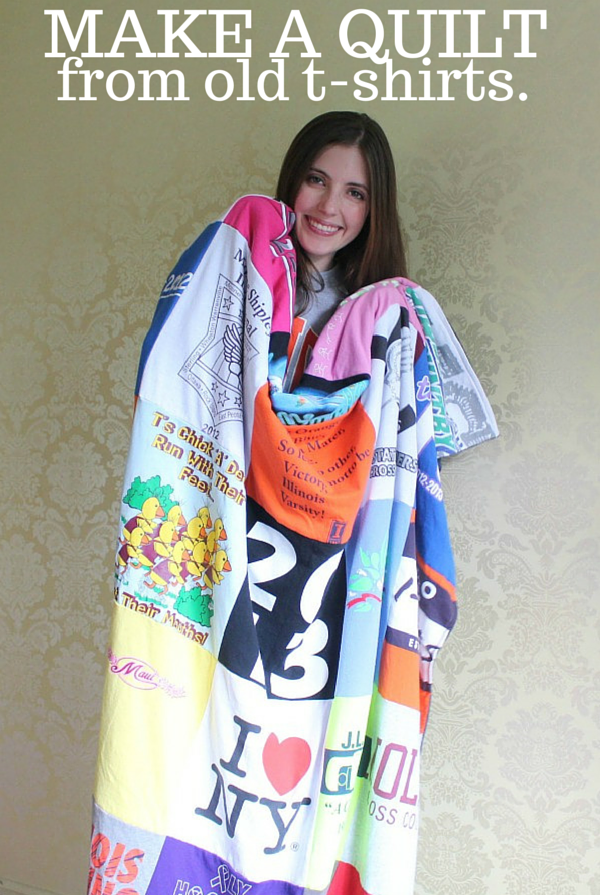 Enter Project Repat. Project Repat is an amazing company that creates fair wage jobs in the USA by upcycling people's old t-shirts into t-shirt quilts. After carefully sorting through my T-shirts I sent in 30 of my favorites and was blown away by the beautiful quilt that I got in return! Their quilts are super high quality, and the cheapest on the market!
The quilts are backed with really cozy Polertec fleece that makes it the perfect blanket to snuggle up with, without being overly heavy. I've only had mine for a week or two now, but it's quickly becoming a necessity. Whether I'm curled up watching the new season of Orange is the New Black or snuggling down for bed, my Project Repat quilt is with me.
I have no shame in saying that I'm a bit of packrat – I get emotionally attached to items and then can't throw them away. My t-shirts hold great memories – making it to state, various vacations, and so much more. Now I have them all together in a beautiful quilt that I can display proudly rather than keeping my memories sloppily stuffed in drawers. If you find yourself in the position of having too many shirts and not enough space, before heading to Goodwill you should consider getting a quilt made.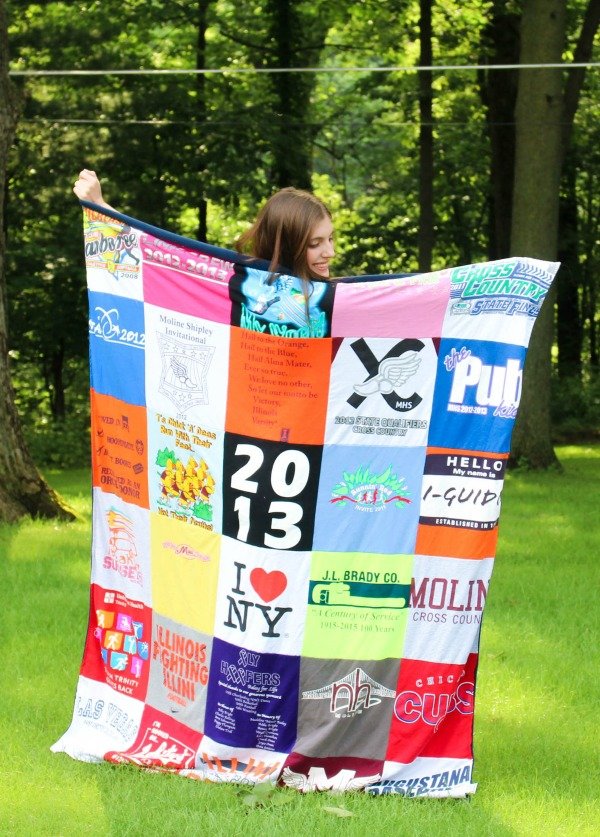 The quilts could also make the perfect gift! If you know a senior who just graduated a quilt with all of their best high school memories could be the perfect send off to college, and I'm planning on getting another for my grandparents with a t-shirt from all of the grandkids! There are hundreds of different ways you can give the quilts as a gift, but no matter who you're giving it to, the recipient willbe sure to love it!
If you want to learn more about Project Repat you can search #ProjectRepat on Instagram, check out their website, and watch the video down below!
How do you organize all of your old t-shirts? Are you a packrat like me, or are you able to let go? Let me know in the comments! And don't forget to check Project Repat out, they are truly incredible!
This post is sponsored by Project Repat and Her Campus Media. All opinions are my own. Thank you for supporting the brands that make Mostly Morgan possible!