Per usual fashion, I'm halfway through the month before getting this live – sincerest apologies. I know it's cheesy and expected to say, but November snuck up on me and I really don't know how it got to be so late in the month already. (Also, I need to start Christmas shopping – eep!)
Now you might be thinking, "Why the heck is this internet stranger sharing how much money she makes with all of us?"
And I get you, if I weren't in the blogging world as deep as I am, I'd find it weird too. When I started blogging I had no clue that there was money to be made, and bloggers like Lindsay at Pinch of Yum, Melyssa Griffin, and byRegina all inspired me with their income reports.
Furthermore, blogging has opened my eyes to a world outside of the traditional "college>degree>9-5>retire>die" track that I so desperately wanted to escape and if I can help open other people's eyes to the potential blogging holds – well that's a win in my book.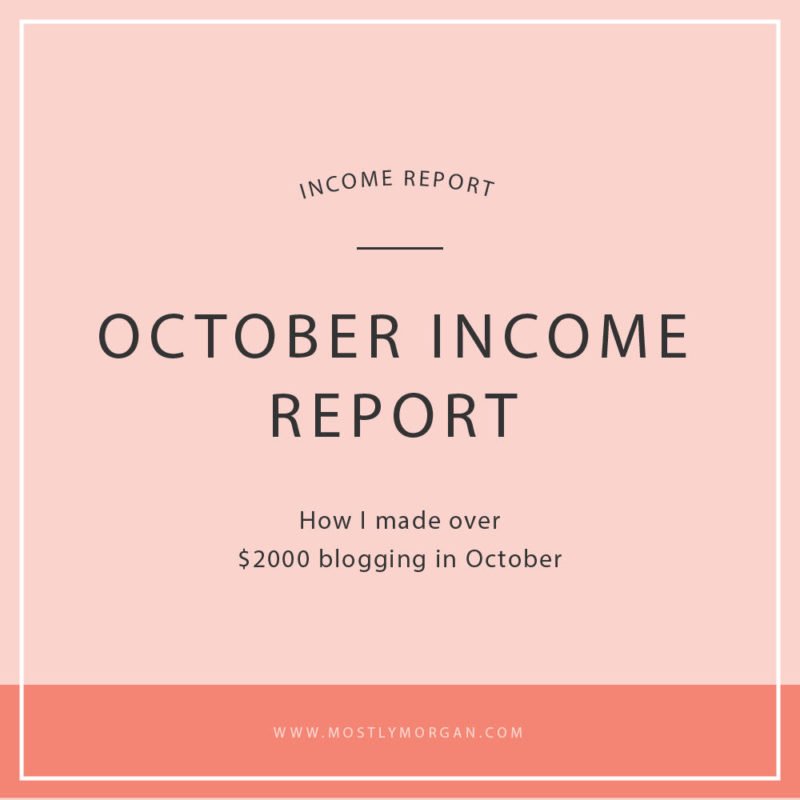 WHAT I DID IN OCTOBER
October was a really fun month for me, I worked on a few creative projects, the biggest one being my DIY Generational Halloween Post. I posted just a tinge too late for it to pick up any real steam, but I still got a good response and had a lot of fun creating it with my friend, Desiree.
I've also been working a lot on my upcoming online course – though I have run into a few creative snags that have slowed the process down. No worries, though, I'm hoping to have it finished, polished, and delivered in the next few weeks.
OCTOBER INCOME REPORT
HostGator – $650 (Affiliate Marketing)
TapInfluence – $500 (Sponsored Post)
The InfluenceHer Network – $470 (Sponsored Post)
Izea – $350 (Sponsored Post)
BlogHer – $41.76 (Ad Revenue)
YouTube – $27.30 (Ad Revenue)
ShopStyle – $2.00 (Affiliate Marketing)
Total: $2041.06
EXPENSES
LeadPages – $16.67
Adobe Lightroom – $10.61
Hosting – $6.83
Total: $34.11
Total: $2006.95
As usual, I calculated how many hours I would have to work at a minimum wage job to earn $2006.95 in a month. I came up with 243 hours in the month or 60 hours a week.
I made significantly less in October than I did in September but (unfortunately) that's how blogging goes. There is very little stability or predictability when it comes to your income which is why so many people hesitate to go full-time with their blogs.
Why I haven't gone full-time blogging
If you didn't know, I'm a content marketer for Teachable and I really love it. I started there as an intern in March, and just a few months ago I dropped the intern title and moved on up to content marketer. Before I started at Teachable I was 100% deadset on becoming a full-time blogger as soon as possible but since then my tune has changed a bit and I'm putting off going full-time for at least another year for these reasons:
Stability: I made $1500 less blogging this month than I did last month. If I were having five figure months this wouldn't be an issue, but I haven't reached that point yet and I don't feel like it'd be responsible for me to just hope for the best until I have stronger systems put into place.
Future planning: I'm 21 and (hopefully) have another 70+ years ahead of me. It doesn't hurt to have a second source of income to prepare for the future, and it's nice being able to build my savings account and emergency fund.
I like the work I'm doing. Working at Teachable is fun. The team is great and I really enjoy writing about course creation. I work remotely from home and have a lot of flexibility in that sense so I'm able to do fulfilling work there without having to go into an office all day every day. If my job weren't fun I'd try to hustle harder with the blog, but I'm happy where I'm at.
Self-employment taxes. Last year the only money I made came from blogging, and I ended up owing well over $1,000 in self-employment taxes. Ouch. I've planned better this year, but having a second source of income will help lessen that burden, and I'll end up owing less, too.
Freedom. Like I said, I make most of my money promoting other companies and rely on brands wanting to work with me. Knowing that I have a second source of income means I don't have to accept every sponsored post that comes my way or pitch like crazy at the end of the month just so I can pay the bills.
CAN YOU MAKE MONEY BLOGGING?
Yes! If you are interested in making a profitable blog – I would be more than happy to help! I have an incredibly detailed guide to setting up a blog here, and from there you can check out my blogging tips (there are a lot!) and if you need any further help – ask in the comments! I absolutely love talking about blogging (my friends and family are sick of hearing about it!) so do not hesitate. I'm sure other people have the same questions you do, so the comments are a great place for people to get their questions answered!