It's that time again, I'm publishing my monthly income report. I've been doing these for well over a year now, and in that time I've learned a lot about making money online. From increasing my prices to finding sponsorships, I've made a lot of strategic decisions that have helped me monetize.
Through these income reports I hope that I'm able to help your realize what's possible in the world of blogging, and answer any questions you might have about monetizing.
Now you might be thinking, "Why the heck is this internet stranger sharing how much money she makes with all of us?"
And I get you, if I weren't in the blogging world as deep as I am, I'd find it weird too. When I started blogging I had no clue that there was money to be made, and bloggers like Lindsay at Pinch of Yum, Melyssa Griffin, and byRegina all inspired me with their income reports.
Furthermore, blogging has opened my eyes to a world outside of the traditional "college>degree>9-5>retire>die" track that I so desperately wanted to escape and if I can help open other people's eyes to the potential blogging holds – well that's a win in my book.
WHAT I DID IN NOVEMBER
I'm going to be honest with y'all – I took it easy. I was starting to feel stressed balancing my full-time job, blogging, and a social life. I took a trip to San Francisco with a girl friend and my boyfriend came in town for a week and I didn't want to be glued to my laptop while I was adventuring or with my boyfriend.
I took on less sponsored posts than usual and I posted less than usual. Had I had more notice that I was going to start feeling overwhelmed I could have done some planning in advanced, but at the beginning of the month I made the decision to take it easy and pick back up in December.
With that said, I did spend a bit more time on Pinterest than usual, promoting old posts to keep traffic up. While I did see a dip in November, it wasn't as bad as it might have been thanks to Pinterest.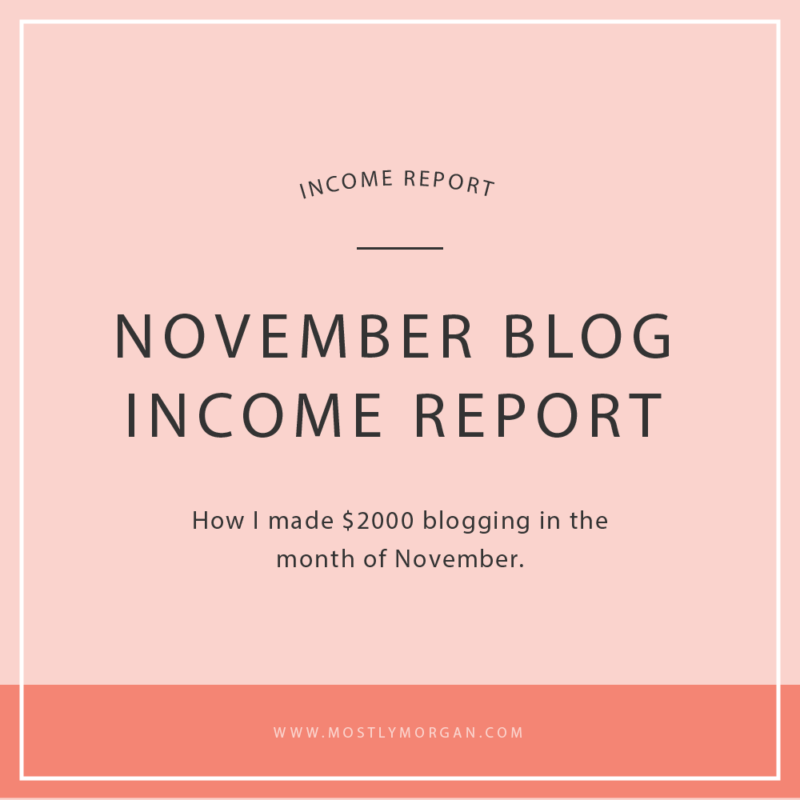 NOVEMBER INCOME REPORT
HostGator – $900 (Affiliate Marketing)
TapInfluence – $1000 (Sponsored Post)
YouTube – $43.97 (Ad Revenue)
BlogHer – $35.74 (Ad Revenue)
ShopStyle – $13.20 (Affiliate Marketing)
Amazong – $5.29 (Affiliate Marketing)
Total: $1998.2
EXPENSES
LeadPages – $16.67
Adobe Lightroom – $10.61
Hosting – $6.83
Total: $34.11
Grand total: $1964.09
As usual, I calculated how many hours I would have to work at a minimum wage job if I wanted to make this much and I came to just under 224 hours or working 11 hour days Monday-Friday. Blogging comes to be more profitable than working for the average $8.75 an hour as many other 21 years olds might be doing.
WHAT I'M DOING IN DECEMBER
Like I mentioned earlier, I'm picking back up in December. I've taken on a few more sponsored posts, hired a graphic designer to help revamp my Pinterest account, and I'm finishing my online course.
You might have read on the Teachable Blog that I've been creating an online course – well there were a few bumps in the road and other, more time-sensitive projects demanding my time so that got put on hold, but I'm back at it in full force now.
Most of my time will be devoted to course creation, but then I will be back to securing blog partnerships and working on creating great content at a larger volume.
CAN YOU MAKE MONEY BLOGGING?
Yes! If you are interested in making a profitable blog – I would be more than happy to help! I have an incredibly detailed guide to setting up a blog here, and from there you can check out my blogging tips (there are a lot!) and if you need any further help – ask in the comments! I absolutely love talking about blogging (my friends and family are sick of hearing about it!) so do not hesitate. I'm sure other people have the same questions you do, so the comments are a great place for people to get their questions answered!