Summer is coming which means more time outdoors enjoying the sunshine and planning fun adventures with friends. In the cooler months I have no problem sitting around and taking time to doll myself up before I go out but in the summer I tend to be out the door in fifteen minutes.
Couple that with the icky-feeling of makeup mingling with sweat in the hot summer months and I tend to go for a no makeup makeup look most days from April to October. This is great because it gives me extra time in the morning and it gives my skin room to breathe.
Speaking of skin, though, it's important for me to be extra diligent about my skin care during this time because I do not want to feel the need to slather my face in foundation every day, so a good skin care routine is essential.
I've made the switch to Olay Daily Facials Daily Clean 4-in- 1 Water Activated Cleansing Cloths because the 4-in-1 cleansing cloths are multi-tasking miracles. (A bit dramatic? Probably not.) They are water activated and textured with soft cleansing pockets to break up and lift away dirt, oil, and makeup. It serves the purpose of a cleanser, toner, mask, and scrub all in one step meaning less time to devote to getting that #flawless skin.
Great skin care is the foundation for any makeup look and for a skin care routine to be great it has to contain SPF (protect that pretty face of yours, friend!) I've gotten an array of moisturizers with SPF from beauty boxes, so I will choose from one of those to start off any makeup look.
From there, I will conceal under my eyes and any especially angry pimples on my face to help perfect my complexion without having to go through a full-on foundation routine.
From there ,I'm a big advocate of any brow product with extra fibers to help plump my little beeb eyebrows up – when it comes to makeup products eyebrow anythings are my holy grail.
This might seem a little extra, but I am a highlighter advocate. I wear it every day without fail because a little extra glow never hurt nobody.
For finishing touches, I'll curl my eyelashes (and apply a bit of mascara if I'm feeling extra sassy) and put petroleum jelly on my perpetually chapped lips. The look is simple, but it leaves me feeling glowy and confident and just a little extra polished.
And at the end of the day? Back to my Olay Daily Facials. I get a better clean than I did with my old wipes, and my skin just feels better. In the past my skin has felt like a weird combination of dry or tight with artificial oiliness that is supposed to be "moisturizing," but after using the Daily Facials my skin just feels hydrated.
Beyond that, my skin texture has evened out a lot and I've been able to say goodbye to the pesky rough patch of skin between my eyebrows. It's sort of been a my-skin-but-better type situation except it's actually my skin and I'm totally stoked about it.
To really compare the difference in products Olay challenged me to a blotting test to really put my old wipes and the Daily Facials head-to-head. I honestly was a little skeptical because I felt like once you'd seen one cleansing cloth you'd seen them all, but that is not the case.
You'll see in the pictures that the Olay Daily Facials don't leave an artificial layer of oil, but what the pictures won't show is the difference in how my skin feels. In the past, wipes have irritated my eyes and made my skin feel tight, but the Daily Facials really just make my skin feel like a more hydrated version of its natural state.
The blot test
Day 1: My old wipes
I went through my old skin care routine as I normally would using a pre-wet makeup remover wipe and it was fine. Or I suppose I should say normal. Because I'm used to using wipes, I really didn't think they were that bad. Once I was finished I blotted my face and found this much oily residue.
It might not seem like much (while the camera adds 7 pounds, it's also very forgiving to blotting sheets) but just wait until you see the results from the Olay Daily Facials.
Day 2: The Olay Daily Facials
I had these wipes for about a week before I finally put them to the test – so this was my first impression. I expected them to be wet like the wipes I used in the past, but was pleasantly surprised to discover that they're dry cloths that are water activated. Once you get them wet you just need to rub to lather and then use the cloth like a normal face wipe (and these ones won't irritate your eyes!) Rinse your face and voila! The best cleanse you've ever had.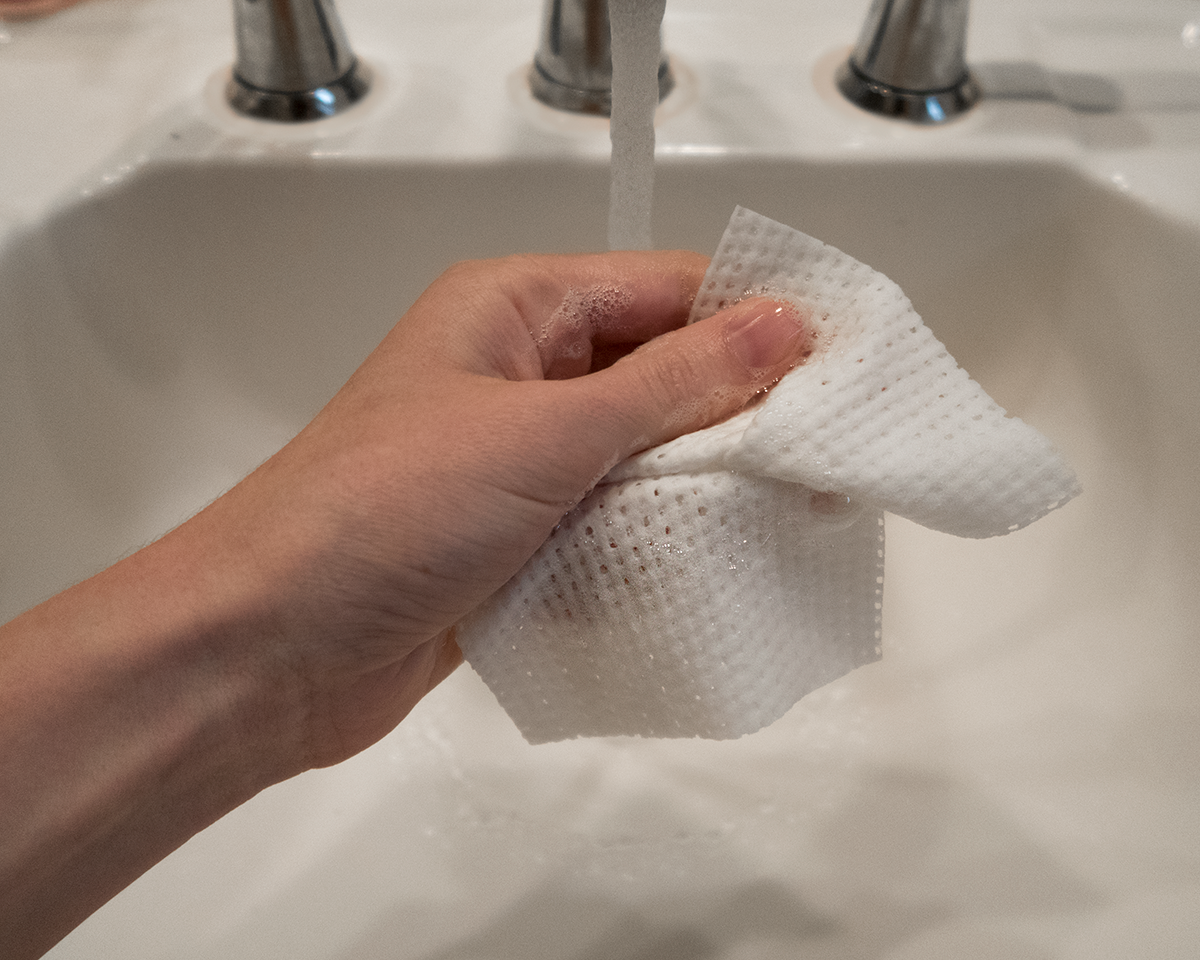 I love the way the soap-free formula felt on my skin and how I didn't need to scrub at my face – it gently lifted my makeup without me having to throw in extra elbow grease.
And I really liked the results of my blot test.
For full disclosure, there was a very subtle change in color in the middle of the sheet that you can see at a certain angle, but other than that the sheet was dry. Hardly any oil was left on my skin yet it felt fully hydrated.
The takeaway
Whether you're looking to go bare-faced every day, wear full Instagram-makeup, or something in between any look can benefit from healthier, smoother skin. These cleansing cloths give you a whole clean accomplishing 4 skin care steps in the time it takes to wash your face so you can get better skin without having to devote extra time.
The Olay Daily Facials are formulated for every skin type (hooray!) and are major game changers. Cheers for better skin!
This content was sponsored by Olay but all thoughts and opinions are my own. I
hope you enjoy following along! #ad
This is a sponsored conversation written by me on behalf of Olay . The opinions and text are all mine.