I'm big into shopping, but big into saving money, too. I love feeling fancy prancing around in new outfits, but I hate the feeling of an empty wallet so I have had to get a bit thrifty.
When I was living in New York I was all about going to thrift stores to find new pieces, but in the midwest sifting through the Goodwill to find hidden gems turns out to be a bust more often than not, and while I still thrift from time to time I've also gotten good at finding beautiful and expensive looking pieces for a steal at regular retail stores.
Really, once you have a solid strategy it's not all that hard you just need to know what to look for. I thought it might be helpful to share the shopping rules I use when shopping at stores that might be considered "cheap" like Forever 21 and H&M.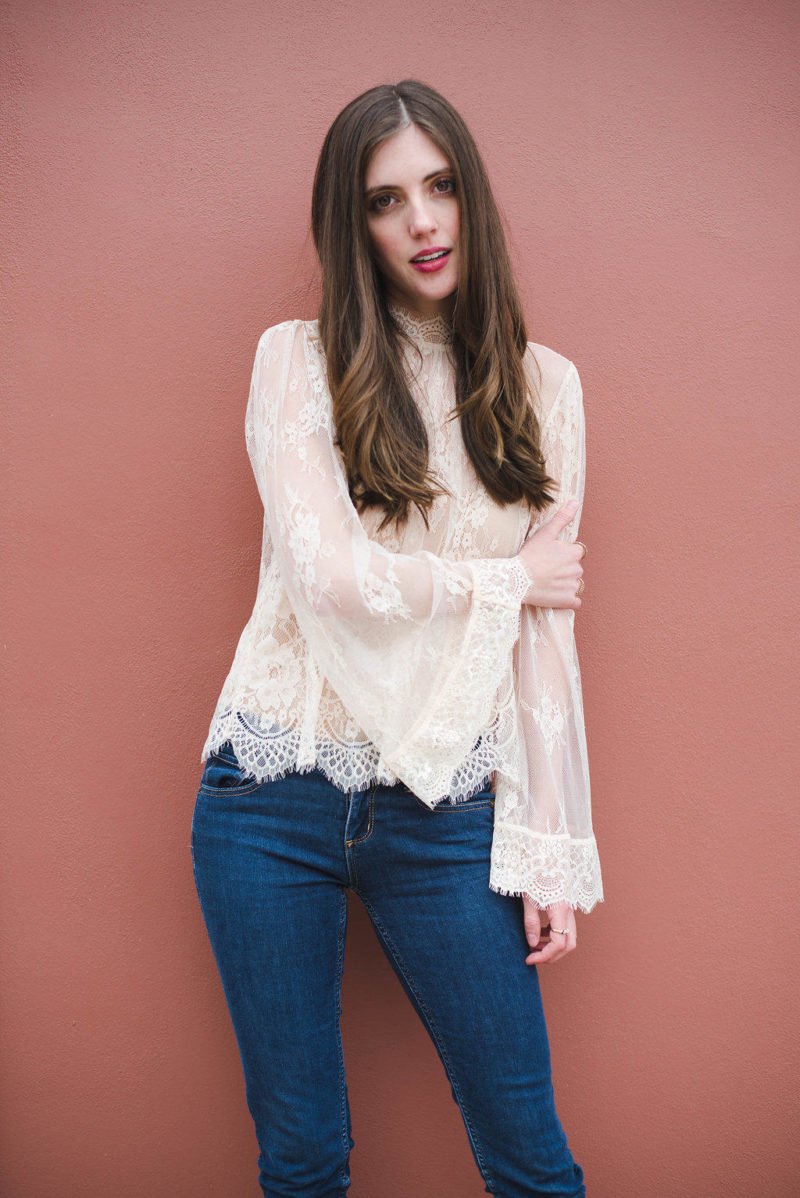 One way to buy things for cheap and still look expensive is by choosing "luxe" fabrics. I find that when I buy cotton or polyester tops at Forever 21 or H&M they are quick to fade and pill, but thinks like lace and crochet tops or velvet bodysuits are going to hold up better.
The top pictured is from Forever 21 and people are always surprised to hear that because it is intricate and detailed. Lace is always going to look more expensive and high quality than cotton, but this top only ran me less than $20.
Another thing is focusing on basic or luxe colors. Neutrals like black, white and gray are always going to look more expensive than neon yellow or hot pink and they will hold up better in the wash, too. Burgundies, navies, and emeralds look nice, too – basically any of the jewel tones.
If you are going for colors, be careful how you wash them because how pieces hold up in the wash is usually where cheap clothes start to seem cheap. More expensive pieces hold up better, but you can make sure your cheap pieces are tattering or fading by washing them by hand in cold water and hanging them to dry. It's extra work but it'll keep them looking nice.
An easy way to make your clothes look more expensive is to make sure they fit well. A well-tailored pair of $18 dollar jeans is going to look infinitely nicer than an ill-fitting pair of $180 dollar jeans every time. That doesn't mean you need to go out and get your clothes tailored every time you go shopping, but you should focus on fit before you make the purchase.
If clothes don't fit well in the dressing room they aren't going to look any better in your bedroom mirror no matter how nice the outfit looked on the mannequin. By focusing on fit you're going to buy flattering pieces that will help you look polished and put together.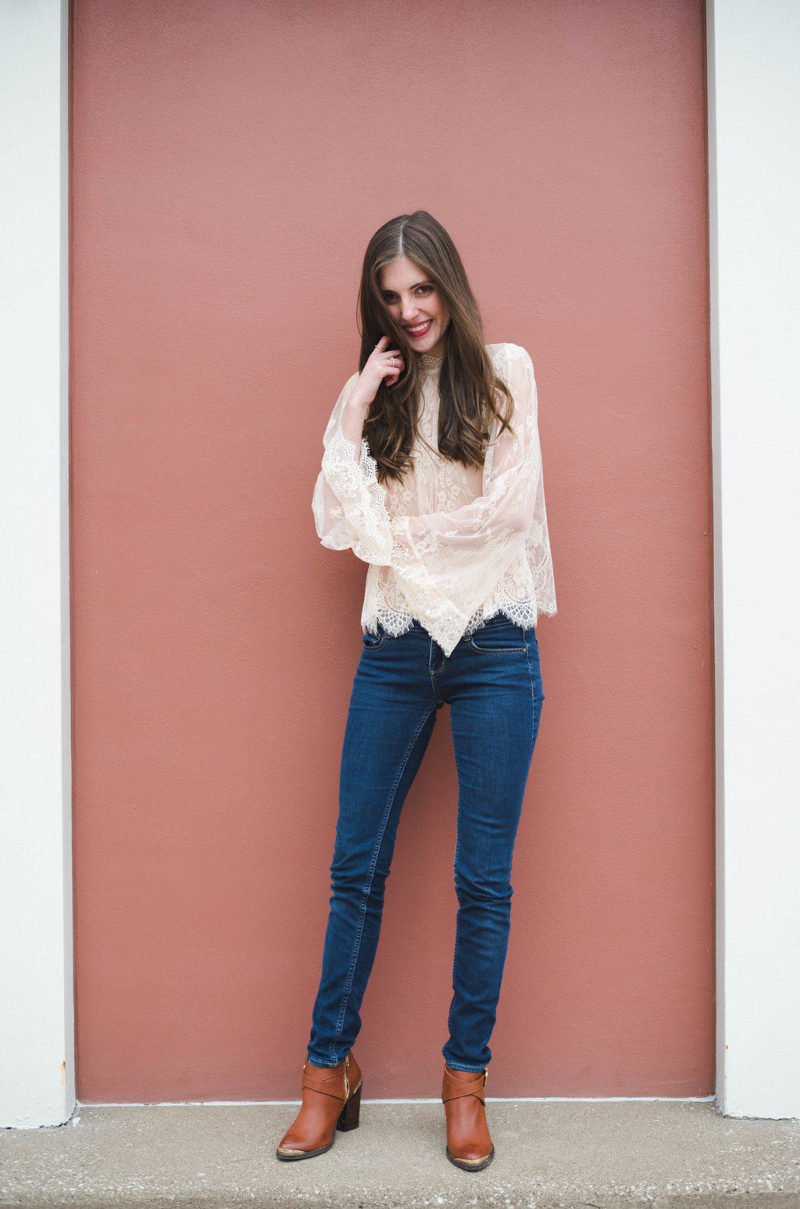 When you're purchasing cheap denim avoid distressing and fading. In my experience, Forever 21 has great bottoms if they are basics. Their distressing never holds up for more than a few washes and while their artificial fade looks great when they're new it looks a bit wonky after the jeans actually start to fade.
Another nit-picky thing to focus on is the way that the butt pockets look. I don't know if my booty is oddly shaped or an anomaly, but I find that with a lot of cheaper brands the butt pockets bunch and fold when they are on and just aren't flattering. I hate dressing rooms, but I'm always sure to try on jeans.
While we're talking about butts, make sure you're not buying cheap jeans with overly embellished pockets. They might look great now, but through the wear and tear of everyday things like studs or rhinestones might start popping off and stitching will tear and fade.
Now, I've never tried this for myself, but a friend swears by sticking your jeans in the freezer overnight to extend their life between washes. She promises that it takes care of any smells and even helps them keep their shape. All you need to do is spot clean with a wet towel in case any of your lunch ends up in your lap.
Shop in store rather than online when you can. In store, you're able to actually feel the material and try it on for yourself. In the past, I've modeled for a store's website and what you might not know is that there is a team of people making sure that the clothes look as nice as possible. They are pinning and tucking each piece to make sure the fit is flattering even if it's not how the piece is actually cut.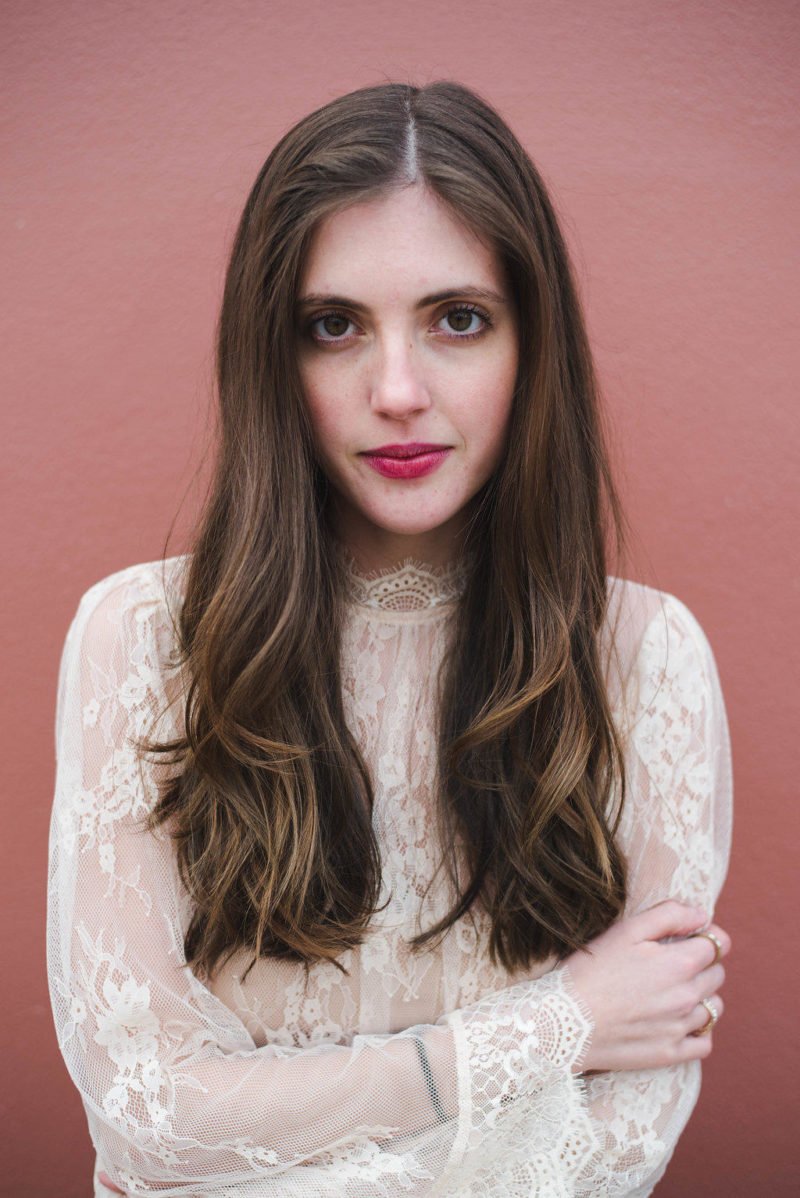 Have an arsenal of camis and slips at your disposal. The lace top I'm wearing doesn't have an under layer – less fabric means they can charge less for it. No problem, though, because I have a nude cami that is also from Forever 21 and was less than $3.
I've found that even when cheaper dresses have built in slips they are still a bit too sheer for comfort. You can either cut the original out (be careful of seams!) if you're afraid of bulk or temperature and throw the outer shell over a slip you already own or double up.
Take extra care of your cheaper pieces. It should be a given that you're taking care of your things regardless, but your cheaper pieces might need a little extra love. Things like sticking pool noodles in your boots so they keep their shape or taking a gentle cloth and soap solution to the exterior of your boots to keep them looking shiny and clean is worth the effort.
Invest in some things. For classic pieces that stay in style like a pair of dark rinse skinny jeans or a tailored blazer consider spending more on those pieces and pairing them with your cheaper purchases. Rather than highlight the contrast of the pieces, this will help your cheap pieces look more expensive.
Cheap shopping inspo:
This section includes affiliate links to some of my favorite current pieces at H&M and Forever 21.

Photography by Desiree Sandlin!