I've always been lucky – growing up I had countless incredible women to look up to. My mom, my grandma, aunts, and cousins – plus women outside of my family. I do realize that not everyone is quite as fortunate which sparked the idea of a new series for here on the blog. Every month or so I will be featuring a woman on the blog who has done something amazing or inspiring. Considering the number of great women I've had the pleasure of meeting in my life – it's safe to say that this series will be going on for years. And if you know a woman who has done great things you can send me an email and perhaps she'll be featured!
So without further ado, I present to you the first woman featured in my You Go Girl! series on the blog.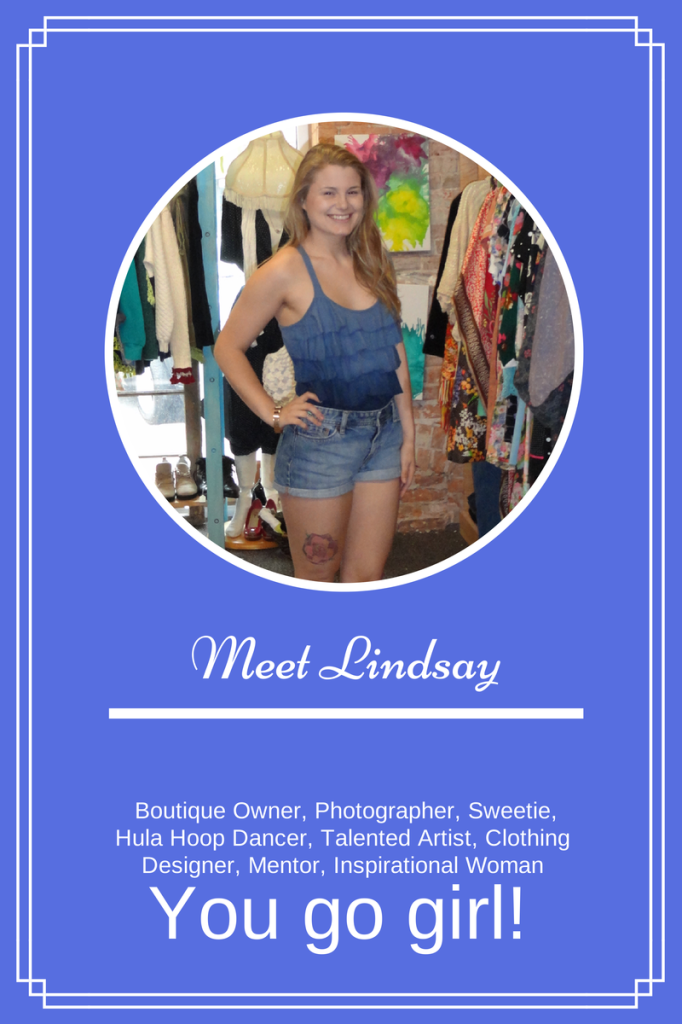 I first met Lindsay O'Brien last summer while shopping in her store, Good Karma. the meeting was very brief but it stuck in my mind. Anyone who knows me well knows that I can tend to be soft spoken, but while ringing me up Lindsay talked to me like I was her friend – and I never forgot that. I went home and liked Good Karma's Facebook page and have been following her successes ever since. Just last week I was lucky enough to be able to interview her- and I am going to share that with you all here!
Lindsay was lucky enough to grow up around a really incredible woman who supported and inspired her, setting a good example for her. When I asked Lindsay who her biggest female role model was, she passionately recounted all of the great qualities that her mother possess.
L – My mother is absolutely my inspiration every morning when I wake up. I think about how hard she worked to give me the opportunities and self esteem to go after my goals. My mom raised me on a waitresses paycheck – I saw her work so hard just to give me a functioning, healthy life. And she always told me that I could do anything I set my mind to. She just radiates so much white light. She helps everyone, she would give anyone the shirt off her back. So growing up and having her as my role model has really made me into the person I am today. If I didn't have her in my life I wouldn't be as good of a person as I am today – she led the way.
When I asked Lindsay how she came up with the name "Good Karma" for her shop, she brought up her fabulous mother again. Lindsay also touched on some of the core ideas behind the store.
L – I came to my mom and told her that I thought opening a shop was something that we could do together and if I put my heart into it I really knew that I could make it work. And she goes, 'you know it should be called Good Karma.' Because she knew I had always wanted to own a store that wasn't just clothing based. I've always been in the retail business – I worked at every place in the mall that you possibly could. I knew that I wanted to start a boutique but I wanted it to be centered around positive self image for the girls coming in – that's why we use all real models – and I wanted to give back to the community. That's why we are based around community projects and mentor programs so the name just fits in with everything we do.
Lindsay continued and told me about the wonderful mentor work she does, helping little girls in our community learn skills that they will carry with them through life.
L – A few customers have come in with their daughters or granddaughters and I taught them to sew and just other little things around the store. I have also taught them how to hula hoop. I definitely wanted to make this a space where young girls and boys from the community could come feel at home and also learn something – I don't charge for the kids coming in and hanging around here and learning about business – its just something I feel I really need to do. I need to pass on the love for what I do to the youth of the area.
Lindsay started Good Karma when she was really young, at an age where most people are trying to get even the slightest grasp of what their future may hold, Lindsay became a small business owner.
L – I was 18 years old when I started Good Karma. In order to pay for rent and food in school I started selling hula hoops because I am a hula hoop dancer. I started making clothes for myself to hula hoop in and girls were getting interested in my designs so it gave me the idea that I could make a business model out of my handmade stuff. I first started selling my stuff online over Facebook and that summer I decided I would try my hand at a farmer's market so I opened up my first booth. I would wake up at 4:30 every Saturday morning to set up, and I saved up every penny from my booth to open up the Good Karma shop.
I ended the interview asking Lindsay if she had a mantra, or an inspirational quote that she liked to live by.
I do have a mantra! It's from one of my favorite musicians – Trevor Hall. The quote goes,
So that's what we send when someone orders from us on etsy – that's a little note on the receipt. His music has definitely inspired me so much – I started listening to him in high school. He's just very inspirational and his music kind of pushed me to do what I wanted to do. It gave me the strength and the "Yea, I can do this!" feeling.
If you are as inspired by Lindsay as I am, I'd highly recommend that you check her out and like her facebook pages!
–Etsy – Facebook – Instagram – Photography – Good Karma –
Don't forget to give Lindsay some love on her facebook pages and instagram, she is an incredible girl and really deserves it! Check out her etsy and website, too!