Happy February, everyone! It's a new month which means it's time to publish my income report! I've been doing these for over a year now in order to show bloggers that monetization is possible, to hold myself accountable, and to track my progress.
I'm keeping this income report a little shorter than usual, because if I'm being honest – there wasn't much strategy behind it. In the coming months I'll be moving away from sponsored posts and ads, and I spent all of January setting up the ground work to do so.
Before taking out expenses, I made over $2000 in January which is awesome, but that was largely from sponsored posts. Now there are some bloggers who are super anti-sponsored posts and refuse to do them. While I will be moving away from them in the future, that doesn't mean I won't do one or two a month, or that I think they are bad. I just plan on investing the time I would be corresponding with brands, sending drafts for approval, and ensuring all guidelines are met into creating my own products, something I spent a lot of January doing.
What I did in January.
Alright, like I said – every spare moment seemed to be invested into course creating and e-book drafting. It was a crazy productive month and I'm super proud of all of the behind the scenes hustling I managed.
In addition to all of the content creation, I put a lot of time into growing my Instagram. In the month of January I grew my following by approximately 100 followers a week, which is nothing to some people, but it's still blowing my mind.
I harnessed that growth and wrote an e-guide all about how you can channel my methods into your own Instagram account, if you're interested you can check that out here!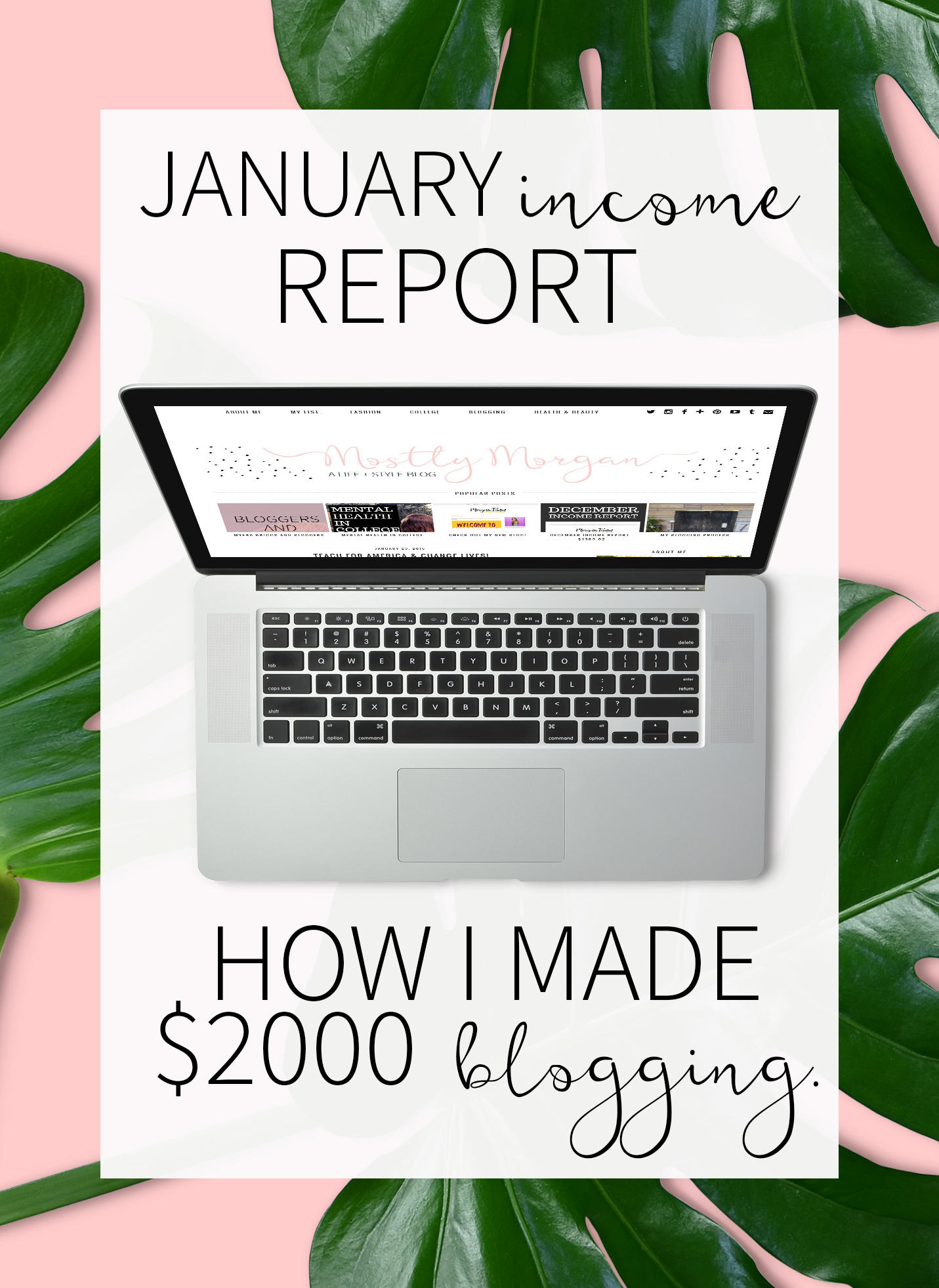 I also have done a bit of a redesign here, if you haven't already noticed. The header isn't permanent, but it's doing it's job for now. I started off morgantimm.com with a very strong visual brand, and that is something I never focused on over here.
Having a cohesive and fluid brand is so important to any business and blogger and I'm actually pretty ashamed over how long it took me to get on board. While it might seem like a little thing, I really think that strengthening the visual brand here is going to translate to big growth in the near future!
January Income:
Izea – $1150
Hostgator – $675
Blogher – $116.57
Google Ads -$100
Amazon – $21.60
YouTube – $2.12
Total: $2065.29
January Expenses:
The Blog Hive – $166.67 (I'm dividing the cost of this (amazing!) course by the 3 months it spans)
LeadPages – $16.67
Adobe Lightroom – $10.61
Hosting – $6.83
Total: $200.78
Grand Total: $1864.51
As always, I calculated how many hours I would have to work at a minimum wage job to earn what I did blogging, and it came to 213 hours. Holy smokes, that's a lot! It comes down to a little over 53 hours a week or ten hours each work day.
I just sent out the emails to the two winners of last month's blog consultation give away, and I'm ready to get this month's underway! If you want to win a consultation with me (via docs or Skype!) enter to win below! And if you have any blogging questions, please comment them below so I can answer them!