Blogging has changed the way that I use Instagram SO much. I never used to worry about branding, or proper hashtagging. If I liked a picture I would post it, even if it was out of focus or grainy or didn't mesh with the surrounding pictures. But now Instagrammers everywhere are being very deliberate in the things that they post – creating Instagram themes resulting in beautiful feeds where each picture perfectly transitions to the next.
While my feed is nowhere near the caliber of some of my favorite Instagrammers, I have been working on being more thoughtful about what I post.
Instagram Themes & How to Make Them!
Instagrammers with awesome feeds:
Related Post: How to Beat the 2016 Instagram Update
How you can theme your Instagram feed:
Choose a few of these different ideas to help you come up with a theme that you love!
Get inspiration from your favorite feeds – what do you like about them? Figure out what it is that draws you to an Instagram feed and go from there. Things to look out for are brightness, saturation, a color scheme, and tints.

When you choose your ideal brightness/saturation/etc. Stick with it! All of my photos are super bright and that's the way I like it, but other users like HappilyGrey, mentioned above, has an incredible feed full of desaturated images and because she is consistent, her pictures look so good together!

Crop all of your images the same way – whether that means sticking with the classic square, adding a white border, or making your image narrow or long. When all of your images are the same size and shape, it makes your feed look 100 times better as a whole.

If you choose to keep your theme with the classic squares the Instagram defaults to then you might want to consider using an app like Lidow for narrow images that you can't crop. It's hard to explain what it does, but here's a link to a picture where I used it.

Stick with the same filter – I personally don't filter my photos, but if you're a filter junkie find your favorite and stick with it. You want all of your pictures to meld well together, and giving them all the same filter will help.
Take pictures of the same subject – this one requires more discipline and restricts you a lot more depending on how narrow of a subject you choose. You can pick anything from flowers, outfits, your dog – anything! Personally, I wouldn't like doing this, but some Instagrammers have a ton of success with it!
Think about every picture before you post – does it fit your theme? If you love it but it just doesn't quite go then consider tweeting it, or posting it on Facebook, instead of putting it on Instagram.
Changing your Instagram theme.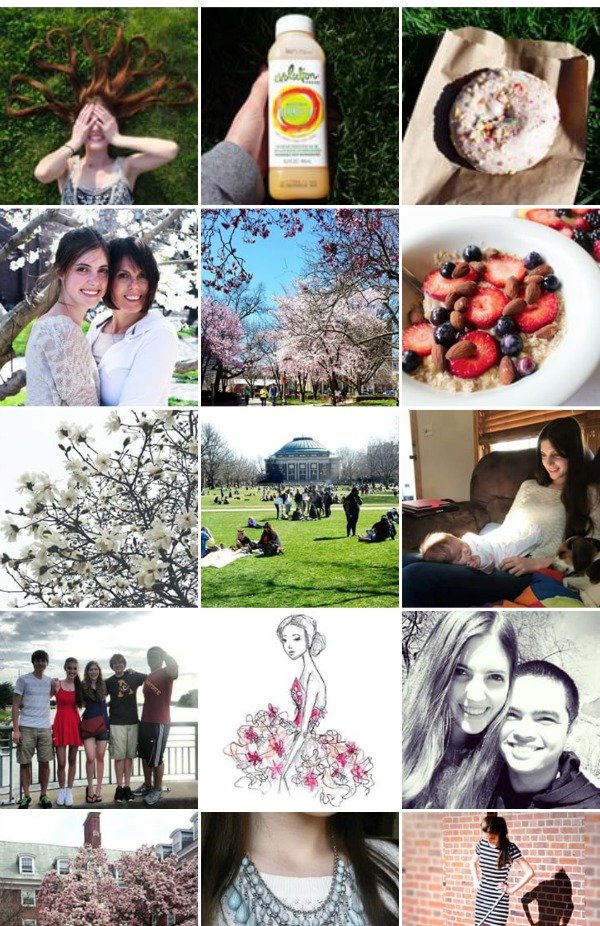 My first Instagram theme (that I had when I first started working on this post!) was having a stark white accent in every post, but in the past week or two I have started transitioning into having very bright pictures with an accent of green (usually grass!) and maybe some white. Because it's spring I wanted a more spring-y feel! Now some instagrammers make slow transitions to their Instagram themes, slowly changing the way they edit their photos until they have reached the ideal standard for their new theme. I'm not patient enough for that. I switched up my white theme between my fruit bowl picture and the picture of flowering trees. I don't think it looks bad, but some people prefer the slow switch! So just decide what you want and then go with it!
Things to keep in mind.
Collages are super cute and fun – but they will often times throw your theme off. For a really strong theme you want uniformity – if you have a ton of single pictures and then a collage, the uniformity is gone.
By no means do you have to have a theme for your Instagram. If I weren't a blogger I wouldn't, and before I started blogging my Instagram was an absolute mess and I loved it! But as I'm growing I just want to be more aware of my 'brand' and making sure my Instagram account is clean is just one way I am doing that.
Your theme can be as broad or narrow as you want – like I said earlier. You don't have to stick to a super strict and restricting theme to have a nice feed – McKennaBleu, for example, is a super popular Instagrammer and her only 'theme' seems to be super bright pictures.
Just one picture can throw everything off. When you're editing it, you may think that the picture fits perfectly, but every now and then give your feed a critical look and see if there are any pictures that just seem off.
So your feed is beautiful and you're ready to show it to the world now, right? If you're looking to gain an engaged following my friend Kelsey at Blondes and Bagels has the most thorough guide you'll find on building an Instagram community.
a Rafflecopter giveaway

Do you have an Instagram Theme? I want to see! Leave a link in the comments below! And if you want to check mine out you can follow me here! Let me know if you follow me so I can check your account out!