This post is sponsored by Her Campus Media and its College Fashion Week brand partners. All opinions are my own. Thank you for supporting the brands that make Mostly Morgan possible!
Happy Friday, y'all! Today is particularly exciting, because between work and writing, I'm packing for a roadtrip to Chicago tomorrow.
Tomorrow, October 15th, is College Fashion Week hosted by Her Campus, and I'm lucky enough to get to be going as a correspondent. For any of you who have been around for a long time may remember that in 2014 I was model in the show so it's really cool to come full circle and get to cover the show now in 2016.

Trust me when I say that the event is a blast and if you're in the Chicago area you should seriously consider joining in on the fun. You can buy tickets here and the event is at the 1st Ward in Chicago from 6-9 tomorrow.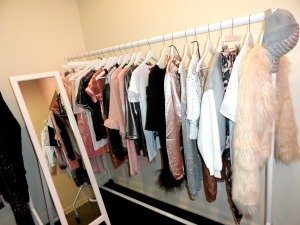 College Fashion Week Sponsors
If you have never been to a Her Campus event – they kill it. Always. And besides all of the hard work they put into their conferences and shows, a lot of the magic comes from the great sponsors who they always secure.
This show is no different, and there will be a ton of great sponsors at the show, here are a few that I'm most excited for:
Rebecca Minkoff – Be still my heart! I freaked out when I was Rebecca Minkoff was on the sponsor list – this summer I saw her speak at Her Conference in New York City and have been fangirling ever since.
Fitbit – I got a Fitbit for my birthday and I've been loving how motivated it keeps me, how chic and minimalistic it looks, and how it takes the leg work out of fitness tracking. I'm a big fan of the company and thrilled that they're one of the sponsors!
Drybar – With Drybar as a sponsor – I'm sure it's safe to assume that everyone will be having a good hair day.
Vince Camuto – I did some digging into Vince Camuto after seeing them on the sponsor list and color me impressed. Their website is beautiful, and with pieces like this I couldn't help but keep scrolling for what felt like hours.
Bertha Watches – Again, I was introduced to Bertha Watches at Her Conference, and they are beautiful. I'm so eager to see their display at the fashion show!
Perfumania – I am a perfume girl through and through. Seven years into devoting myself to Viva La Juicy it's time I branch out, and the show will be a perfect place to see what Perfumania has to offer.
The shows
And of course, what's a fashion show without the designers? This year Her Campus is highlighting top talent from the next generation of female fashion entrepreneurs and designers. Specifically we'll be seeing looks from My Social Canvas, Foray, Ali & Ariel, Frill Clothing, and Bow & Drape.
Plus! The models are all real life local college girls. There will be all shapes, sizes, personalities, and features in the show and I couldn't be more excited. I'm sure I'll have tons of pictures to share.
Pre-event
Before we even arrive at the show a bunch of bloggers are getting together for burgers (or in this veg's case, falafel) and pictures. My hometown doesn't have a blogging community (except for the friend's who I've helped start blogs) so going up to Chicago where there is a solid community is so exciting.
Coming soon
I'll be sharing my experience at the show with all of you here on the blog, and I'll be active on social media while the show is going on. You can follow me on Instagram, Facebook, and Twitter if you want live updates and photos.