When it came to applying to schools, I was lazy to say the least. I applied for only two – University of Illinois and Northern Illinois University. U of I was the goal, and Northern was the safety, even though I really didn't want to go there. I didn't look into any other schools, knowing that I would get into Northern at the very least. In hindsight, my lack of urgency scares me as choosing a college really is a life defining decision.
I know a lot of seniors are starting to stress about getting into and wondering how to choose a college so I thought I would compile a list of things to consider when making that (scary!) choice.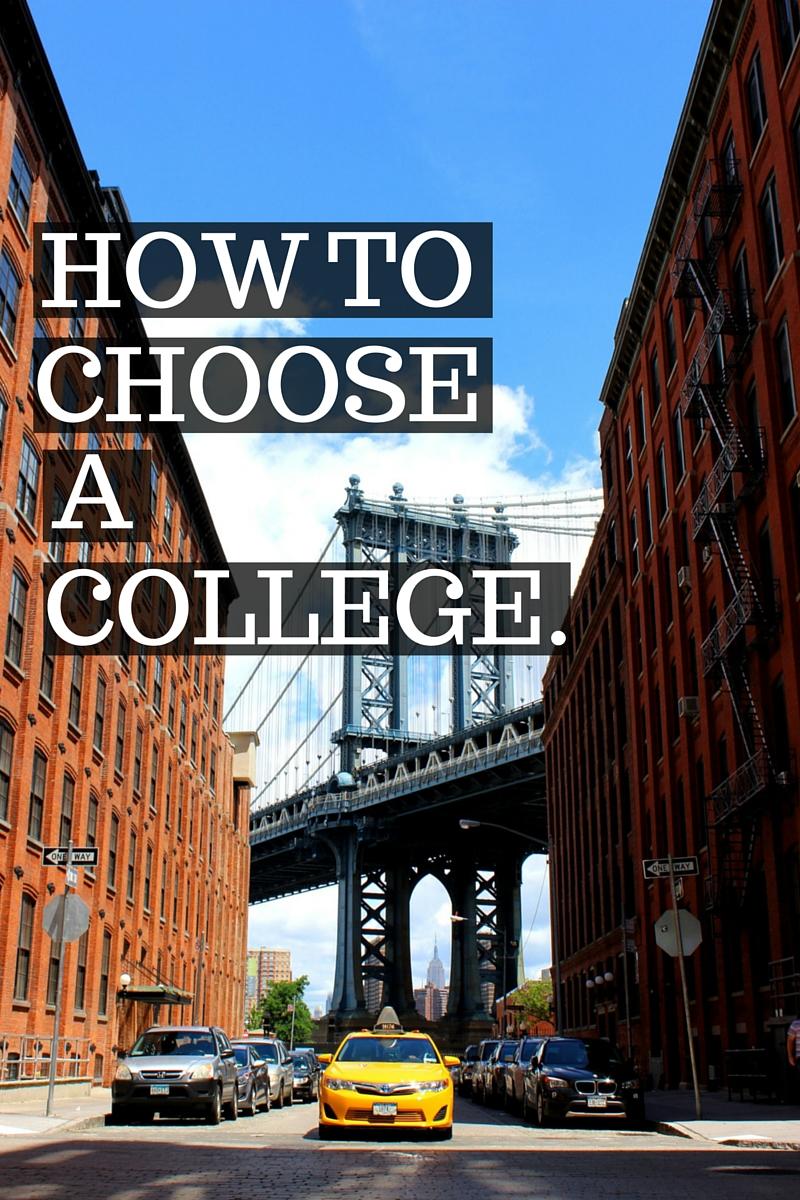 Campus Size.
Will you feel happier on a large campus or a small one? This is hard to imagine if you've never been on a college campus, so make use of your college visit days! because it's an important thing to consider when you choose a college. Now that I've been at the University of Illinois I can't imagine ever going to a small school, but a lot of people feel the same way about their small schools. I asked around a bit and have a pro and con list for large and small schools.
Large Schools
Pros

Better for networking – the more people, the better chance of being able to add people to your network
More clubs – at Illinois we have so many people that there is a club for everything: October Lovers, Squirrel Watching, Hot Tub Club, Pole Fitness, Krav Maga, Super Smash Brothers, you name it and there is a club for that. If you have an obscure interest and go to a big school there is a good chance you will find a group who shares that interest.
Busier – so this one can act as a pro or a con depending on who you are, but it's a pro for me. I love the general hustle and bustle of campus and sitting on the quad people watching.

Cons

It's easy to feel lost – if you're not working to be seen, you won't be. It's so easy to feel like a small fish in a big pond at a big school, so you really have to go out there and make an effort when it comes to making friends.
The physical size of campus. I absolutely love living on a huge campus but I know a lot of people can't fathom the idea of taking more than ten minutes to walk to class. If you tend to find yourself always rushing or running late, a big campus might be a huge problem.
Diluted Opportunities – Everyone complains that Illinois doesn't give out any scholarships – but the thing is we do. Except we are giving out the same amount of scholarships that schools a third of our size do so only a very small percentage of students are receiving them.
Small Schools
Pros

Community – This summer I visited my best friend in Texas, and as we were comparing college war stories she mentioned how she knows just about everyone in her year. What?! I don't even know everyone in my major! It's crazy to think that everyone at your school is separated by maybe 2 degrees!
Networking – so this is a pro for both because each school has it's unique benefit. Because there are fewer of you, it might mean more to have each other in your network.
Letters of recommendation – at a small school there is a lot less competition to get letters of recommendation. At Illinois you ask four or five months in advance at least or else your professor probably won't be able to help you.
School Spirit.
At Illinois, the student body bleeds Orange and Blue and I wouldn't have it any other way. I love that on any given day (whether it's game day or a random Tuesday) you can look around and see a flood of school spirit. I didn't realize that this would be so important to me until talking to that same friend in Texas this summer and realizing that her school didn't have that same spirit as mine. So when you take your next college visit, make note of the school spirit – chances are you want to go to a school that it's current students love.
Want to show your (current or future) school spirit? I recently was able to connect with Colloseum – a clothing company that carries high quality clothing adorned with your school's emblem! I have been living in this Illinois workout ensemble! Check out their site and visit them on Facebook and Twitter!
Greek Life.
For me the worst part of University of Illinois is it's Greek life, but for a lot of my classmate's it's their favorite part! You have to decide whether you want to go Greek, and what kind of Greek experience you want. While I don't have anything against Greek life, per say, I do have my reasons for not going Greek, and I think I would be happier if there wasn't such an emphasis on Greek life here.
Range of majors.
You might think that you are absolutely set and have your life planned out, but believe it or not, you might end up changing your mind. Make sure that your school has more than one major that interests you so that you aren't stuck if you do change your mind. I changed my major to SHS after my freshman year, and if I had time I would change it again. It's easy to think you've got things figured out, but then you grow up, life throws curve balls, and you change as a person and that's fine. Just make sure you won't be stuck.
Location.
Location is a big one to consider when you have to choose a college and there are a ton of pros and cons to whichever distance you choose. I knew that I wanted to be at least an hour from home, but no more than six and I ended up in a sweet spot of three. I'm a big worrier so I knew I couldn't go across the country in case there was some sort of emergency, but I also wanted the independence of being far away.
This is one that you're going to want to really discuss with your parents, and you have to keep things like travel costs, times, how often you want to come home, etc. in mind.
Another thing to keep in mind as far as location goes is the temperature. The best friend I mentioned earlier? She got the heck out of the Midwest so she wouldn't ever have to endure one of our crazy winters again. If you hate the winter (like so many of us do) this is your chance to get away from it!
There is a lot to consider as far as location is concerned. Also weight whether you want to live in a big city or somewhere a bit more rural. If you're a city dweller at heart and you choose a college in a farming town, you may very well end up being a bit miserable.
Research the students.
Remember when I said I'd be going to Northern if I hadn't gotten into Illinois? Well as it turns out, a huge number of their students are commuter students, or they live so close to campus that they go home every single weekend. I have a few friends at Northern and at schools with a high commuter population and so many of them complain that their campus turns into a ghost town during the winter. On the flip side, if you're interested in being a commuter student these schools would be great because you wouldn't feel like you were missing out on weekend festivities!
The cost.
This is a big one that you need to consider. And while you're considering it, apply for a few scholarships. College is disgustingly expensive (but that is a rant for another day) but your dream school doesn't have to be unachievable because of price. Look into scholarships and grants, first of all, and then maybe consider loans. No matter what you do know exactly what you will be paying and talk things out with your parents or, better yet, a financial professional.
Find where you'll be happy.
Ok, so obviously there is so much more to consider beyond all of what I mentioned, but above all make sure that you're going to be happy. If you have the opportunity to visit – take it. Reach out to current students (interested in going to University of Illinois? Message me!), and read up on the University all that you can.