Buying a house has been an exciting, stressful, wonderful experience that was a wild ride beginning to end. I documented a lot of the process on Instagram and I got a handful of questions (and assumptions 🙃) about how I bought a house at 24.

Now, here's a bit of a spoiler alert: I live in an area where housing is super accessible. I dipped into my savings account for the down payment, and now my monthly mortgage is significantly less than my rent was.
With that said, I have always been really good with money. My parents would get on my brother a lot for his spending habits when we were young. I was always on a quest to win their approval so I started saving aggressively even as a kid making less than minimum wage at an ice cream shop.

How I bought a house at 24 (the tea)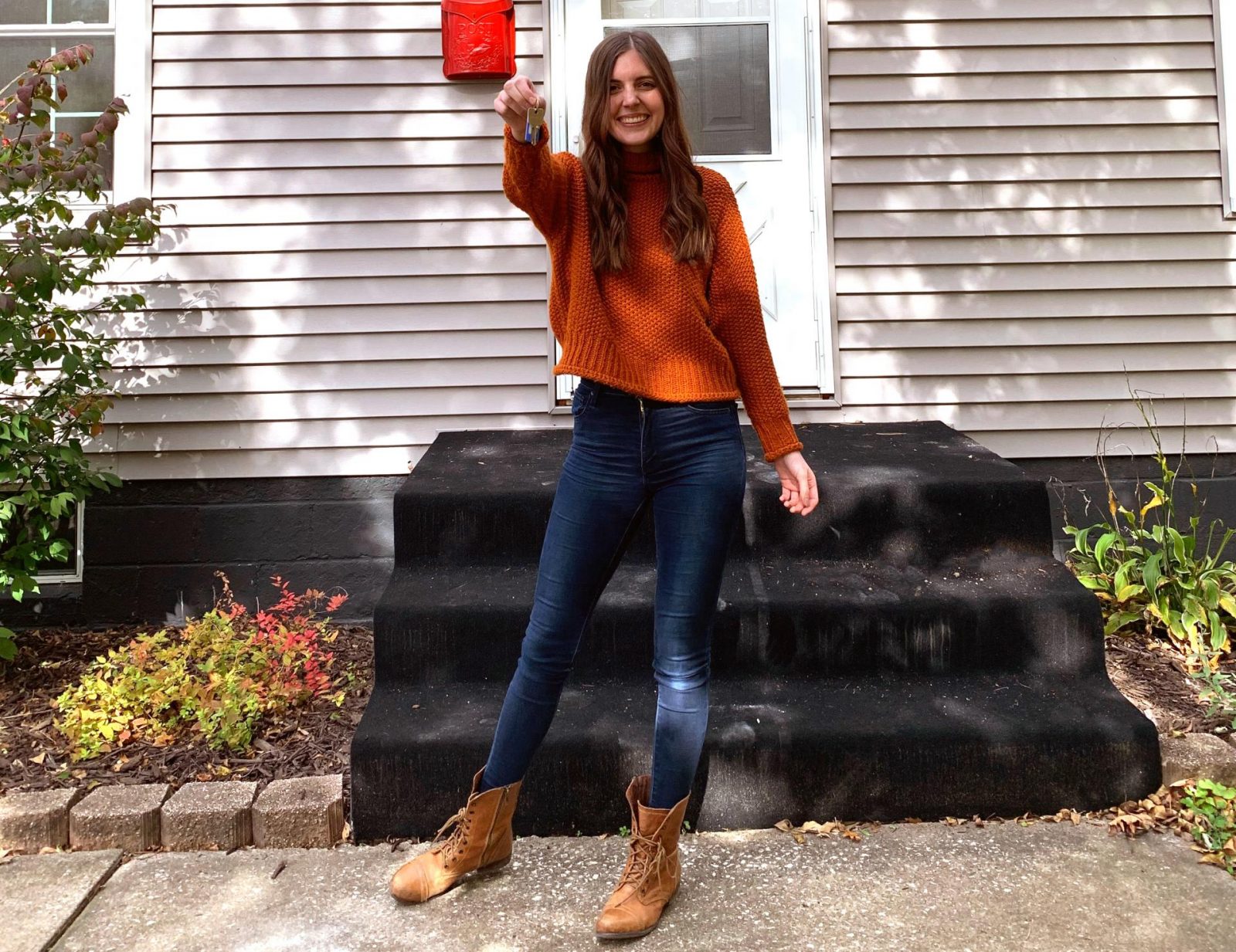 Before I get into my savings strategies, I thought I'd share a bit about my situation. I've already established that I've always had a saving mindset, but even then it wouldn't have done me much good in other housing markets.

I live in Illinois in an area called the Quad Cities. We are the home of the John Deere tractor, have several private universities, a military arsenal, and a handful of hospitals. Given the local economy, there are always plenty of jobs available, and plenty of people coming and going but it's not a huge hub the way nearby cities like Chicago and St. Louis are.
We're far enough away from any big city that housing prices aren't artificially inflated thanks to accessibility. You could buy a house here for $100,000 that might sell for closer to $300,000 in a Chicago suburb.

I love looking at houses on Zillow and you get so little for so much $$$ the closer you get to big cities and it stresses me out.

The thing that everyone who has been curious how I was able to buy a home so young have had in common is they all live in bigger cities. In large cities, home ownership is something you're lucky to obtain at 40, much less than in your mid-twenties.

A lot of my friends and acquaintances have been able to buy homes in their early twenties because we are lucky to live somewhere that has accessible priced homes in good areas. And the ones who haven't could but they aren't sure they are staying in the Quad Cities, they are waiting for proposals, or they don't quite realize just how easy home ownership is in our area.

So that is how I bought a house at 24. I didn't have any big inheritance, a lottery win, or parents paying for my down payment. When I got questions on Instagram I was almost wishing the answer was more exciting. The truth is I'm lucky enough that the area I live in has great housing options for cheap.

If you're buying your first home, I will walk you through what the rest of the process looked like, what surprised me, and what I wish I had known before getting started.

Getting a loan
I think the hardest part about buying your first home as a young adult is procuring a loan. For me, this was 100x more difficult because as a self-employed digital creator, I don't have a consistent monthly income and it was hard to get anyone to take a chance on me.

I'm simplifying a bit, but the things that loan officer will consider are: your credit history, your savings, your last 3 months of income, and your projected income.

The one red flag was my freelancing. My income isn't "guaranteed," so the first loan officer I talked said that I was too much of a risk to take on. The second officer actually had experience with freelancers, and was a lot more accommodating. Long story short: you don't have to work with the first financial institution you talk to.

The next hoop to jump through was establishing the terms of my loan. I really wanted a 15 year old fixed rate mortgage, but it wasn't in the stars for me. Without a traditional 9-5, there was nothing she could do for me better than a 30 year fixed rate mortgage. With that said? I'm planning to pay it off in 15 years or less by making aggressive payments.

My down payment
When figuring out the terms of my loan, my officer needed to know how much I was willing to put down as a down payment.

Here's the thing: When you're a first time home buyer, there are programs that let you pay close to nothing down. The lowest I could find was 3% down, where the average was about 5% with these programs. As enticing as such a low down payment sounded, I didn't want to do that.

I'm risk averse, so I felt more comfortable putting 25% down so that my monthly payments would be less. This also means I can pay off the home sooner. The longer you take to pay off your loan, the more you end up actually paying thanks to annoying factors like interest. I actually was going to put a bit more down, but I took my dad's advice and stuck to 25% so I could invest the rest that I was going to put down into home projects.

How I saved for my down payment
Like I said, I'm a saver and I've never found it too difficult to build my savings up. For full disclosure, though, I worked full-time for over 3 years while also making a full-time income with my blog. For a year of that I was living at home with my parents and spending maybe an average of $400/month and saving the rest. That year allowed me to save money that I did not touch until this October when I bought my house.

In April, I made the decision to quit my 9-5 job and take my online pursuits full-time. That meant I was essentially cutting my monthly income in half. From May until I bought my house in October I adopted a frugality mindset so I could save close to what I had been saving before I quit. I was only to save 75% of what I had used to, but the focus on frugality has really helped me become a bit wiser with my money. Here are a few shifts I've made in my spending habits:
No new clothes (with a few exceptions.) I love to thrift, and I can get 5 sweaters at Goodwill for less than I'd pay for 1 sweater at a department store. When I let go of the pressure I felt as a blogger to keep up with the trends and buy "linkable" pieces, I was able to save a lot of money every quarter.
Shopping sales at the grocery store. I used to be a grocery store planner. I knew what I was there for, and that was what I was going to buy. I've reversed my meal planning process and shop the sales at the grocery store the plan my meals with what I bought. I'm vegetarian, so my groceries were cheap to begin with. Now shopping for two I've gone from spending about $40/week to $25/ week. Fifteen dollars savings each week might not sound like much, but that's an extra $60 saved a month or $780 a year.
Shopping in bulk. Additionally, I've been buying my most used products in bulk. 30 pound bags of rice, 36 packs of canned tomatoes, 4 packs of almond milk, and so on. Garrett got a Sam's Club membership through work, and we are able to buy the staples at a steep discount. It's a larger upfront cost, but overall I spend a lot less on food than I used to.
I established a monthly savings goal. Every month I have a target number I want to add to my savings. It's ambitious enough that I think about it before swiping my card, but not so ambitious that it feels impossible. This goal allows me to be conscious of how I'm spending my money.
I stopped buying avocado toast. (Is that reference too 2017?)
Getting a realtor
If you're buying a home, there is no real reason not to use a realtor. You don't end up paying for their services (when you buy a house, the seller pays a percent commission) and they are able to organize home viewings seamlessly.

With that said, I've heard horror stories of realtors who are trying to get the largest commission possible. They will refuse to put in offers in for less than the asking price or purposely take you to houses out of your budget hoping you'll fall in love and splurge. That's not what we want to see, so try to find trusted realtors your friends have used.

I found my realtor by chance. I consider myself a good judge of character and I liked her and felt like she was trustworthy from the get go.

If you decide you don't like the realtor you are working with, break up with them and find someone new. Ask around, see who your friends have used and liked, and start over. They've got a big piece of your fate in your hands, so make sure you're on the same page.
House hunting
I recommend getting preapproved for a loan before you go house hunting. That way, when you find your dream home, nobody beats you to putting in an offer while you wait for approval. With that said, I don't necessarily recommend putting an offer in on the first house that feels right before seeing your options. Try to look at least 5 houses even if house #1 feels like "the one."

House hunting went like this: I thought I found the perfect house on zillow and it'd be a one and done deal, that house was literally sliding into the ravine, I looked at 4 more houses and put an offer in on the fourth, that one fell through, I looked at nine more houses and put an offer in on the sixth, that offer was accepted and now I'm living in that home!

Basically, what I'm trying to say is that it's not always a linear, easy process. But at the end of it you'll have a house that you hopefully love.

How I bought a house: the hunting process

Have a list of your "nice to haves" and your "need to haves". A few of my biggest non-negotiables were that it: be on a quiet street, have at least 3 bedrooms, have a nice outdoor space, not have a hill to mow (a big problem in my area), and have a garage. A few of my nice to haves were: no carpet, a gas stove, and a fenced in yard. I got all of my need to haves and ⅔ of my nice to haves.
Make notes on each house immediately after you see it. My realtor and I would do this at the kitchen counter of each house before we left. It's easy for things to blur together when you've been looking at house after house. Make notes of what you liked, what you didn't, what work would need to be done, and how you feel.
Don't get stuck on the cosmetic aesthetics if you're willing to do some DIY-ing. My house had some nasty, water damaged floors. The seller let me refinish them before I moved in and now they're beautiful. And the paint color choices were interesting, to say the least. The bones and layout of the house, though, are perfectly what I was looking for. After putting some TLC in, the house is beginning to fit my aesthetic vision perfectly.
Once you've found the one – let your realtor know that you'd like to put in an offer. They'll advise you on a few key details to consider: Do you want to offer less than the asking price? What home inspections will you do? Are you going to ask to keep the appliances?

All of that needs to be included in the offer terms, which is why realtors are so valuable to have.

From there they'll either accept, counter, or reject your offer.

On the first house, I initially offered in full and the seller accepted right away. Ultimately, the home inspection and appraisal came back with evidence that the seller was a level 10 scam artist. (Local friends, this guy is a "professional" home flipper. Message me before you buy a house so I can warn you not to buy from him!) So I backed out. The second home I offered $6,000 less than the asking price. They came back and accepted that if I'd pay the closing fees. I came back with $4,000 less with them paying the closing fees and the sellers agreed. This is a process your realtor will walk you through.

General tips to consider before buying
Here are a few pieces of advice I have that didn't fit anywhere else in the post. Small things to consider that can make the home buying experience a million times better.

Make sure that the down payment isn't going to cause you to be broke. You are still going to have living expenses, moving expenses, and you need emergency money.
Look at the neighbor's houses, too. I looked at one house that was beautiful, functional, and spacious. The houses on either side of it were falling apart. That's a bad indication for the neighborhood as a whole, and could have an impact on the resell value.
Look for ways you can add value to your new home. Garrett is 18 months out from his doctorate. After that I don't know if we'll stay in the Quad Cities. Worst case scenario, I'll have to sell the house to relocate. In that case, I want to make a profit. My basement is 30% finished, and I'm about to start finishing the rest. When I resell, there'll be an extra living area, bathroom, and non-compliant bedroom.
That's how I bought a house at 24, are you house hunting?