Typically, I'm not one to overthink my outfits. I go for comfort and practicality, throw on a cute hat, and call it a day. When it came to planning for my engagement pictures, though, I put a lot of thought into what pieces photograph well and how to plan his and hers outfits that coordinate without giving off early 2000s family portrait vibes.
After endless hours scrolling through Pinterest and pinning engagement pictures that I think nailed it. Here is the formula I've come up with to make sure you and your honey look in sync when you're getting your pictures done.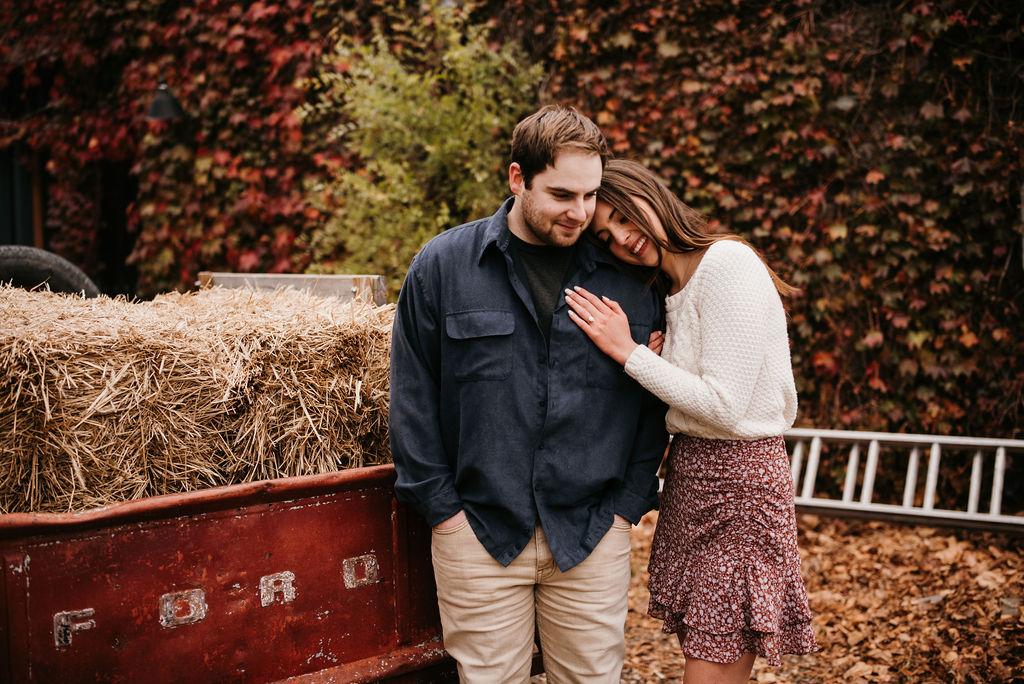 Break the rules!
Now remember, these are just loose "rules" I made up to make shopping easier for you and your boo. But all good rules are made to be broken so don't take them as law. You know about you and your forever lover's style so if my tips don't fit that, throw them away!
Consult your fashionable friends
I sent screenshots of options to friends and even posted a poll on my Instagram stories to get second opinions. I'm not usually one to think too much about what I'm wearing, but I really felt the pressure so I wanted to get it right.
Luckily my friends have a better sense of fashion than I do. They were able to offer advice to help me get a better idea of the looks we were going for.
Patterns and prints should be limited and subtle.
One thing I noticed in a lot of the pictures on Pinterest was that dresses with loud floral patterns, or a busy stripe on his sweater drew more attention to the garment than the couples' beaming smiles. Pattern is such a fun way to express yourself, but if you're not careful it can be super distracting.
Unless your a master fashionista who laughs in the face of pattern matching, here are my tips:
Engagement pictures: pattern tips
Only one of you should wear a pattern to keep from clashing. Patterns are hard to coordinate if you're like me and don't necessarily have an eye for it.
The closer the pattern is to your face, the less busy it should be. (Think subtle florals or a muted flannel for your top).
If you're wearing a skirt or fun pants, the pattern can be louder since its further from your face. Here's where to play around with bolder colors or busier patterns.
Don't feel like you need a pattern. Simple, understated outfits can be just as impactful.
We incorporated pattern into our formal outfits, while keeping our less formal outfit a little more muted.
Our formal outfits
For us, it was easiest to have Garrett choose his outfit and I built mine around that. For our formal look, G is wore a plain, navy button down and tan pants. I knew I could get away with a pattern to compliment his plain outfit, and I wanted a warm feel to our photos. With that in mind:
I needed to stick with reds, yellows, oranges, or warm toned neutrals.
I could get away with a little bit of a pattern.
For our photos, I ended up picking out an off-white sweater to wear with a rust colored mini skirt. The skirt has a lavender baby floral pattern thats busy but not bold. Because it's far from our faces, the busy pattern isn't as distracting as if it were on my top.
You don't have to go super formal for your engagement pictures
Pro tip: while it's recommended to do one dressy look, don't feel like you have to dress to the nines. This is about as dressy as G and I get, we'll be formal in our wedding photos.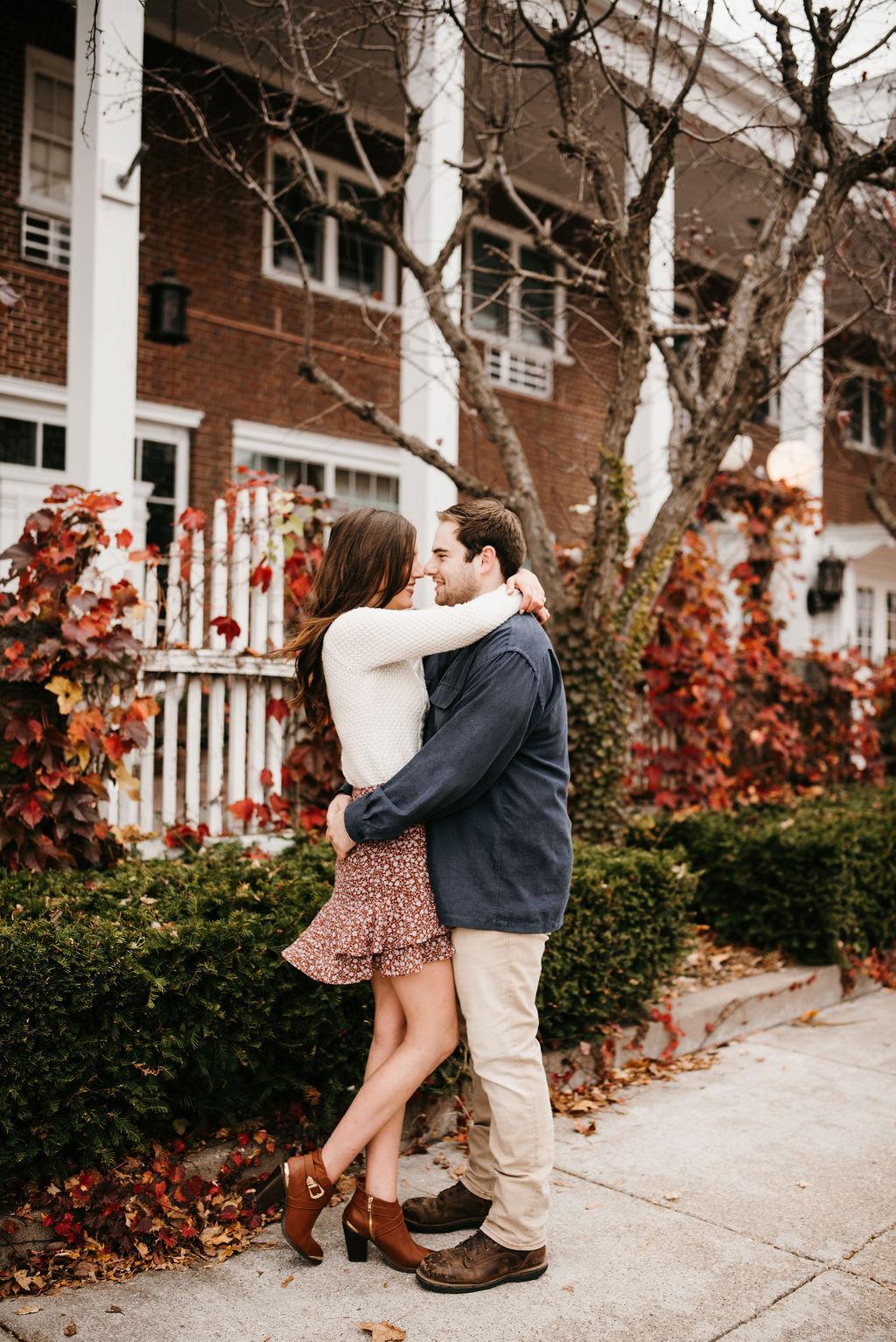 Coordinating your colors
Creating a cohesive look in your pictures doesn't have to mean being matchy-matchy. There are a handful of gorgeous options that are easy to execute and pretty fail proof.
My favorite? Wearing contrasting colors. If you rewind back to elementary school art class, you might remember learning about the color wheel. I love pairing together colors that are across from each other on the wheel (complementary colors) like purple and yellow.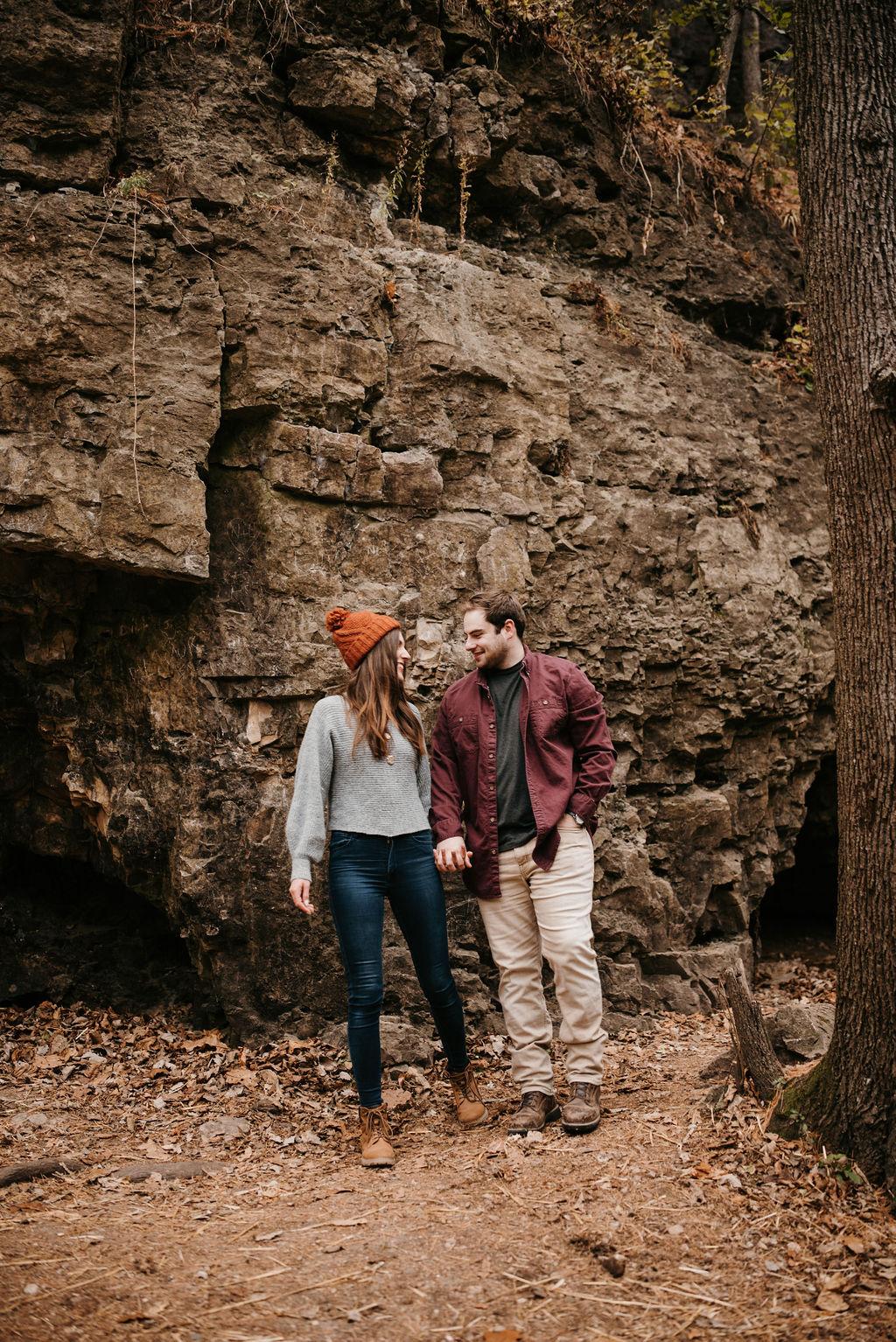 Colors in the same hue family can look gorgeous when done correctly, too, but sometimes it toes the line of "2007 family pictures". If that's not the vibe you're going for proceed with caution.
You can pair neutrals with just about any color. In this second outfit I stayed neutral to let Garrett's purple-ish top shine.
The main tip I used in coordinating this look was searching palettes on Pinterest. When we chose Garrett's purple flannel, I searched "fall purple color palette" on Pinterest to see what colors paired well. I found one I really like that included orange. I wore my orange beanie for the last 10 minutes of photos so we had options with and without it.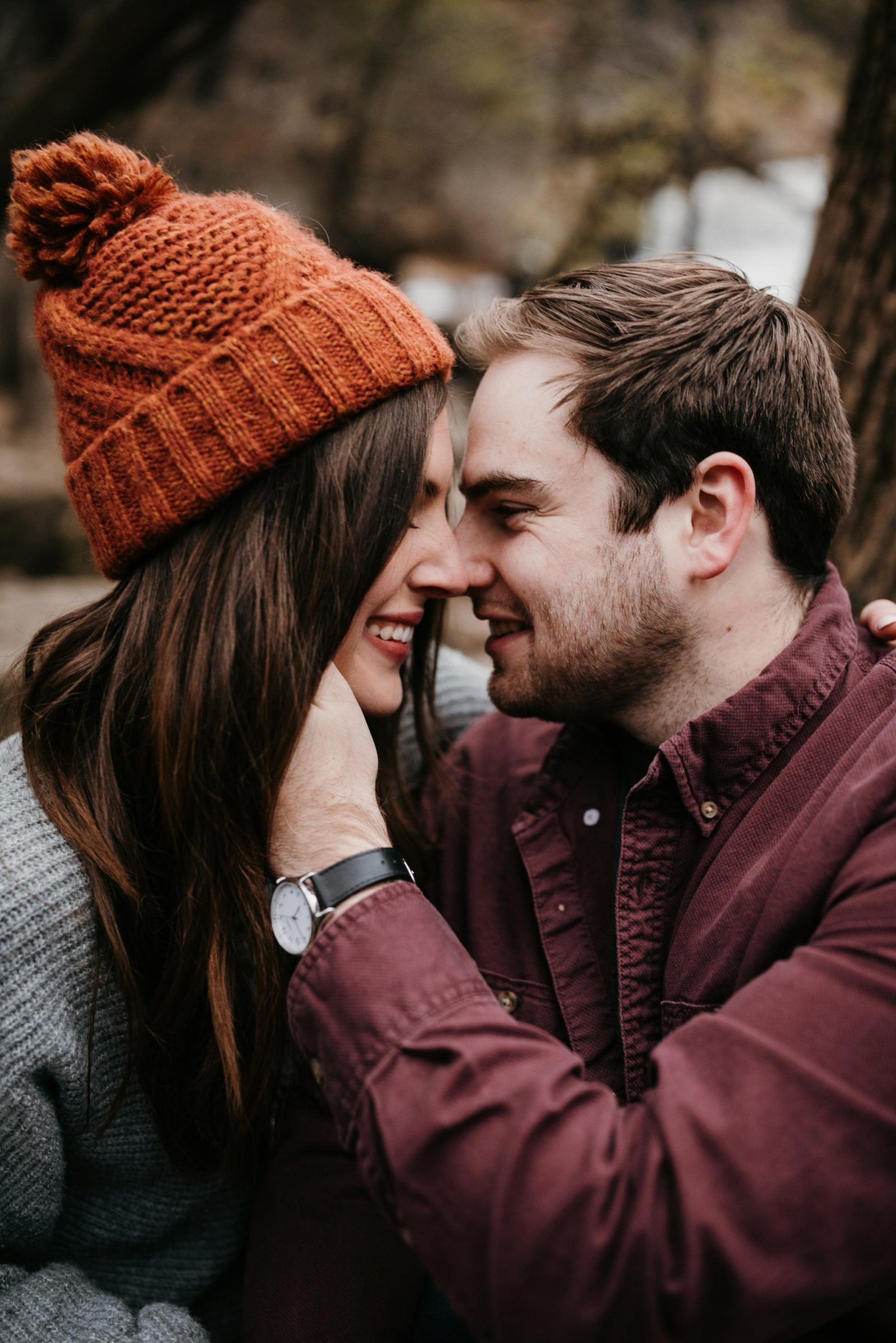 Consider your backdrops
This one might be obvious, but when it comes to outfit planning, it's important to think about the setting you'll be in for the photos. Abby had a location guide she sent us when we booked her, and choosing our location was the first step.
We decided to start in Downtown Stillwater, then cross into Wisconsin to take photos at Willow River State Park.
Does your engagement picture outfit make sense?
Given the rough terrain and uneven footing, this location made sense for a casual outfit. A party dress and heels would have looked out of place.
We knew we wanted one photo set to reflect our love for adventure, so a waterfall surrounded by cliffs seemed to be the logical choice.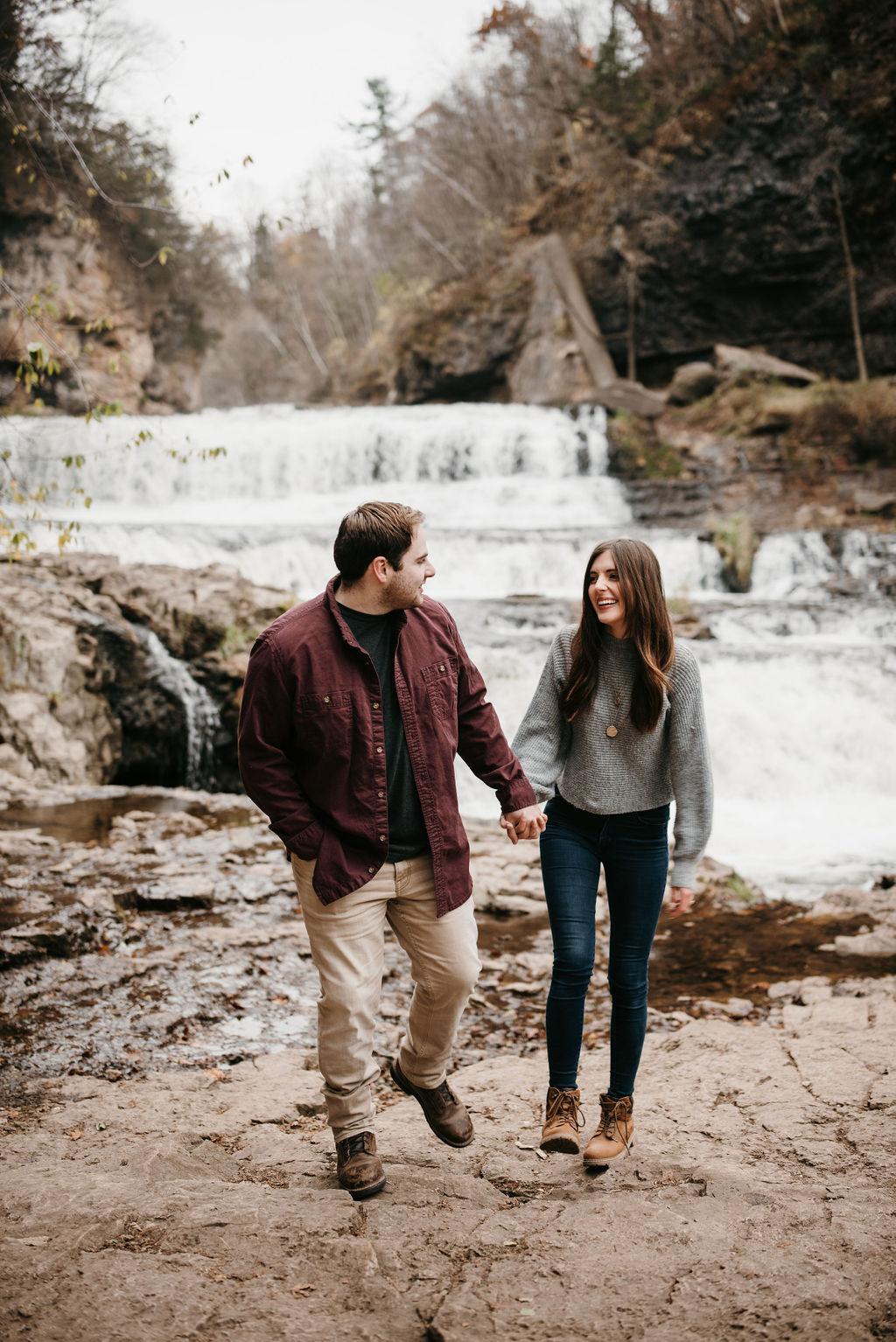 Like I said earlier, though, rules are made to be broken. I could definitely see gorgeous pictures being taken in this location with a dramatic, billowy dress in a rich jewel tone.
Just make sure to bring your hiking shoes to get to your location! Hiking in dress shoes is no joke!
Some areas are so versatile that you could wear just about anything. From super casual to super dressy, you'll be safe. That's how we felt about Downtown Stillwater. There were so many different potential building and backdrops for our photos, that it'd have accommodated any dress code.
Stay true to yourselves for your engagement pictures
We really wanted our photos to be a reflection of who we are. I know that many couples go way fancier for engagement pictures than we did. But in all the time I've known Garrett I can count on one hand how many times I've seen him in real dress pants. It didn't make sense to have him dress up in a way that he wasn't comfortable and wasn't reflective of his personality.
Comfort is going to be more important than anything – you're already having photos taken by somebody you're likely still just getting to know and that can be awkward in itself. Couple that with wearing clothes that you don't feel like yourself in, and you might not end up thrilled with the photos.
What did you wear for your engagement pictures? Did you stress out planning them as much as I did or are you more chill?