Hair has always been a "the grass is always greener" type thing for me. I was born with fine, stick straight hair that doesn't hold any style for more than a few hours. My best friend on the other hand, has wild, curly hair that's full of volume but won't ever lay the way she wants it to.
And we always wanted to trade.
Fortunately, in lieu of swapping 'dos, we both learned how to best manage the hair we had.
Me? I figured out that my hair was only ever going to cooperate if I had the right tools in my arsenal. Up until I was sixteen I only ever let my hair air-dry and maybe sprayed it with a children's detangler.
Even now, my hair routine isn't anything too intense, but I have mastered giving myself an at-home blowout that leaves my hair volumized and shiny.
What you'll need for your DIY Blowout:
A moisturizing shampoo and conditioner (I'm loving Pantene Pro-V's Daily Moisture Renewal Duo!)

A heat protectant

A wide tooth comb

Hair ties or clips for sectioning

A blowdryer

A curling iron or flat iron for styling
As important as it is to master the technical part of giving yourself a blowout, it's important to have a strong foundation and use products that won't weigh your hair down.
Step one: Use lifting hair products in the shower
In the shower I use Pantene Moisture Renewal Foam Conditioner, after shampooing. The formula is a foam rather than a cream and that keeps the conditioner from weighing my hair down like other conditioners do.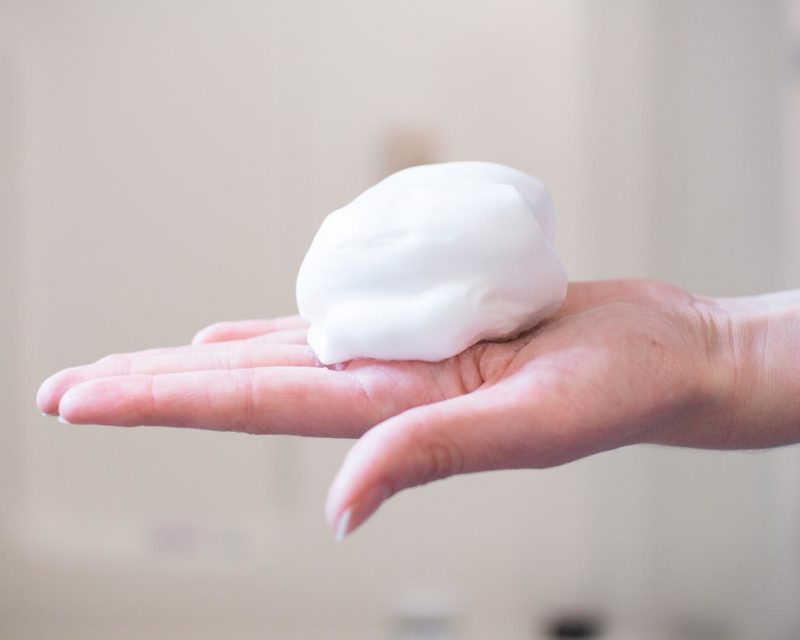 In the past, I was self-sabotaging any volume potential I had by using thick, heavy conditioners. They have an entire line of foam conditioners covering every need you might have from color protection to breakage defense. I chose the Daily Moisture Renewal line because I've been using more heat on my hair and it's a bit drier than usual.
Step two: Use a heat protectant
Technically this step is optional but I wouldn't skip it. Using a blow dryer puts a lot of heat directly on your hair and that can begin to damage your hair over time.
Step three: Comb through your hair
It's a lot easier to give yourself a blowout if you're not having to stop to detangle knots every five minutes.
Step four: Section your hair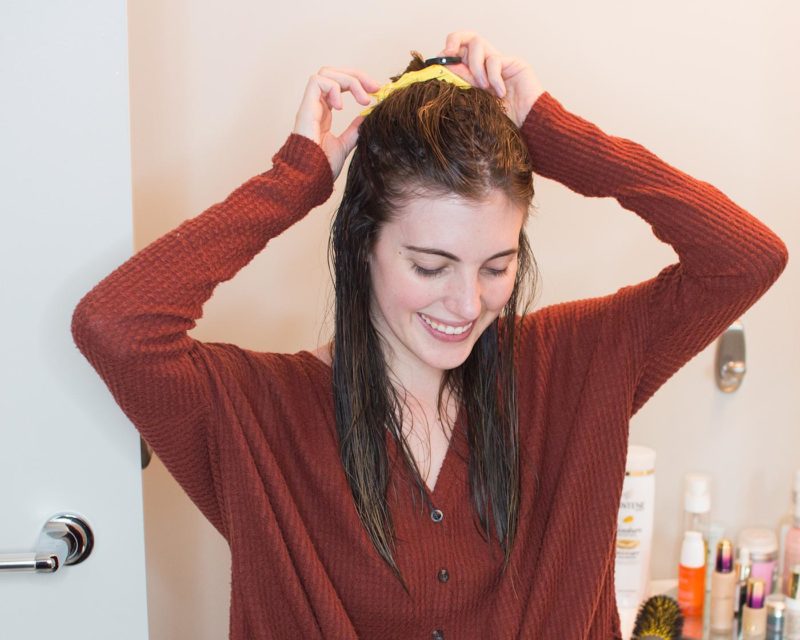 To get the best blowout, you'll want to section your hair into two or three horizontal layers. I have thin hair, so I only need to section it into top and bottom sections. The more hair you have, the more layers you'll need.
Step five: Begin blow-drying
When I give myself a blowout, I start working from the back to the front and keep all of the dried hair behind my shoulders and the still wet hair in front of my shoulders. Keeping them separate helps minimize frizz.
Actually blowing your hair out requires a bit of finesse. I take a one and a half inch section of hair and brush through it once with my round brush to separate it from the surrounding hair.
Position your brush to hold your hair at the roots and point your blow dryer at the hair that's being held. Pull the hair through through the brush, twisting away from your face and maintaining tension on your hair all while following along with the blow dryer.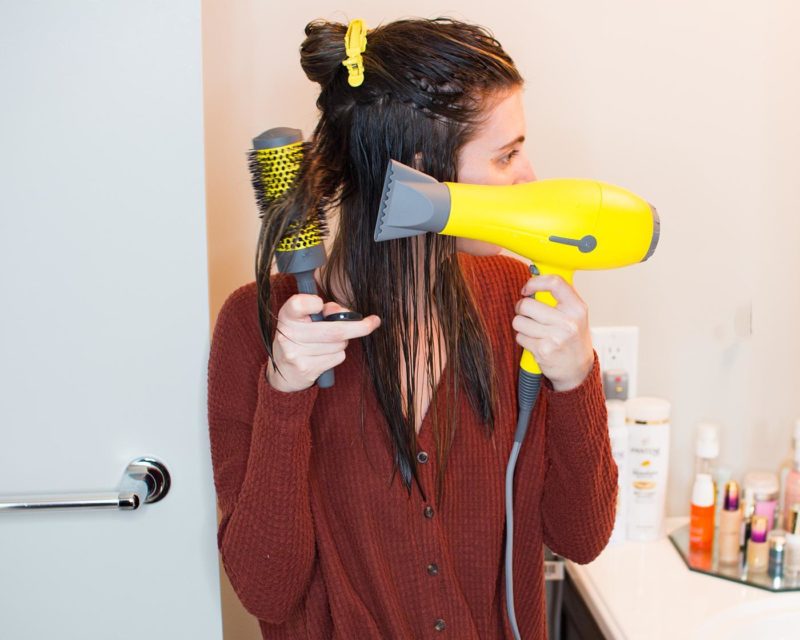 Usually it takes two or three passes for my hair to completely dry. Repeat until your hair is dried.
On the last pass, instead of pulling your hair all the way through and off the brush, when you get to the end, twist your hair around the brush back to the roots. Give your hair a final blast and gently unwind your hair.
You should be left with a bouncy strand of hair that has a slight bend at the end or curl. Repeat this on all of the hair in the layer
Step six: section again
Gently let down the rest of your hair, being careful not to lay it on the already dried hair. Now, section off the very tip top of your hair. I use my eyes as a guideline and section from pupil to pupil. We'll be blow drying this hair a little differently.
Step seven: blowdry the middle layer
Any hair that didn't make it into your crown section should be blow dried using the same technique I mentioned earlier.
Step eight: work on the crown
Once the rest of your hair is dry, you can begin to work on the crown. Again, I work from back to front.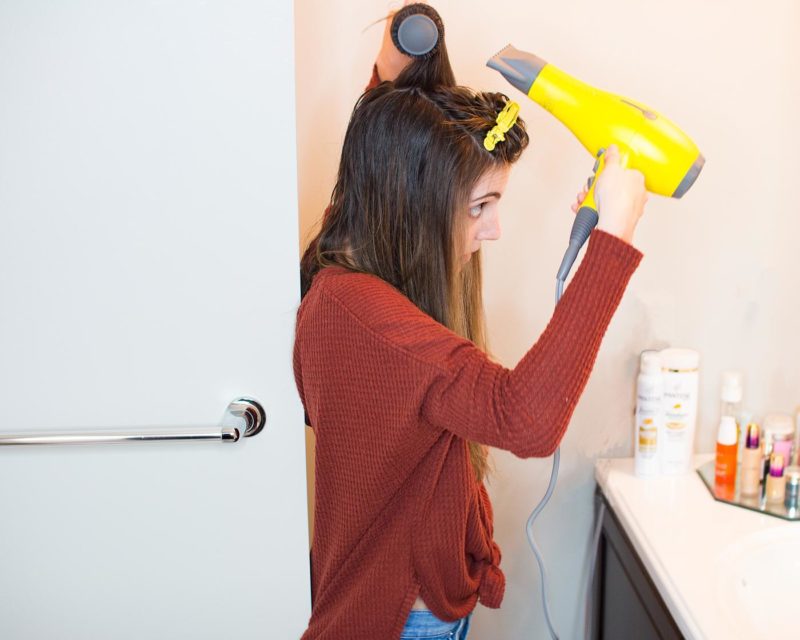 I'll take the back most section from my crown, and instead of holding the brush vertically or at an angle as I did earlier, I hold my brush horizontally and lift the hair directly away from the roots. This is essential if you're looking to really maximize volume.
From there, I just work my way forward until all of my hair is dry.
Step nine: style your hair
When I say I've mastered the blowout, I guess what I should have said is that I've mastered the volumizing portion of the blowout. Usually I accomplish curls on 75% of my ends, where the other 25% lay flat.
If you're like me, a heat style will come in handy. Depending on my mood, I'll either curl or flat iron my hair.
I'm not a big fan of too straight hair, so I usually just tame any especially wild pieces.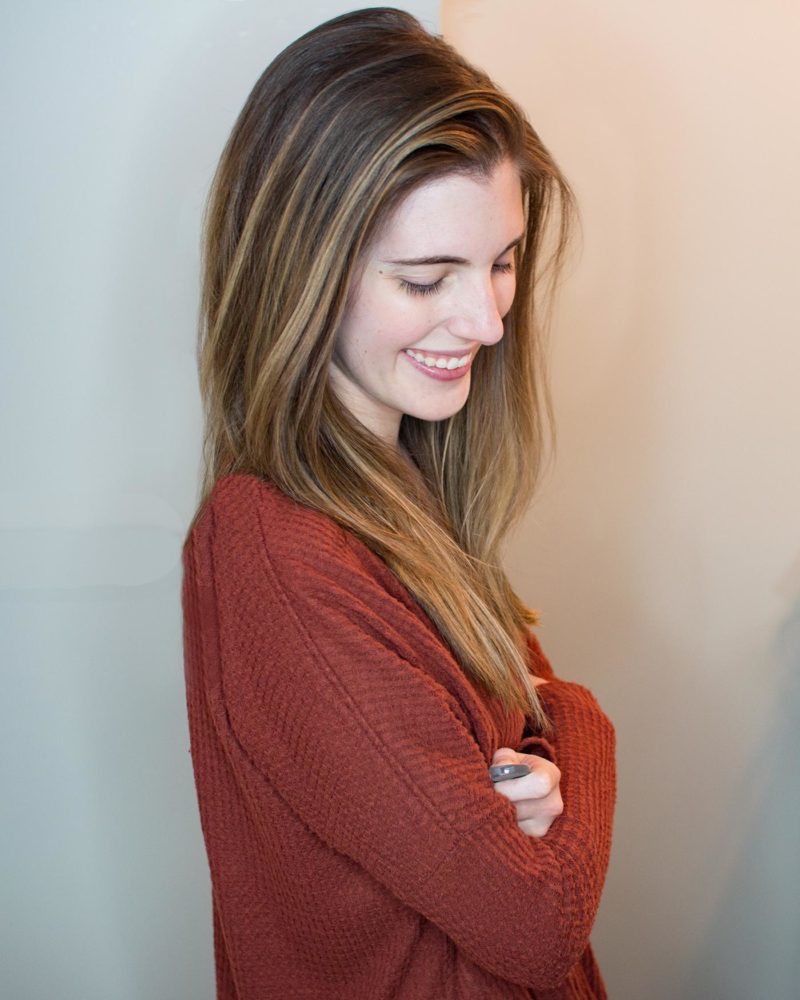 This post is written in partnership with Pantene. As always, all opinions are my own.